Shelagh Turner is in her early 30's. As a nun and midwife she had a fresh, uncomplicated approach to her work and connected well with Jenny and her other younger colleagues.
In Season Two, Sister Bernadette questioned her chosen vocation. After recovering from TB, she made the intrepid decision to leave the order of St Raymond Nonnatus in order to marry Dr Turner. In Season Three, Shelagh continues to work in a part time capacity at the Mother and Baby Clinic as well as enjoy family life with Dr. Turner and Timothy.
Season 5 Q&A with Laura Main
Give us a bit of background to this season. Are there any key themes?
There are a great many themes and issues of the time that the series touches upon. One arc for this series, being set in 1961, is the drug thalidomide and the effect that it had on babies. It is the hardest thing in this series because it's really very upsetting. At the same time, it's so good that we are discussing it.
We also focus on women's issues a lot more. Shelagh is an example of a modern woman. She's out there balancing home and work, which was still a little unusual at the time. Trixie starts keep fit classes and you see the younger women talking about and not being ashamed of their bodies. In the same episode, you see an older woman who has a health problem, which a lot of us had never even heard of. To this day there are still things we don't talk about. It's wonderful that this show encourages us to speak about them.
The Turner's are a foursome now, with the addition of Angela their daughter as well, and you will see them as a family at home but you will also see more of Shelagh working. She's got a good balance in her life this series as she also helps Dr Turner in the surgery as a nurse, which was an important side of herself that she'd neglected when she left the order.
Have you started to recognize elements from the show as it moves into the sixties?
As we go further in time with Call the Midwife, I recognize characteristics and styles from the older generation of my family. I see my hair in this style and think of one of my grandmas who had her hair like this all of her life until the day she died! It's very nostalgic. Hopefully people will identify with Shelagh in our decade now. Having a family is very important to her, as is her work as a nurse, and she balances the two as a working mum.
What has the journey so far been like for the Turner family?
It's wonderful to have the Turner family scenes. They're a real highlight for me. I love being on the set of their home, it's a happy and comfortable environment for them. They all support each other, and I include Timothy in that too. The Turners are a great unit. Patrick and Shelagh are so comfortable with each other now.
What has it been like seeing Max/Timothy grow up on set?
Even as a youngster Max was always very mature. He's just wonderful to work with, a fantastic actor and lovely to be around. A total joy.
What is it like filming with Alice who plays Angela?
She's only two years old but the penny dropped for her in a recent scene and she suddenly understood how filming works. She was sitting there and she knew she had to be quiet. The clapperboard came in and she shouted, 'I did it! I did it!' It was very cute.
What impact has Call the Midwife had that you're most proud of?
I had the privilege of visiting the opening of the Greenwich Birth Centre and met so many amazing midwives. I turned up feeling a bit unqualified to do such a thing but I received such a great reaction. Midwives watch the show and love the show. They feel as though people have more respect and love for them, because the program has put a spotlight on what they do. I'm very proud of that.
What makes Call the Midwife so globally successful?
 I think the reason Call the Midwife has done so well in so many different countries is because of the universal themes it portrays. The program isn't just nostalgic, it can make us look at how we live our lives today, whether that's through the differences or similarities we see on screen. It doesn't matter where you live, you can still relate to so many aspects of the show.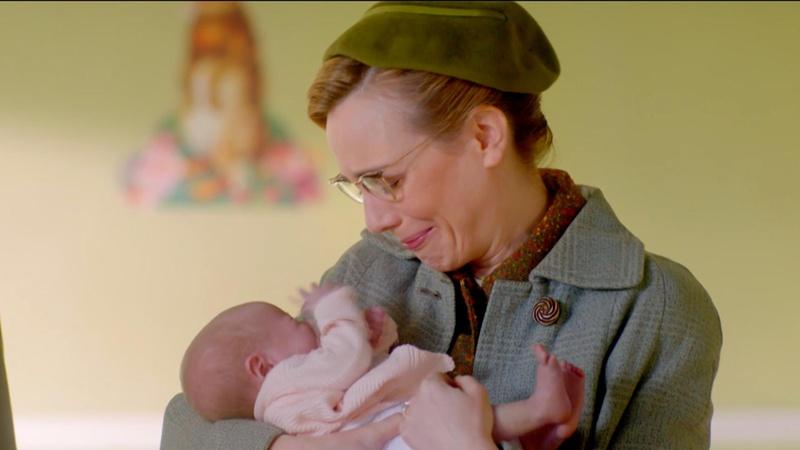 Shelagh and other characters adjust to their new roles and responsibilities.