Joulutortut (Finnish Christmas Stars)
makes 36

For Prune Filling:
5 oz. pitted prunes
water to cover prunes
1 tablespoon lemon juice
¼ cup sugar (1 ¾ oz.)

For the dough:
2 cups all-purpose flour (9 oz.)
1 teaspoon baking powder
1 ½ cup heavy whipping cream (12 oz.)
1 cup butter, at room temperature (8 oz.)

For finishing:
1 egg, beaten, for egg wash
Pearl sugar, for sprinkling

Directions:
Place prunes and water in a small saucepan and simmer until prunes become very soft, 15-20 minutes. Pour prunes, lemon juice and sugar into a blender and puree. Set prunes aside to cool.

Prepare baking sheets with parchment paper, set aside.

Sift together flour and baking powder, set aside. Measure 1 1/2 cups heavy whipping cream, beat whipping cream until it starts to thicken (soft peaks). Using a spatula, add flour to whipped cream, mixture will be crumbly. Now using your hands, work the soft butter into the mixture until well combined, the dough will be sticky. Wrap dough in plastic wrap and refrigerate for 1-2 hours.

Preheat oven to 200 degrees C (390 degrees F).

Making sure your work surface is well floured; roll the dough out to a rectangle. Fold dough into thirds, rotate dough a quarter of turn and fold into thirds again, making a small square. Turn over dough. Repeat rolling and folding another two times. Finished rolled out dough should be 15×18 inches, trim off edges to get straight lines. Measure and cut dough into 3 inch squares. Then make small cuts in towards the middle of each square. First move each cut square onto baking sheets, and then place a small teaspoonful of prune filling in the center of each square. Fold every second corner into the middle of each square, creating a star shape. Brush with egg wash making sure the center gets a good amount of egg wash to prevent the star from opening up during baking. Sprinkle with Pearl sugar (or regular superfine sugar). Bake for 10 minutes or just until golden. Cool on baking sheet for 1-2 minutes before transferring stars to a cooling rack.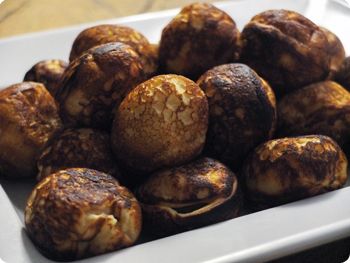 Æbleskiver (Danish Aebleskiver)

Ingredients:
60 grams butter (4 tablespoon) – melted and set aside
250 grams flour (2 cups)
1 teaspoon baking powder
3 large eggs
4 tablespoon sugar
1/2 teaspoon Cardamom
1 cup whipping cream
1 cup buttermilk
a pinch of salt
zest of 1/2 lemon

Directions:
Melt butter and set aside. Sift flour and baking powder in a bowl. In a second bowl, beat eggs, sugar and cardamom until frothy and lighter in color. In a third bowl, stir together the buttermilk and cream. Taking turns, add flour and buttermilk to egg mixture while beating, mix until smooth. Add salt, lemon zest and cooled butter, stir to mix. Place batter in refrigerator and let rest 30 minutes. Use Canola oil for frying.

Tips: Must have an Æbleskiver pan for cooking, making sure it is well seasoned if cast iron. Traditionally, Æbleskiver are turned with a thin knitting needle (why a knitting needle ? not sure, but you can find a knitting needle in most Danish households and the metal needle works really well grabbing the Æbleskiver to rotate in a cast iron pan). If you don't have a knitting needle, try using a metal skewer or it can be done with a fork although a bit clumsy.

Make sure your heat is high enough, medium heat. Make sure to preheat your pan, 5 to 10 minutes. Use enough oil or butter. I find that canola oil works really well. Some source recommend turning the Æbleskiver in 1/4 turns while others turn them in 1/2 turns. Half turns work best for me, but try either way and see what you feel most comfortable with. If you're having trouble with the Æbleskiver turning out right, don't worry, the first pan full rarely turn out perfect, keep going.

Æbleskiver can be refrigerated for up to 3 days or frozen for up to 4 months.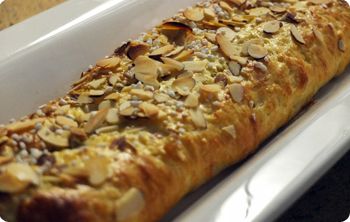 Kringle (Danish Kringle)
makes 2 Kringles

For the dough:
1 deciliter water (3.4 oz.)
2 1/4 teaspoons active dry yeast
1 1/2 tablespoons sugar (0.75 oz.)
2 large eggs, room temperature
150 grams butter, cut into small cubes, room temperature (5.3 oz.)
325 grams all-purpose flour (11.4 oz.)

For the Remonce:
115 grams butter, room temperature (4 oz.)
115 grams sugar (4 oz.)
2 teaspoons cinnamon

Garnish:
50 grams raisins (1.8 oz.)
25 grams blanched almonds, chopped (o.9 oz.)
Pearl sugar
1 egg, for egg wash

Directions:
In a small saucepan heat water to 110 degrees F (no more than 110 degrees). Pour warm water into a large bowl, sprinkle yeast over water and let sit for 10 minutes. Add sugar, eggs and butter to bowl and give a quick stir, let sit for another 10 minutes. Add all flour to bowl and using your hands, mix all ingredients until homogeneous. Transfer dough to a clean bowl, cover with a clean and dry tea-towel and let rise for 30 minutes.

To make Remonce filling mix together butter, sugar and cinnamon in a small bowl, set aside. Sprinkle work surface lightly with flour and give the dough a quick soft kneading. Dough should be soft and pliable. Divide dough into two portions and form each piece of dough into a log. Working with one log at the time, place a piece of parchment paper onto your work surface and, on the parchment paper, roll out the log to approximately 30 x 16 centimeter rectangle (11.5 x 6 inches). Spread 1/2 the Remonce filling down the middle of each dough rectangle and sprinkle with raisins and almonds. Fold the outer 1/3 of dough over the middle and then the other outer 1/3 of dough over the middle again. Fold the ends closed. Holding onto the parchment paper, roll dough rectangle over so it's now placed upside-down. Place parchment paper with dough rectangle onto baking sheet. Repeat process with second piece of dough. Allow both dough rectangles to rise for another 15 minutes on the baking sheet.

Preheat oven to 220 degrees C (425 degrees F). Lightly beat egg with a fork and brush dough with egg wash. Sprinkle with Pearl sugar and almonds. Bake for 12-14 minutes on middle rack in preheated oven. Allow to cool on baking sheet.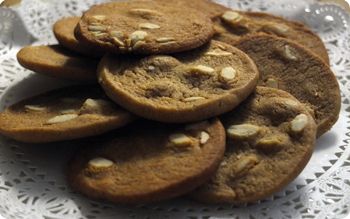 Brunkager (Scandinavian Ginger Cookies)

Ingredients:
200 grams butter (7 ounces), at room temperature
200 grams sugar (7 ounces)
1 deciliter dark syrup (0.4 cup) (100 milliliter)
1 teaspoon ground ginger
3 teaspoons ground cinnamon
2 teaspoons ground cloves
300 – 325 grams flour (10.6 – 11.5 ounces)
1 teaspoon baking soda
100 – 125 grams blanched sliced almonds (3.5 – 4.4 ounces)

Directions:
In the bowl of a stand-up mixer fitted with the paddle attachment or electrical mixer add butter and sugar and beat until smooth. Add syrup, ginger, cinnamon and cloves, mix until combined. Holding back a small amount of flour for kneading the dough, add the majority of the flour and all of the baking soda and almonds. Mix until combined, careful not to over-mix. Turn dough out onto working surface and using the remaining flour, knead the dough briefly until smooth. Divide dough into two equal portions and form two logs 5 centimeters in thickness. Wrap each log in plastic wrap and place in a zip lock bag. Let dough rest in refrigerator overnight.

Preheat oven to 200 degrees C (390 degrees F) and line baking sheets with parchment paper. Slice dough into approximately 4-5 mm (0.2 inch) thick slices and bake in the middle of oven for 4-5 minutes. Cool on baking sheet for 2-3 minutes before moving to cooling rack. Store cookies in a cookie tin with a tight-fitting lid.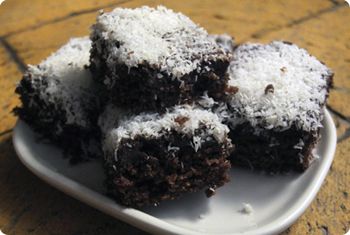 Kärleksmums (Swedish Coffee Cake)
15-18 servings

Ingredients:
150 grams butter (5.3 oz. or 10 tablespoons)
2 eggs
300 ml sugar (10 ounces)
2 teaspoon vanilla sugar
1 tablespoon unsweetened cocoa, sifted
450 ml flour (9 oz.)
2 teaspoon baking soda
150 ml milk (5 oz.)

Frosting:
75 grams butter (2.6 oz. or 5 tablespoons)
2 teaspoon cold coffee
1 tablespoon unsweetened cocoa, sifted
2 teaspoon vanilla sugar
350 ml confectioners' sugar (7 oz.)

Topping:
shredded unsweetened coconut (2-3 oz.)

Directions:
Preheat oven to 175 degrees C (340 degrees F). Spray a 9 x 13 inch baking pan with baking spray and set aside.
Melt butter and set aside to cool. Beat eggs and sugar until pale yellow and thick. Add dry ingredients alternating with the milk and butter. Pour batter into baking pan and bake in the middle of oven for 20-25 minutes or until a toothpick comes out clean.

To make topping: Melt butter. Add coffee, cocoa, vanilla sugar and confectioners' sugar and stir together. (Mixture may appear grainy at this point but it will smooth out once applied to cake). After the cake has cooled for 5 minutes, spread to topping out over the cake and sprinkle with a generous amount of coconut.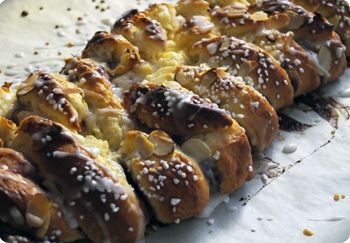 Wienerbrød (Danish Pastry Braid)
makes 2 pastry braids

Ingredients:
3 1/2 cups flour (16 oz.)
1 1/2 cups cold unsalted butter (12 oz.)
2 packages active dry yeast (4 1/2 teaspoons)
1/2 cup warm water (105 – 115 degrees Fahrenheit)
1/2 cup heavy cream (4 oz.)
1/2 teaspoon cardamom
1/2 teaspoon salt
2 eggs, room temperature
1/4 cup sugar (1 ¾ oz.)

Filling:
seedless raspberry preserves

Glazing:
1 egg, lightly beaten
2 tablespoons water
pearl sugar, for topping
sliced almonds, optional, for topping

Icing:
1 cup confectioner sugar (3 ¾ oz.)
2-3 teaspoons warm milk (0.5 oz.)
1/2 teaspoon almond extract

Directions:
Place flour into bowl of food processor with steel blade. Cut butter into 1/4 inch slices and add to flour. Pulse flour and butter until the butter is the size of kidney beans.

In a large bowl, dissolve the yeast in the warm water. Let stand for 5 minutes. Stir in the cream, cardamom, salt, eggs and sugar. Using a rubber spatula, turn the flour/butter mixture into the liquid and carefully mix just until the dry ingredients are moistened. Cover and refrigerate for 4 hours, overnight or up to 4 days.

Turn the dough out onto a lightly floured surface, dust with flour. Roll out dough to make a 16 to 20 inch square. Fold dough into thirds, rotate dough a quarter of turn and fold into thirds again, making a small square. Turn over dough. Repeat rolling and folding another two times (making it a total 3 times of rolling and folding). Ending with a small square, wrap dough and chill for 30 minutes or overnight.

Preheat oven to 400 degrees Fahrenheit and line 2 baking sheets with parchment paper. Divide the chilled dough into two parts. Roll each part into a 6 x 12 inch rectangle. (If not making both braids at the same time, wrap the second half of dough and place in refrigerator until ready to roll out).

Spread filling down the length of center of each rectangle. Cut slanting strips at 3/4 inch intervals along both sides towards to center. Fold strips over the filling in a crisscross manner. Place both braids onto baking sheets and let dough rise for 15-30 minutes until pastry appears puffy. It will not double in size. Lightly beat the egg and water for the glaze. Once dough has been allowed to rise, brush the pastry with the glaze. sprinkle with pearl sugar and/or almonds.

Bake 12-15 minutes or until golden brown. To make icing, mix together powdered sugar, warm milk and almond extract. Drizzle icing on top and let set before cutting.

Recipes courtesy of Gitte Gentile, mydanishkitchen.com





Craft In America Educational Materials look further at Holiday as a concept in craft. Visit the EDUCATION section HERE > to see what's available and download a Lesson Guide.

We filmed artist Chloe Darke for the FORGE episode. Learn more about the series HERE >

Learn more about the artists in the HOLIDAY episode HERE >