July 23, 2017
Living in Alaska, we're used to big and exciting, but we don't often stop to admire the amazing place that we call home. I am originally from Michigan where nature isn't far away, but on a smaller scale. Here, we have Grizzly bears along your favorite fishing stream, and if you take a road trip, it's common smarts to include a -20F sleeping bag as part of your emergency kit.
Here are 10 things that even old time Alaskans or "Sourdoughs," as we call them, still get excited about.
1. Temperate Rainforest and that Record-Setting Rainfall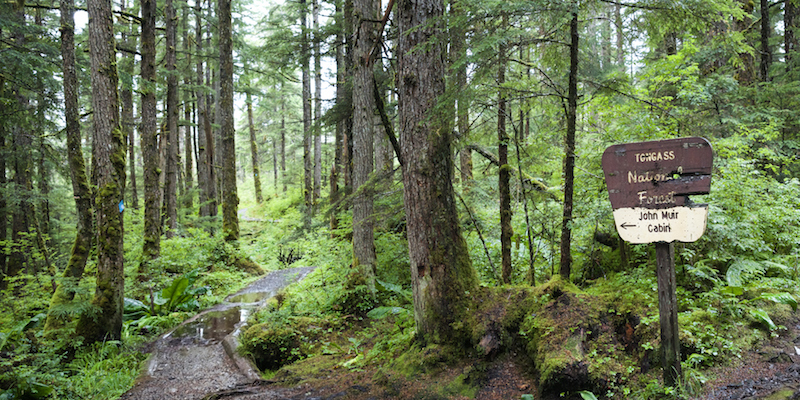 When people think of Alaska, they image towering mountains, grizzly bears, and whales. That's accurate but we also have a temperate rainforest – the Tongass National Forest. In this part of Alaska, it rains A LOT. When I say a lot, I don't mean April showers bring May flowers. I mean ever present moisture from the sky - "Liquid sunshine" - as Alaskans say. Most places in the continental United States receive about 30 inches of rain per year. In Tongass, they're received upwards of 40inches of rain... in a MONTH! The record annual rainfall — at least as far as most residents are concerned — is 202.55 inches, set in the year of 1949. I'd say bring an umbrella, but that'd make you look like a tourist.

2. Bore Tide in Turnagain Arm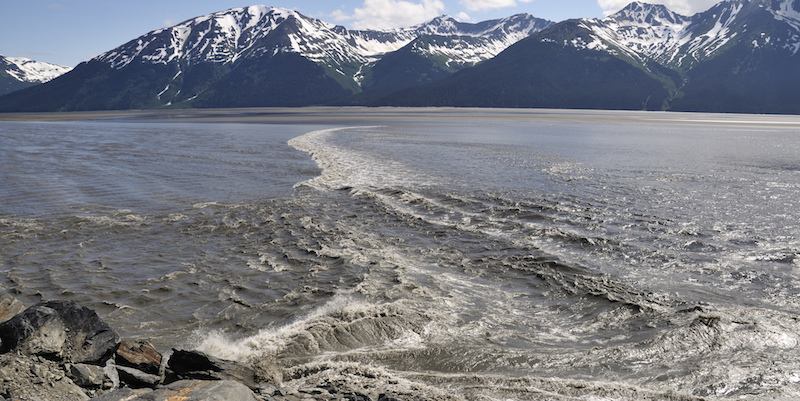 Just south of Anchorage is Turnagain Arm, where legend has it that Captain Cook, in thinking he found the Northwest Passage, had to "turn" around again. The shape of Turnagain Arm creates a Bore Tide, a rush of seawater that returns to a shallow and narrowing inlet from a broad bay. It can get up 10 feet tall and can reach speeds of 10 to 15 miles per hour. What makes Turnagain Arm's Bore Tide amazing is its size—one of the largest in the world. The Turnagain Arm bore wave is the only one that occurs in the far north and the only one bordered by mountains, making it one of the more unique and geologically dramatic bore tides in the world. It's also super accessible; you can view it by road along its entire 40- to 50-mile stretch. There's wildlife aplenty -- it's not uncommon to see harbor seals and beluga whales who follow the tide to chase prey. We think it's cool, and so do the brave souls who actually wind surf on it!

3. Gold Fever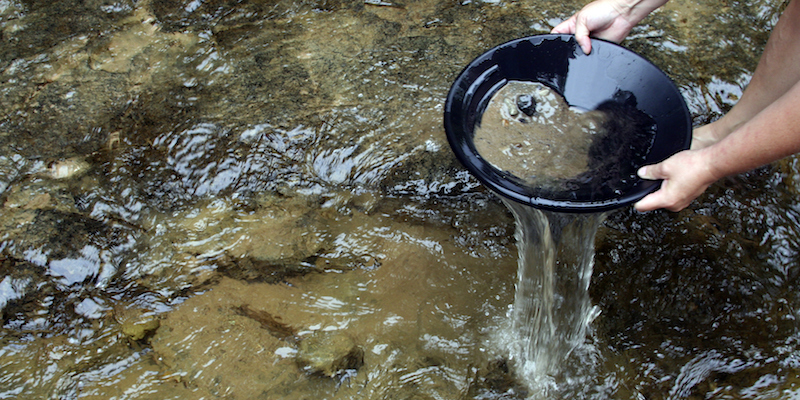 Some people spend summers at the lake or picnicking in the park. There are many Alaskans who spend their summer toiling in muck for that captivating shiny mineral -- gold! Gold fever is still a thing in Alaska and many folks wait for the spring thaw to head to their mining claim to put in back breaking hours. These days, professional gold miners use powerful hoses and heavy equipment to dig for gold - but many Alaskans still pan for gold the old-fashioned way. You can still find "color" (gold dust) in your pan in many of the roadside streams throughout Alaska. I'd tell you where I go, but you'd have to get past my pet Grizzly bear. I don't really have a pet Grizzly…or do I?

4. Northern Lights and Nature's Magical Show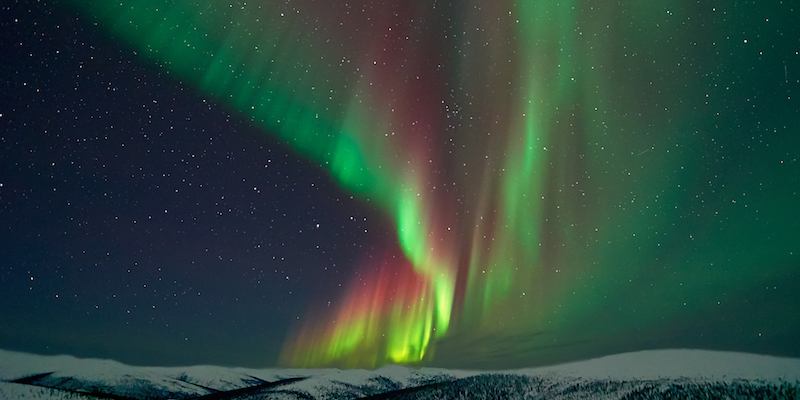 Yes, the dark does slowly get to Alaskans - "cabin fever" is a real thing. During the winter in Anchorage, we deal with a late sunrise at almost 10 am and a very early sunset at 3 pm. In northern Alaska, the sun isn't seen over the horizon for three months! But during the long winter nights, we're shown the great Aurora Borealis. Literally the "Northern Lights" -- these spectacles are the result of electrons colliding with the upper reaches of Earth's atmosphere. Usually this is caused by massive solar storms, when the sun ejects these electrons towards Earth. Here in the North, the Northern Lights can really put on a show - there's even a forecast for them, so you can plan nocturnal "Aurora Hunting."

People who haven't seen them often ask me what they look like. I describe them as blowing snow, snaking across the road in your headlights during a dark winter night -- only this natural magic takes place overhead and in vivid greens and pinks!
5. Dip Netting and a 5 by 5 Hoop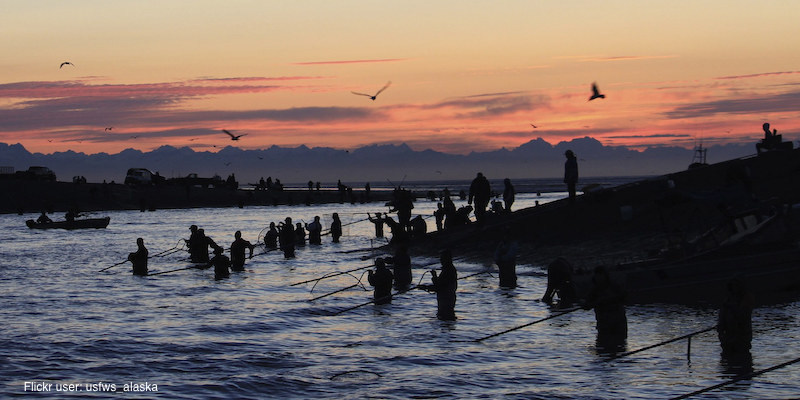 Look in most Alaskan garages, and you'll see a 5 by 5 hoop. That, my friends, is a dip net. In usual Alaskan fashion, it's fishing at its biggest – it's go big or just don't go. Dip netting works by checking the tides, then suiting up in your best (or worst) chest waders with your dip net and walking out into the ocean at the mouth of the world-famous Kenai River. What you're trying to do is catch sockeye salmon, or reds, by having them swim into your net. Some days, it's mostly standing in chest deep, icy cold ocean and nothing happens. But when they hit, it's a pure adrenaline rush! When a salmon collides with the net, it's like a baseball bat thumping the hoop - you flip the net over to trap the fish, then walk it back to shore. It's exciting, but only Alaskan residents may take part in the "personal use fishery." Households are allowed 25 salmon, with an additional 10 per individual. Alaskans are mainly looking to fill their freezers with nature's amazing gift from the sea.

6. Break Up and Watch Where You Step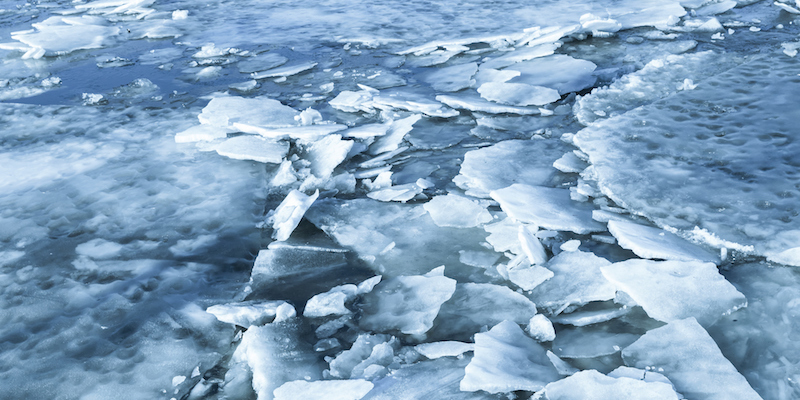 Break up. To Alaskans, it's a blessing and a curse. Break up is when springtime hits full steam -- frozen rivers begin to "break up" and the ice moves out. Historically this was important, as people relied on rivers for transportation. It's also a time of year when the levels of daylight are rapidly increasing, and the long winter's darkness is a fading memory. To Alaskans, it means sloppy roads, wet feet, and worse yet -- thawing dog poo.

7. The Rise and the Fall – The Greatest Temperature Variation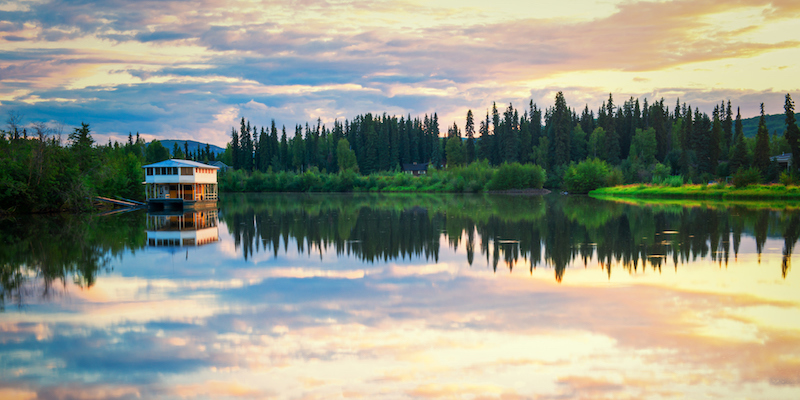 The area in the middle of Alaska is called the Interior. This amazing land of extremes sees some of the widest temperature variations in the world! Fairbanks can see summer highs of above 90 degrees F and winter lows of -60 degrees F – that's a massive difference of 150F! During the summer, it's hot and extremely "buggy" - the mosquitos there are beasts of legend. The winter is also an environmental wonder – it's a common party trick to take boiling water from the stove and toss it into the -60 air, where it instantly vaporizes into a cloud of steam!
8. Dog Mushing and the Great Race of Mercy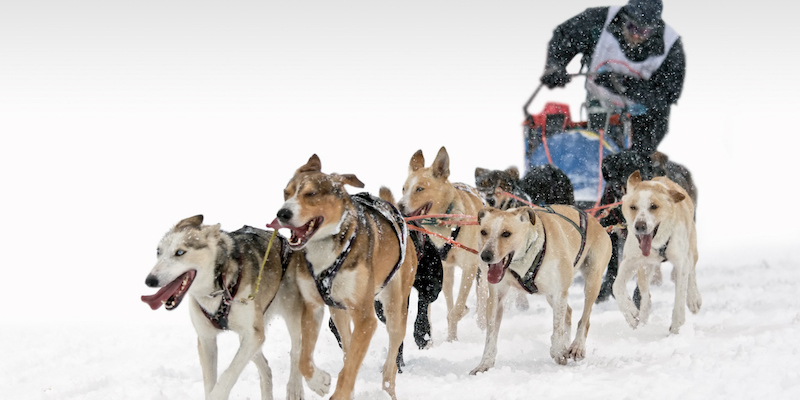 It's not uncommon, here in the "Great Land" to see sled dogs running alongside the road during the winter. Yes, you'll see more snowmobiles (snow machines to Alaskans), than dog teams but the farther you get from the "road system," people still rely on their team of canines to help move freight and travel between villages. Alaskans love dog mushing so much, we made a sport of out it! The world famous Iditarod race begins in Willow and ends in Nome, which essentially reenacts the race to get the life-saving diphtheria serum to Nome in 1925. It was in that year, 20 mushers and 150 sled dogs traveled 674 miles in five and a half days, saving the small town of Nome from the deadly diphtheria epidemic.

9. Mega Earthquake Hits Alaska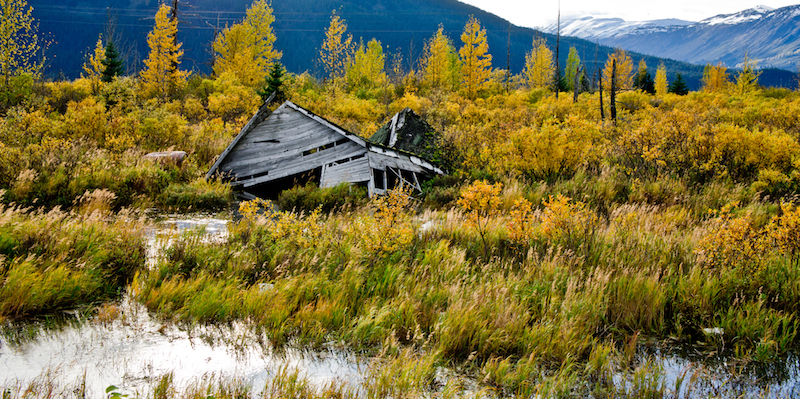 While California expects earthquakes, it would have been the last thing on an Alaskan's mind. But the 1964 Alaskan earthquake, also known as the Great Alaskan earthquake/Good Friday earthquake, occurred at 5:36 P.M. on Good Friday, March 27. Across south-central Alaska, ground fissures, collapsing structures, and tsunamis resulting from the earthquake caused 139 deaths. Lasting four minutes and thirty-eight seconds, the magnitude 9.2 megathrust earthquake was the most powerful recorded in North American history, and the second most powerful recorded in world history. Can you image the earth shaking for 5 minutes? I can't, and we hope we don't see another one like this for awhile.

10. Giant Vegetables! No really, GIANT vegetables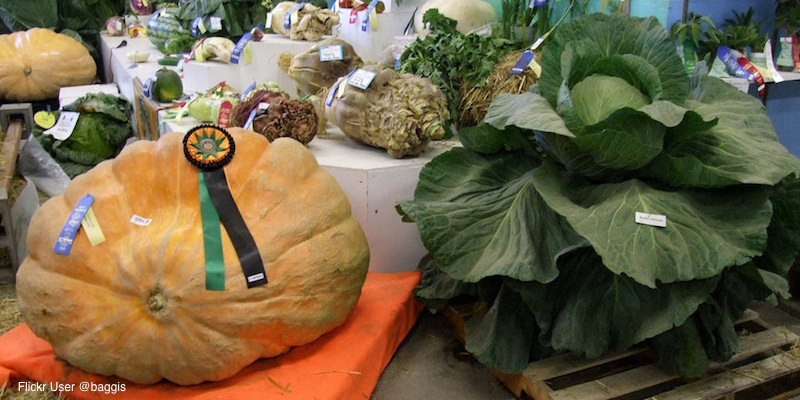 We Alaskans…we're proud of our big state (yes Texas, it's true - sorry not sorry.) We have the largest mountain, the largest salmon…and the largest vegetables! With Alaskans getting more than 22 hours of daylight in the summer, we like to grow things. BIG things. Its not uncommon to hear of a 35-pound broccoli, a 130-pound cabbage and pumpkins that are 1,780 pounds! Just north of Anchorage is the Matanuska-Susitna Valley, farming there originally began as an experiment in the 1930s to increase agricultural output of the country during the Great Depression. More than 240,000 acres were set aside for farming and farming families from Minnesota, Wisconsin, and Michigan. Now, the fertile land grows veggies that your kids just can't say no to -- or else.

Ok, so we said there would be 10 great things to share but in our incredible state, I couldn't stop at 10. Now, for #11!
11. Summer Solstice – Let the Celebration Begin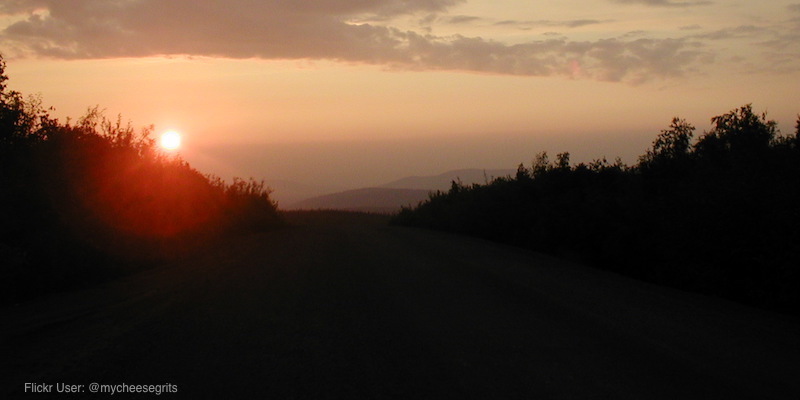 Ah, Solstice! To Alaskans, its a time of celebration. Summer solstice is the longest day of the year. In Anchorage, we get almost 22 hours of sunlight -- plenty of daylight to fish, work in the garden, or give thanks for such an amazing spectacle. During solstice, you will find celebrations of all kinds -- festivals, barbecues, dance parties, midnight hikes, and marathons.

We get to see some amazing things as Alaskans. But we also absolutely love to share our state with visitors! There are so many ways to come and experience Alaska. Want to see most of our state in one trip? Arrange a cruise through the Inside Passage. Feeling a longer experience is needed? You can drive from the "Lower 48," through Canada into Alaska. Or, just hop aboard a plane and come visit us here in the Land of the Midnight Sun. We'll be waiting with giant vegetables and dip nets!
Rich Capitan is a science educator with the Bureau of Land Management's Campbell Creek Science Center and also operates his own small science education business - Wild Science, in Anchorage, AK. A certified Alaska Master Naturalist - he's called Alaska home for 20 years. He's smelled walruses, counted seabirds, tagged lynx and barfed in small planes tracking wolves. He has been involved with amazing Alaskan science institutions such as - the Alaska SeaLife Center, the Imaginarium Science Discovery Center, and Audubon Alaska.