March 24, 2017
Like many educators, I teach students cultural literacy in order to cultivate compassionate global citizens. In pursuit of this gain, my foreign language colleagues and I collaborate to provide a taste of the world for our students through the use of technology.
As the Library Media Specialist for a large suburban high school, I am lucky to work with students in many subject areas, including foreign languages. Several Spanish teachers and I have been taking students on virtual field trips using Google Cultural Institute and Google Street View for years; however, the introduction of the Google Cardboard and Street View apps brings a whole new level of excitement to virtual field trips.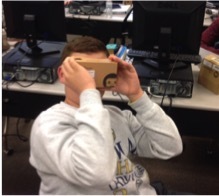 Planning for Your Trip
To support all students taking a trip, we provide desktop computers and we ask students to bring their own their smart phones pre-loaded with the free apps.
Because we know not every student has access to a phone, we provide an alternative trip on the computers. Many of the students who do not have smart phones during the lesson are able to share with other students in the class or use the few devices that our library owns.
Stops Along the Way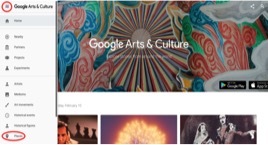 Our students begin their journey by visiting Mexico and Spain in Google Arts and Culture, formerly Google Cultural Institute. World wonders are available for view from across the globe, which could support any number of cultural experiences. Students can access this resource on a desktop or a smart phone. This curated collection of art, history, and treasured places around the world models for students the kinds of sights they should visit on the self-guided portion of their field trip. Once students click the dropdown menu on the left side of the screen and select "Places," they can search for a country. Students scroll down the page to choose a Museum View photo, which is comparable to Street View in Google Maps. If the place name appears in the upper left of the Museum View window, students can read more about the historical or cultural significance of the place. As a way of commemorating their trip (and also as a way for the teacher to grade the activity), students can list and describe the attractions they visit along the way using an activity guide.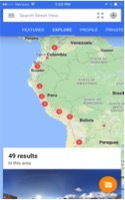 Once students have an idea of the kinds of sights they should explore, we provide some instructions on searching for additional Spanish-speaking countries in the Street View smart phone app. Students can use the familiar search bar at the top, or they can zoom in on the map and look for red dots identifying available photospheres. Once they have selected a place to visit, they can click on the Google Cardboard icon and flip their phone in the direction indicated on the screen. The screen is then divided in two so that students can easily view the photosphere using a VR viewer, such as Google Cardboard.
Reflection of New Cultures and What's Next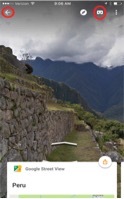 At the end of their field trip, students are asked to evaluate the experience: in what ways can technology help students explore different cultures? What do you wish you could further explore? Is the technology limiting in some ways? We received overwhelmingly positive feedback from students. One student commented, "Technology can help students [to] easily and cheaply explore new places. I saw four new countries today by simply downloading an app – that is truly extraordinary…" Another student elaborated that while the lesson was enjoyable and worthwhile, he still could not "taste the food or feel the rocks" beneath his feet. And this ultimately got to the heart of the lesson: there is so much we can learn from other cultures. Travel challenges us and teaches us humility; new experiences irrevocably change us and alter our view of the world. Technology can give us a taste of the world, but we hope these trips inspire our students to stay hungry for the real thing in the future.
Expand your language and cultural exploration with PBS LearningMedia. Below are just a sampling of resources you can find to learn about languages, cultures, and places all across the globe.
Ms. Kauffman is a high school Library Media Specialist in Western Pennsylvania. After receiving a BS in Secondary Education and a BA in English from Penn State University, Ms. Kauffman completed her MS in Library Science from Clarion University. She is an officer for the Westmoreland County Association of School Librarians, a representative to the Pennsylvania School Librarians Association Advisory Council, and she has presented workshops for both local and national conferences. Ms. Kauffman is a Google for Education Certified Innovator, a Fulbright seminar participant, and a Nearpod PioNear. When she is taking a break from talking about YA books, Ms. Kauffman loves hiking with her dog Max and eating Alumni Swirl ice cream at PSU's Creamery! She can be found on Twitter @MsKKauffman.