April 17, 2017
It's a beautiful spring day. You are teaching a lesson to your fourth graders on finding the area of a rectangle. But instead of being inside your classroom completing a practice book page, you and your students are outside measuring the planting beds that are staked in your school garden. The students then sit outside at tables together and use those measurements to find the area of each bed.
Earlier that afternoon, a kindergarten class was using Unifix cubes to measure the height of the sunflowers and put them in order from shortest to longest. Yesterday, a second-grade class was testing different types of soil to see which absorbed the most water.
At our school, we wanted these types of lessons for our students, so we created a school garden. A school garden creates endless opportunities to extend learning beyond the school walls. In planning our project, we considered the impact that a school garden would have on our students, our community and the environment.
Our Purpose
Our school garden has…
been a living laboratory where educational opportunities provide life-long lessons that last well beyond the growing season
included students, staff, parents and other members of our community, thus fostering a sense of ownership and equity for all involved
defined sustainability for our students so they will grow, use and share with our community the fruits of our garden
given the students the opportunity to experience project/inquiry-based learning that extends their classroom curriculum beyond the school walls
Student Involvement
Our students have…
researched and discussed what should be grown in the garden
created maps of what they want our garden to look like
helped create rules for the garden
participated in monthly garden meetings on topics such as sustainability, soil, planting, nutrition and composting
started a seed indoors and nurtured the seed into a seedling, until ready to transplant their young plant outdoors
committed to working in the garden throughout the summer with their families
Community Involvement

We have created partnerships in our community by…
forming a steering committee consisting of our principal, interested staff and parents, and community partners
collaborating with a local, community-owned multimedia corporation that has committed to improving education
donating a portion of our garden's harvest to a local community outreach organization
For the Environment

Growing a garden…
ensures healthy, organic produce
is sustainable and nourishes the soil
reduces the impact of transporting produce globally
encourages our school to compost
encourages our school to collect and reuse rainwater
promotes healthy eating for our children
Why create a school garden? Why not? "A school garden provides an outdoor learning environment and is a means to create a sense of season and a place for all children…a school garden puts the natural world at the students' fingertips. This living laboratory offers a rich context for exploring science, nutrition, social studies, math, art, language arts and more." (Life Lab Science Program, p. 5)

Useful Resources: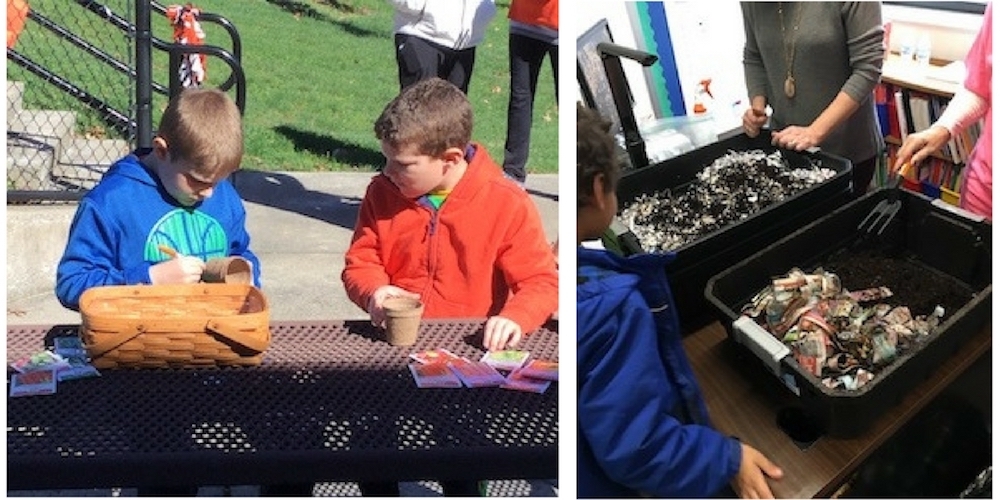 Planting Seeds Learning to Compost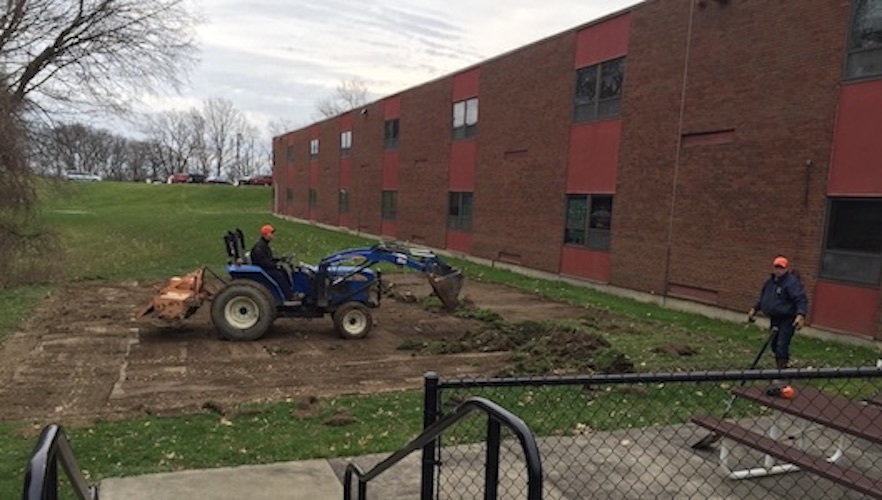 Clearing space for the garden.
Dawn Douds has been teaching at Abraham Lincoln Elementary School in Bethel Park, PA for 24 years. She teaches in the same classroom where she attended first grade! Along with the school garden program, she assists with a few additional programs at the school – an after-school mentoring program, a pre-school STEAM program and a family coding program. Feel free to contact Dawn with questions or comments at douds.dawn@bphawks.org.