October 28, 2016
PBS LearningMedia has launched a new Science curriculum hierarchy, AND a brand new Engineering and Technology hierarchy. Rachel Connolly, STEM Education Lead for PBS LearningMedia and WGBH Education, explains the new hierarchies and how they can help teachers find what they need on PBS LearningMedia.
I had recently started teaching high school physics when the National Science Education Standards were released. I still remember the process of looking for new resources and adapting my lesson plans. Despite flashbacks to stacks of binders, I remember it as a time of intense creativity—developing new descriptions and visuals for concepts (centripetal force was a tough one for me) and shaping new narratives for my units. I understand the value of targeting and finding resources that are aligned with standards, which is why I am proud to be a part of the team that has led the planning for how PBS LearningMedia will support the release of the National Research Council's Framework for K-12 Science Education and the associated Next Generation Science Standards (NGSS).
PBS LearningMedia currently offers over 120,000 free digital resources. The main tool for organizing content on the PBS LearningMedia platform is the curriculum hierarchy. These subject-specific "structures" provide the skeleton that each and every resource in our catalog hangs on. They also connect every PBS LearningMedia resource to a host of national and state standards documents.
With a number of states adopting the NGSS, and other states revising their standards to incorporate some of the Practices, Crosscutting Concepts, and Core Ideas, we took this opportunity to redesign the science hierarchy in PBS LearningMedia. Two years – and many sleepless nights later – we are excited to share the results.
So what are the changes?
Streamlined Science hierarchy: The focus on broader core ideas for the science disciplines meant designing a more streamlined hierarchy divided into topical "branches," with no overlap. Results? A new science hierarchy that is 38% the size of the previous science hierarchy, with topic names that reference the specific language of the NGSS.
Increased status of Engineering Design: We designed and launched a new hierarchy that is entirely dedicated to Engineering and Technology, covering a wide range of topics from energy and power systems to manufacturing and materials.
Integrated dimension of Science and Engineering Practices: Practices now have their own, dedicated branches. The Science hierarchy now includes a dedicated section for "Practices and the Nature of Science," while the new Engineering and Technology hierarchy includes "Engineering Design and and Practices."
These new curriculum hierarchies will help you find resources faster when used in combination with PBS LearningMedia's advanced search, sort and filter capabilities. By drilling down into the branches of the hierarchy, you can narrow your results in just a few clicks. From there, you can sort resources by popularity, newest or most relevant, or use filters to target specific grades and/or media types—all tremendously helpful tools for narrowing your search parameters.

The new hierarchies in action:
Here's an example. Say you are teaching a class on climate change and want to find a resource to explain the role of carbon in Earth's atmosphere. You can go into the Science Hierarchy, click on "Earth and Space Science," then select the subtopic, "Global and Regional Climate Change." This will narrow the search results down to about 450 resources. From here, you have a few options. First, you can select filters for the specific grade(s) you teach and/or resource type(s) Or you can go to the top right and sort by "Most Viewed" to display the most popular resources. After exploring the results, you could choose a video about Global Warming: The Physics of the Greenhouse Effect, which includes a background essay about the video and discussion questions for your class. Voila! You've enhanced your STEM teaching with digital media in a few short steps.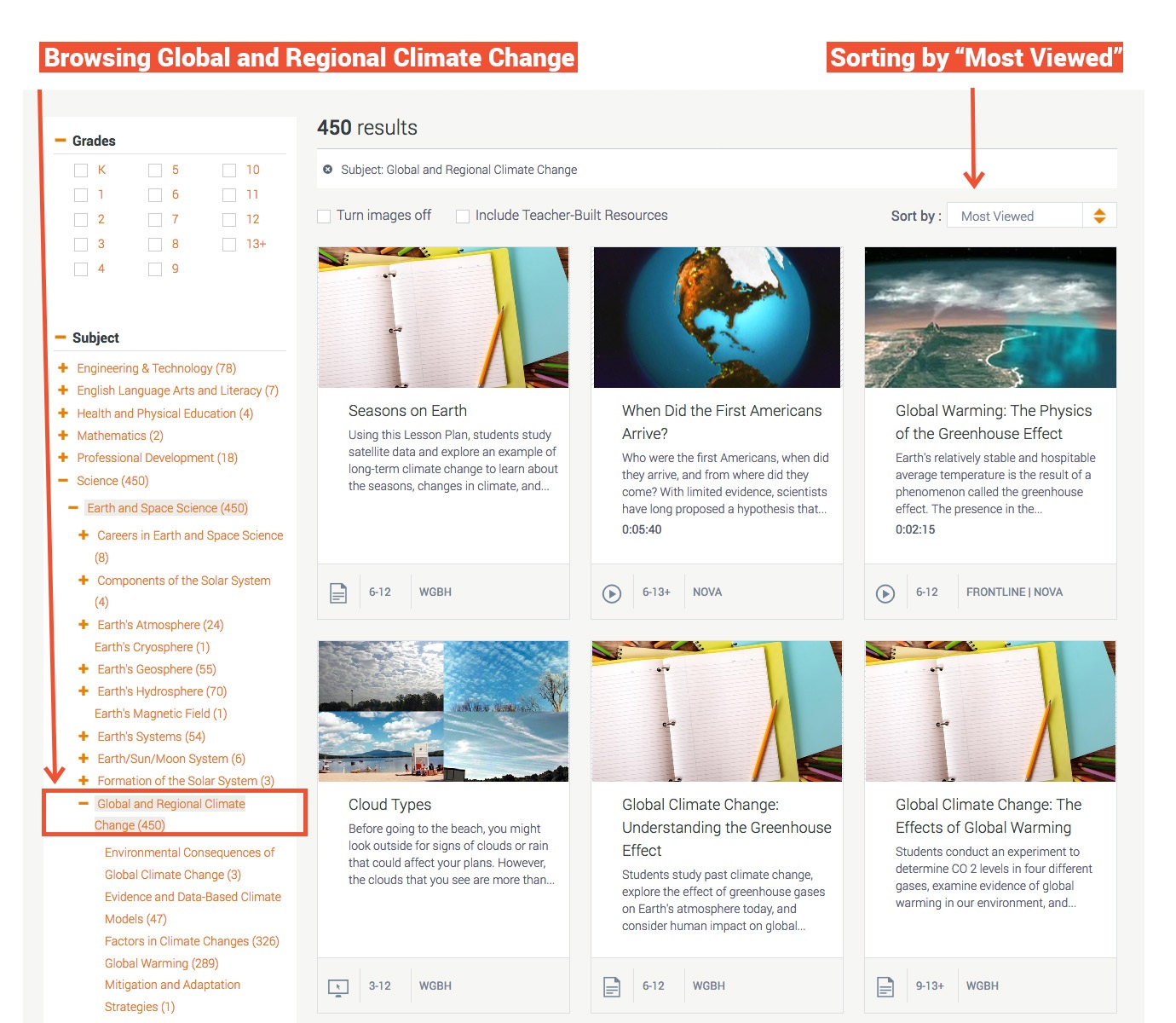 Explore our new hierarchies for yourself at PBS LearningMedia. Here are some of our favorite topics to get your creative juices flowing:
Engineering and Technology:
Science
Browsing through these various branches of the new science and engineering hierarchies still brings back that feeling of excitement when I've discovered something that will help my students. And while I'm no longer in my own classroom, I feel good knowing that I play a small role in helping teachers find and use some of the amazing classroom resources that we have to offer.
Let us know what you discover—or if you find a new favorite!
Rachel Connolly is the Director of STEM Education for WGBH and PBS LearningMedia. After teaching high school physics in NYC, she moved into teacher professional development and educational programming at the American Museum of Natural History. Her work with the Hayden Planetarium sparked a love of data visualization that let to her graduate work at Teacher College Columbia University. Her work focuses on designing media-integrated educational experiences that leverage emerging formats of scientific data for innovative instruction. You can see her on PBS LearningMedia talking about the Solar System, or follow her at @rachelbconnolly