September 01, 2016
Meet the fun(ny) and talented PBS Digital Innovators, class of 2016-2017, representing each U.S. state and a couple of territories, too. Learn what makes them tick, and pick up a few tips and tricks! In this regular series, we'll be spotlighting the Lead 2016 PBS Digital Innovators.
Today, we're featuring Jared Knipper from Syracuse, Indiana.
All about Jared Knipper
What's your current job title/role, grade level, subject area?
Currently I am the Innovation and Inquiry Instructional Coach, it's my first year in that role. Before that I was a kindergarten teacher for 4 years. Prior to that I was a police officer for 11 years. During those 11 years, I served as a patrolman, school resource officer, and a firearm
instructor.
What do you enjoy doing outside of the classroom?
I train bird dogs for upland and waterfowl hunting. I love to hunt pheasants and waterfowl and go musky fishing. I also run a kennel with my family (boberosagundogs.com).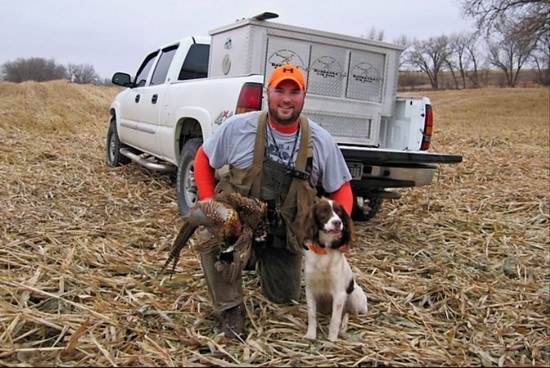 What is your school like?
We are small school, 450 kids grades K-5. We're a public school in a rural/small town and are home to Indiana's largest natural lake, Lake Wawasee. The population of our small town explodes during the summer!
What inspires you?
Helping students and teachers overcome fears and find success.
What are you passionate about?
I just like to learn new things, go new places, and explore something I haven't seen before. Our children are finally getting old enough that we have started road tripping. They are seven, five, and three years old and we did 3500 miles out west this summer. I always seem to have some new "project" to teach myself. Cooking new things, making new things, etc. It never seems to stop!
What was your greatest teaching moment so far?
One year one of my students saw a lot of the other kids giving me gifts around Christmas. She was 5 and did not have a whole lot. The last day before break she brought me a baggie of Coco-Puff Cereal as a gift! It's the best gift I have ever received, truly from the heart. Might have cried :)
Tell us about your favorite "Aha!" moment with a student or group of students.
I love how the kids in my room feel like they can make anything. It was my own "Aha" moment last year. If we teach kids to do things with what they know- create, design, publish- for a world market, or for the public, then showing the work becomes easy. Teaching becomes the best part of your day. Seeing kids naturally work and stay on task for hours on something they simply can't put down? Boom! Magic!
What's one tip you would share with a teacher who is just starting out in their first year of teaching?
Throw away everything you learned in college- 90% of it was crap. You will learn more from just jumping in and doing it, and figuring it out along the way more than any college course will prepare you for. "Build, make, design and create"- that should be your focus in classrooms. Select a standard or standards, figure out how you would want to learn that if you were a kid in your own room and teach it! If you wouldn't want to be a kid in your own room- fix it.
Any other stories or fun tidbits you'd like to share?
I might have dressed like goldilocks for Halloween one year. The other three kindergarten teachers were the bears. ;)