November 01, 2016
As a technology-loving kindergarten teacher, I frequently ask myself, "Is this lesson developmentally appropriate?" If it's not, how can I use technology to make the lesson accessible to all students in my classroom? This is an especially daunting task early in the school year when most of my students cannot read or write. In fact, most of them do not recognize their own names.
This school year started with an additional challenge: my district, Rio Rancho Public Schools (RRPS), adopted a new English Language Arts (ELA) program that was not only a challenge for my students but a challenge for me, too. Nevertheless, I jumped into the program. As I read through the upcoming lessons, I was excited to see how rich the nonfiction text was and I looked forward to several close-reads of a book called Life in a Pond by Carol K. Lindeen. I got to work creating a PBS LearningMedia storyboard, calling it Animal Homes which included a video of animals in their homes. I added an interactive game featuring "Nature Cat" building a park, and I asked my daughter to film me sitting next to my own backyard pond. In the video we created, I fed my fish and talked about the similarities and differences to the ponds we were studying in our non-fiction books.
The kids love going to our computer center and using the storyboards to see real life comparisons. The class learned about turtles, frogs, fish, and ducks. I will never forget how one of my students, Joey, laughed and said that Cattails looked like corndogs, not cats at all. We learned about how frogs jump and ducks dive. I lead the class through making a list of the plants and animals we could find in and around the pond.
The ELA program shared-writing lessons included creating a class mural: each student would contribute a drawing of an animal and plant they had learned about. I saw my chance to add technology as the class worked on their construction paper animals. I listened to them talk about how fish breathe through gills, and how cool it is that a duck can swim and fly. My class was really excited about the project and sharing what they had learned. I recorded my students telling me the facts they knew about the animal they had added to our colorful mural.
I explained that I knew a way to make our mural talk. The class actually jumped up and cheered. As a teacher, I know that five-year-old students have much more verbal language then they do written language, so I only asked the students to use a sticky note to add a name to their animal on the pond. They only write the sounds they heard so turtle was trtl and duck was duk. After they added their labels, the make-shift recording studio, which is a large closet in our classroom, was put into action. I used my laptop's audacity program to record what each student had learned.
I expected to hear the frog can jump or the fish can swim, but by the second student, I knew we were in for much more. Maggie came into the recording studio grinning from ear to ear. I explained that I would point to her when it was time for her to tell me about the turtle she had made. I pointed and she took a deep breath and said, "When a turtle gets very scared it can pop his head right back in its shell, like this," then she shrieked, jumped up, and covered her head with her hands. We were both laughing by the end. You could hear the delight in her voice and even through her feet excitedly hitting the floor. After we listened to her podcast together, I exported it to my documents, and published it to my class webpage.
I loved listening to each student as they explained what they had learned. Sure, I got fish can swim, but I also got, "Mrs. Garmon, did you know fish can get sunburned?" After each student's podcast was loaded to the webpage, I used the google URL shortener to generate QR codes. I also added QR codes to the PBS storyboard, and one for the video from my backyard pond. Next, it was my turn to get the glue sticks out. I attached each QR code under the respective student's creation. Finally, it was time to add a title to our pond and teach the class about QR codes. We settled on Mrs. Garmon's Kindergarten Pond.
"Let the technology begin!" was thundering in my head as I pointed to the QR codes and asked if anyone had seen them before. There was a chorus of yes and no and the one, "When is lunch, Mrs. Garmon?" but I persevered, and said that the squares each held their own voices, a video of me at my pond, and even a PBS Storyboard with a Nature Cat game and a cool video of animals and their homes.
I held up the Nexus tablet for all to see. I explained that the tablet was not a toy but a tool – a tool that can help us learn a lot of really cool things. But we had to be careful not to drop it or break it because it is a rule in our class that we take care of our things. I pointed to the QR code reader app and passed the tablet around so they could each see it. Next, I demonstrated how to line up the code with the tablet using one of the codes. I clicked "ok" and held the tablet to the mic. You could have heard a pin drop as Maggie's voice filled the room with her turtle story. It was awesome! My amazing assistant, Seretha Crider, and I created a research center for the pond mural: we added big books, both fiction and non-fiction, decodable reading books, puppets and stuffed animals, the tablets, and even a kid-sized bench. The research center was a huge hit! The students always started by clicking on their own code, but soon they became curious about each other's work, and, of course, the storyboard.
Students visited the center in their learning groups of four. I have never had a center generate more vocabulary and language acquisition than the pond center. Students had ownership of their work because each had a hand in creating the pond mural. The pond was a great example of Universal Design Learning (UDL). Each student, regardless of ability, was able to access the center and utilize the center's technology resources. Students had access to text on their level, puppets to practice letter sounds, QR codes to access each other's animal facts, videos, and the PBS storyboard. After visiting the center, students wrote about what they learned that day in the center. Students drew pictures and added labels to their own writing. Some drew a frog and added just the letter F, while others sounded the word out completely. The students were super motivated to write about what they had learned!
All in all a day spent at Mrs. Garmon's Kindergarten Pond is a day well spent.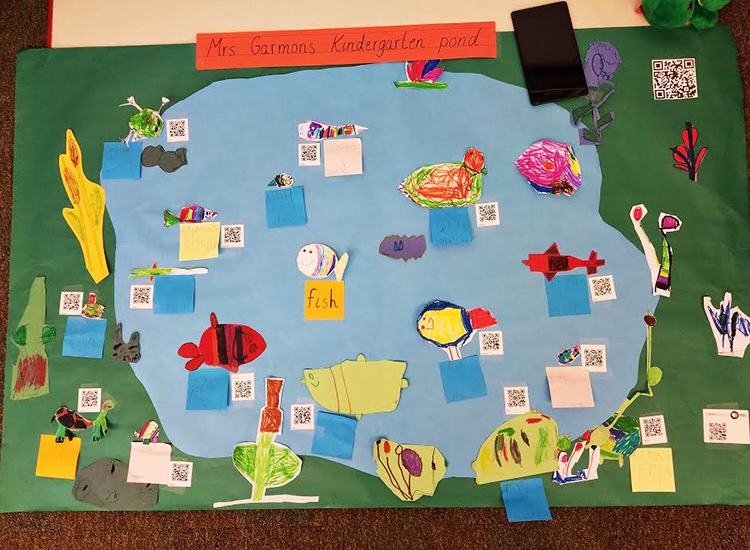 Michelle Garmon is a Kindergarten teacher in Rio Rancho, New Mexico. She is dedicated to bringing developmentally appropriate technology to her students. She is also committed to sharing her knowledge with her colleagues. Check out her classroom website here. She can also be found on her YouTube channel Mrs. Garmon's Class or on twitter @kindergarmon.