October 19, 2016
Teachers, even if it is painful, I ask you to put yourselves back into the shoes of your seventeen-year-old selves. You're in your first course dedicated to U.S. Government and Politics, and your teacher has asked you to read page 7 of your textbook about political participation in this country. This is what you will find:
"A broader reason [for young people's political apathy] is that today's youth have grown up in an environment in which public affairs news has not been as readily visible as it was in the past. It has become particularly difficult to convince a generation that has channel surfed all their lives that politics really does matter."
What do these textbook words teach you about yourself and your predetermined opinions, along with your ability to create change?
I may be biased because I choose to teach politics to young people for a living, but I think textbook authors, and adults in general, too often fundamentally misunderstand young people. My students don't see themselves reflected in the words of their textbook. They are deeply passionate about selective issues ranging from climate change and education funding to social justice and Internet privacy.
And they also recognize that adults – parents, teachers, and politicians alike – aren't often listening. To understand young people, we have to put ourselves in their shoes and commit ourselves to listening to them before we teach them.
When we listen, we may learn something about them and their world. Here's an example from my own classroom, just this semester. When we were studying forms of media and how Americans consume political information, I had a moment of weakness, possibly inspired by the words in our textbook. I made a flippant comment about young people learning news on Snapchat, and how the headlines and videos I had seen on Snapchat's news feed didn't strike me as real news.
"You scroll down for the article," remarked one student.
"What do you mean?" I took out my phone and had them show me. Sure enough, when you swiped up, the article - from credible news sources like the New York Times or USA Today - appeared.
Young people are paying attention to our politics and they recognize the benefits of dialogue, particularly on contentious issues. This was the subject of the winning PBS 50-for-50 essay by one of my students, Zhengdong Wang. He wrote:
"Especially on contentious issues, consistent conversation – not silence – precludes standoffs."
So, in a political climate that too often shuts down conversation among our friends, family, and coworkers, we cannot allow ourselves as educators to stop having conversations with our students about important issues, issues that are meaningful to them and demonstrate the importance of politics, governance, and public policy. Students want and deserve to dialogue on issues ranging from the 2016 presidential election to Black Lives Matter, in addition to studying the Constitution and Supreme Court cases. (In fact, can we not connect those current events to the latter critical required content?)
I was preparing my lesson on political participation on Sunday, August 28, the day after Colin Kaepernick's first protest. After a brainstorming activity about conventional forms of political participation – voting, campaigning, running for office, etc. – I had planned to show a great documentary called Viva La Causa on the farmworkers movement. The news, however, changed my plans. The next day in class, predictably, all the students wanted to talk about was Colin Kaepernick's protest.
I listened. I gathered what I could: the press conference transcript, some of the photos, and generated discussion questions. I was open to changing my plans, recognizing that despite my love for the Cesar Chavez documentary, my students were focused on something else that was relevant – I would miss an opportunity to connect content to their lives if I disregarded their interest. This was a prime opportunity to open up a dialogue with students about issues ranging from protest movements and the 1st Amendment to our national symbols and the very definition of patriotism. At the end of the day, my goal was for my students to walk away from class with more concrete knowledge as well as an understanding of the reasoning and experiences of students in class who felt differently than they did.
We need to listen to our students so that we can dialogue with our students and so that they can dialogue amongst themselves.
Our textbook begins with the story of civil rights with 42-year-old Rosa Parks, not Claudette Colvin, who, at age 15, refused to give up her seat on a segregated bus in Montgomery, Alabama. It discusses Martin Luther King, Jr., but not the Children's March and the teenagers who were the targets of Bull Connor's hoses and dogs. Our politics and our conversation about politics too often write off young people in an outdated mantra of "young people don't care," when history shows us that young people are the ones who all too often are the agents of change.
What if we tell those stories, too? What if we let our students tell their stories?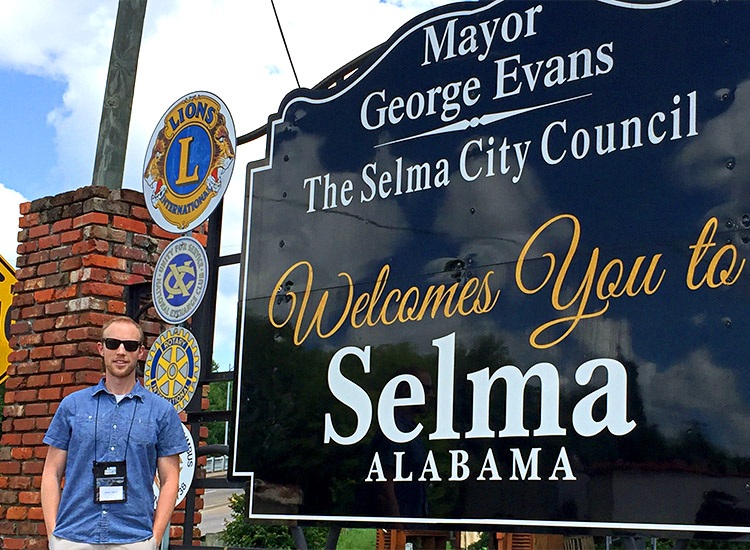 Jake is in his fourth year teaching at Hamilton High School. Prior to teaching, he was an intern at the Arizona Attorney General's office and worked for the Arizona Democratic Party. Currently, he teaches Honors We the People, AP U.S. Government, and AP Macroeconomics. Last year, Hamilton's "We the People… The Citizen and the Constitution" team placed first at the district competition and third at the state competition, sponsored by the Center for Civic Education. He was awarded Northern Arizona University's Teacher of the Month in February 2014 and was honored at a Phoenix Suns game. In April 2014, he was honored at Salt River Fields by Paul Goldschmidt and Phoenix Children's Hospital as a "Champ for Children."