December 01, 2016
I always look forward to the time of year when my students start learning about World War II. Compelling stories and heroes, hard to answer questions about humanity, and lessons that still resonate to this day make planning and teaching this important era exciting and fun.
Throughout the years, I've found that incorporating digital media and technology in my class has made the War more relevant and accessible to students. Rather than sitting passively listening to a lecture or completing a worksheet, students become explorers and navigators of their own learning experience by witnessing battles, meeting people, and immersing themselves in the significant historical events of the time.
Incorporating digital scavenger hunts, using apps such as Movenote, and utilizing resources from educational sites like pbslearningmedia.org are just a few of the ways that I integrate technology in my classroom. Reading a primary document is a great way to learn about an event - but what if students could interact with that document? Using sites such as Actively Learn allows students to engage with the text, with the teacher, and with other students to make better meaning of the source at hand.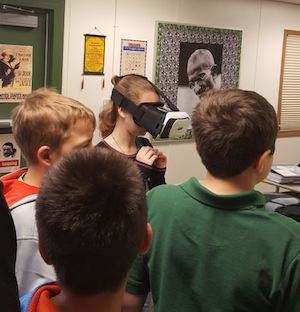 Students in my class have recently been experiencing events and places using Virtual Reality (VR). Google 360゜has many free VR experiences for students. On December 4th, the National Park Service will release a Pearl Harbor mobile app allowing viewers to walk the decks of the USS Arizona, witness the attack on Battleship Row, and visit the USS Arizona Memorial. Google has gone even further with Google Expeditions, and is working with partners like PBS to create quality educational field trips using VR technology. If you have a VR headset or Google Cardboard, I highly recommend downloading a demo and trying this immersive experience.

My favorite way for students to experience an Electronic Field Trip (EFT), however, is through the distance learning programs like the ones offered by the National World War II Museum. These engaging programs have exponentially increased interest in my classes by making World War II more tangible and meaningful for students. Museum experts transport students to crucial moments during the War. They also have field trips that honor those that are sometimes forgotten by history like women, Latinos, African Americans, and Native Americans.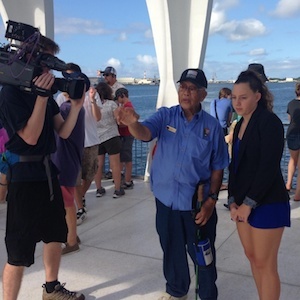 For the 75th anniversary of Pearl Harbor, the National World War II Museum and PBS member station WYES will commemorate the event by hosting a free Electronic Field Trip which will be webcast across the country in memory of this pivotal day. "How Students Like YOU Experienced the Day of Infamy" is a unique opportunity to take students outside of the classroom without ever leaving it.
The field trip will stream live on December 7, 2016 @ 10:00AM and 2:00PM EST - Register here and follow online using #WYESfieldtrips and #pearl75.
I highly encourage history educators to take advantage of this event. But before you do, preparation makes all the difference. Here are my TOP 5 TIPS to make the most out of your virtual field trip:
1- Articulate Your Learning Goals- Like any trip, you have to know where you are going in order to get there. When teaching Pearl Harbor, I emphasize Japan's quest to be an imperial nation, and the West's growing fear that this would become a reality. Students should understand the concept of ethnocentricity and how it can lead to devastating events like Pearl Harbor. I also want to students to come away with the knowledge that Pearl Harbor mobilized the United States to enter Word War II. I tailor my lessons to emphasize these issues, and if possible, let the museum educator know the points worthy of focus.
2- Build Students' Background Knowledge Beforehand - After booking your field trip, the educational institution will give you a curriculum guide to help prepare students for the event. There are lesson plan ideas and important content included that will make your trip more successful. I study the material and create lessons that highlight my learning goals and make the content accessible for every student in my class. You can access curriculum material for this commemorative field trip at the bottom of the event registration page.
3- Use a Common Vocabulary- When building background use the same vocabulary that students will hear during their trip. Not only does this build content literacy, it makes input comprehensible and builds digital literacy as students navigate through the EFT.
4- Have Students Generate Questions- After building background knowledge, I have students fill out a post-activity/ pre-field trip response guide. During the field trip, I ask them to find the answers to their questions. If their inquiries are not answered during the field trip, they need to find answers to those questions in their culminating project.
5- Students Should Demonstrate What They've Learned- In order for students to synthesize the knowledge gained from the EFT, I ask them to create a culminating project. With Pearl Harbor and D-Day, I have students create a newsreel. As they create their project they also learn valuable video editing skills. I like using WeVideo because it is cloud-based and allows students to collaborate from a distance if necessary. Every year, I am impressed with the results. Click here to view a student project about D-Day.
Digital media and technology are wonderful ways to bring history to life in your classroom. I hope these tips will help make virtual field trips a reality for you and your students.

Paige has taught history and French in the Boise School District for 11 years. After receiving her MEd in Educational Technology in 2012, she was a recipient of the CenturyLink "Innovative Uses of Technology in Education" Grant Program. Earlier this year, Paige was nominated by the National World War II Museum for the ISTE "Interactive Video Conferencing Innovation Award."
Instagram: @paigesomoza
LOOKING FOR CLASSROOM RESOURCES? Visit PBS LearningMedia's "Soldiers, Veterans, and War in American Life" collection for access to lesson plans, historical photos, veterans' firsthand accounts, and videos about World War II. The collection now includes content from PBS' PEARL HARBOR - USS OKLAHOMA - THE FINAL STORY.