September 12, 2016
This article is the first in a series of four blog posts featuring programs from PBS' Spotlight Education week of educational programming. In this first installment, former PBS Digital Innovator Peter Van shares his thoughts and reactions following an advance screening of POV's "All the Difference". "All the Difference" airs tonight on PBS stations nationwide. Check your local listings. You can also follow the conversation on Twitter using #SpotlightEduPBS and #TeachBoldly.
Around mid-May each school year, the seniors in my classes at Lindblom Math & Science Academy in Chicago start to celebrate the end of high school. Advanced Placement exams are complete, prom and graduation are right around the corner, and the students start to talk about how they are "finished" and "done" with school. While they should rightfully revel in the accomplishment of completing high school, they are by no means finished with school or their education. Although it used to be true that a high school diploma meant a career and a place in the middle class, this is no longer the case. According to the Pew Research Center, "college graduates ages 25 to 34 working full time in 2015 earned more annually – about $20,000 more – than employed young adults holding only a high school diploma." This gap has widened over the last twenty years and shows no signs of narrowing.
So, I often wonder about the future outcomes of my students after they bid goodbye to their high school years. Yes, a few of my students do keep in touch after they head off to college, but the last time I see the majority of them is as they cross the stage at graduation. Therefore, when I sat down to watch "All The Difference," I was excited to follow the two young men at the center of the documentary after high school ended. Urban Prep Englewood, where Robert and Krishaun went to high school, and my school both are located in the Englewood neighborhood on the South Side of Chicago. Though the two schools enroll different student populations (Urban Prep is an all-boys charter school and Lindblom is a selective enrollment public school) there are still striking similarities between our students. The students both schools tend to serve are those from Chicago's poorer South and West sides, are members of minority groups, and are often the first in their families to attend college. Robert and Krishaun reminded me a lot of past students and the POV program gave me a revealing look into the post-high school lives of the students we teach at Lindblom.
Beyond the emotional reactions I had while watching the ups and downs Robert and Krishaun experienced during their four years of college, a question kept bugging me throughout the program. I wonder if my colleagues and I are doing a good enough job preparing our students for the challenges of college life. Can we, as high school educators, do more to ensure success freshman year of college?
In Chicago, the focus over the last decade or so has been to improve the high school graduation rate. As recently as 2008, the graduation rate in Chicago was 54%. There has been a big push to improve this by improving the freshman "On-Track" rate. According to the Consortium on Chicago School Research at the University of Chicago, "A student is considered "On-Track" to graduate if he or she earns at least five full-year course credits and no more than one semester F in a core course in their first year of high school." Across Chicago, according to their research, the "On-Track" rate correlates strongly with eventual high school graduation. The last decade has seen great growth in the "On-Track" rate (with the class of 2018 setting a new high of 84%) and the high school graduation rate is increasing in parallel. At my school, both our "On-Track" rate and our graduation rate are 97%. We pride ourselves on getting students through high school, just like I am sure they do at Urban Prep Englewood.
Yet with new students coming into high school each year and a stretched-thin counseling department, it is nearly impossible to track each student after they leave our school. I found it very revealing to hear Krishaun admit his poor time management skills and his emotional distress over his low grades. Did we as high school teachers worry too much about getting students to their diploma and not enough about the skills they need to succeed at the next level? Similarly, I admired Robert's willingness to attempt Chemistry twice, but wondered about whether or not the rigor of our high school classes adequately prepares students for the challenges of college curricula. To their credit, both young men persevered through the challenges they faced, but I know several of my former students who gave up on college after a semester or a year because the challenges were too tough.
According to data from the National Center for Education Statistics, nationally 59% of the cohort of students who began college in 2007 graduated within six years. For Black students, that rate falls to 41%. And those who do drop out of college still retain and must repay the debt they incurred during their time at college. This is a problem and one that I feel gets overlooked in the current educational and political climate.
So, what can be done? Specifically, what small changes can teachers make on a local level within their schools and their classrooms to better prepare students for college? National policies in education come and go, but even a single teacher can have a major impact on a student's future success. Here are a few things we do at Lindblom that I believe help our students when they reach college:
Emphasize executive function skills - Students, from the beginning of high school, are explicitly trained in how to stay organized, control their impulses, self-monitor, and plan. This year, freshman will spend 150 minutes each week specifically working on these skills. By teaching them early and then reinforcing throughout high school, we hope that our students feel ready to sit in a college classroom, cut off from the supports of high school, and succeed.
Embrace rigor in our courses - School should challenge all students and, when students move too easily through material, it is up to the teacher to adjust to the students. I feel that it is better for a student to learn how to overcome academic struggles in high school, rather than wait until college when there are thousands of dollars riding on each course.
Expose students to the realities of college - Each year we invite back graduates to talk with our current students. We ask that these graduates speak frankly about their college experiences and share what they wish they had known before arriving onto their college campuses.
Strive for scholarships and grants - The financial burden of college can add stress onto students that can impact their coursework. Our counselors push students to apply, apply, and apply for scholarships and grants so that students do not have to worry about taking out loans or finding the last $1,000 to make a tuition payment.
Connect students with organizations that will support them in college - There are good programs in Chicago and around the country that have also identified the problem of college retention. Lindblom graduates have seen success with the Posse Foundation and Chicago Scholars, to name a few.
My former students from the class of 2016 have spread out around the country, from Howard University in Washington DC to Washington University in St. Louis, to the University of Southern California in Los Angeles. I hope my colleagues and I prepared them sufficiently for the difficulty of college. I want to reconnect with them in four or five years to hear about well-paying jobs in their chosen professions and not about their struggles to complete their degrees. I hope to use "All the Difference" and Krishaun and Robert's stories to openly discuss the issue of college retention in my school and to drive us to ensure our students are ready for the next stages of their lives.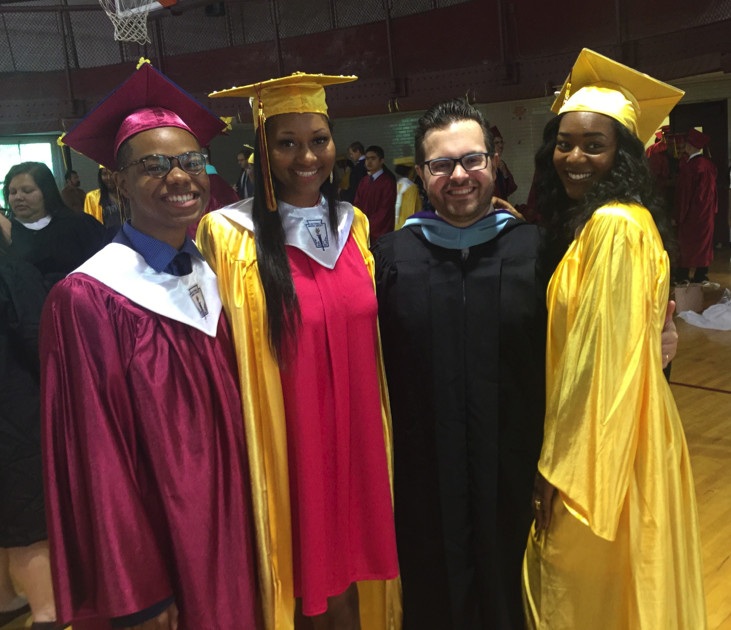 Photo (from left to right): Chad Tucker (Emory University); Rebecca Bowman (Washington University in St. Louis); Peter Van; Kaylen Herring (Howard University)
Peter Van teaches Advanced Placement Microeconomics, Honors Economics, and Honors Civics and serves as the Social Science Department Chair at Lindblom Math & Science Academy. He was recognized by PBS LearningMedia as a 2015 Lead Digital Innovator.