January 12, 2017
One morning my journalism students were brainstorming ideas for news stories. The topic of getting into college came up and one of my students chimed in, "It's not fair that minorities get into college more easily."
I was stunned at what I'd heard, more for her ignorance than any overtly racist sentiment. I'd known this student for three years, and she was a kind, open-minded, dedicated kid. So why the disconnect from reality?
It hit me that despite all of our textbooks, literature and essays, and despite the accolades and high test scores that proved how good our school was, we had failed to teach this student a fundamental skill: empathy. She was unprepared to step into the shoes of another person and see the world from their point of view.
As a journalism teacher, I'm constantly trying to get my students to think about what matters to their audience. What do they want to know vs. what do they need to know, and to ask questions that the audience might not have considered but still impacts their lives. The problem is that you don't know what you don't know.
Building empathy I struggled with ways to build empathy in my students and provide them with lessons and projects to develop this skill. Reading textbooks is too abstract, and while literature and film can be moving, they too, remain removed from our students' lives.
I learned from my production classes that the best way for students to internalize and truly understand concepts comes from doing something yourself, from experiencing a process first hand. If this is true for film and journalism, why not history, culture and literature?
Documenting the Experience of Service Learning To get my privileged Southern California students outside of their comfort zone, I created documentary trips to developing nations. These service learning trips allow my students to work with NGOs – non-governmental organizations – in places like Vietnam, Cuba and Cambodia, to meet the people affected by American foreign policies and the struggles they face as they try to improve their countries.
When we work with organizations to help build schools or empower young women with education and job skills, our privilege and misperceptions are laid bare. When the students interview people who remove landmines, we see the courage, dedication and humanity of these people who were once unknown, abstract figures for 15-year-olds in California.
The documentaries produced by my students are part of the transformational process. The complexity of combining facts, interviews and visual evidence into a coherent story helps the students internalize the learning, and make it personal. They are able to choose their topic, and put themselves into the piece because they are able to use the documentary as a way to express wonder and hope. Empowering students through storytelling gives students an opportunity to use video, audio, photography and social media to craft documentaries and nonfiction stories about the world around them.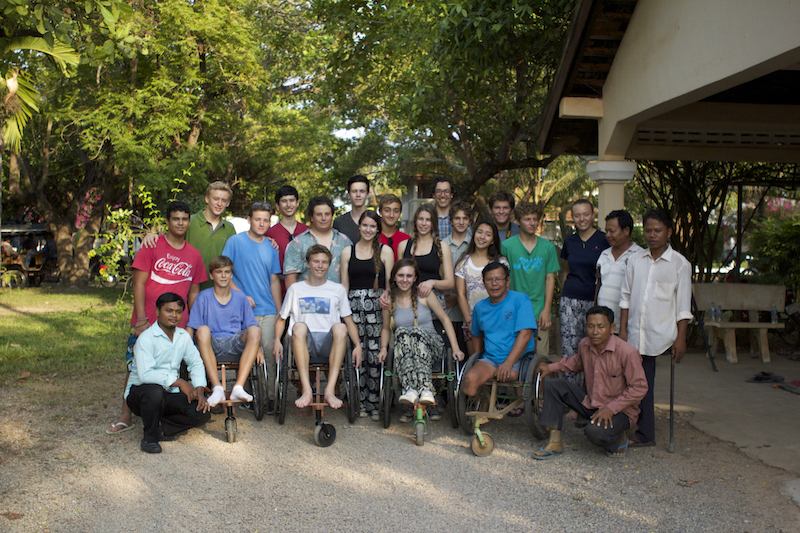 Students worked with a non-profit in Cambodia to build low-cost wheel chairs for landmine victims. The country is still littered with unexploded ordinance after the Vietnam war and conflicts with Thailand and Vietnam.
Find a local connection Not everyone can travel with students to foreign countries, but often a foreign country is on the other side of town or just across the tracks. The point is that the best way to learn about others and yourself is through experience, not lectures or textbooks. There is no better way to truly understand people who look and sound different from you than to look at them in the eye, walk the same streets and share a meal or working relationship.
A challenge of any service learning trip is to avoid charity tourism, where rich, (often) white westerners help for a limited time, then leave to go back to their privileged lives. This has echoes of colonialism and starts to feel like exploitation. Instead, try to develop working relationships with NGOs and individuals for collaborative service projects.
Our education system as a whole has done a poor job of expressing to our students WHY they're learning what they do. Service learning can help answer these questions, by letting the students experience the concepts they've learned in class, and empowering them to do something about it. Ultimately, these kids will become voters and members of society. We need to give them the tools they need to make intelligent decisions about our increasingly global world.
Tips for service-learning trips:
Work with a reputable travel organization, like Peaceworkstravel.com, one that is well-connected to NGOs and local organizations.
Find organizations that are flexible and understand the limits of your students' time commitment.
Build long-term relationships rather than parachuting into a place once, never to return.
If possible, have students collaborate with their equivalent peers on service projects.
Have your students become familiar with the political, cultural and historical context of the people they will be working with.
Michael Hernandez is an award-winning media arts teacher and education consultant who lives in Los Angeles. He is a PBS Digital Innovator, Apple Distinguished Educator and Google for Education Certified Innovator. Follow him on Twitter: @cinehead and at www.michael-hernandez.net