October 24, 2016
Age of Hate? We live in an "Age of Hate"? Who says? Well for starters, one of my seniors.
It went like this. I'm a high school U.S. Government teacher and on day one of the 2016 school year, I was explaining that every Wednesday from here out is to be officially declared Presidential Election Wednesday, a day for teaching about the upcoming presidential election.
One of my students said,
"Oh, this oughta be interesting. We get to talk about the election in an age of hate."
His eyes rolled, as did the eyes of some other students in the class. Point made. These students expected Wednesdays to turn into one angry, ugly, and nasty display of political expression.
Whether today we technically live in an age of hate, I'm not qualified to say. Nor am I qualified to decide whether my students perceive the opposing sides in this year's election to hate each other.
Yet, after the 'age of hate' comment, I wondered whether the majority of my students view the behavior of the adults in this election year much like children might typically view their parents going through an ugly divorce.
If so, what a challenge I'm going to have teaching the election this year . . . I thought to myself. In response to that self-imposed challenge, I created a four-pronged teaching strategy:
1. Establish ground rules. Draw attention to the ground rules. Repeat.
My Presidential Election Wednesday ground rules stated: "In order to create a climate for open and honest dialogue and to encourage the broadest range of viewpoints, it is important for all of you to treat each other with respect. Therefore, name calling, accusations, verbal attacks, sarcasm, and other negative exchanges (which will include eye rolling and interrupting) will be viewed as counterproductive to successful teaching and learning and will not be tolerated!"
A student created a work of art revealing what it might feel like for a young person to live in a presidential election season filled with hate – artwork that became the centerpiece of a poster which hangs in my classroom reiterating the ground rules.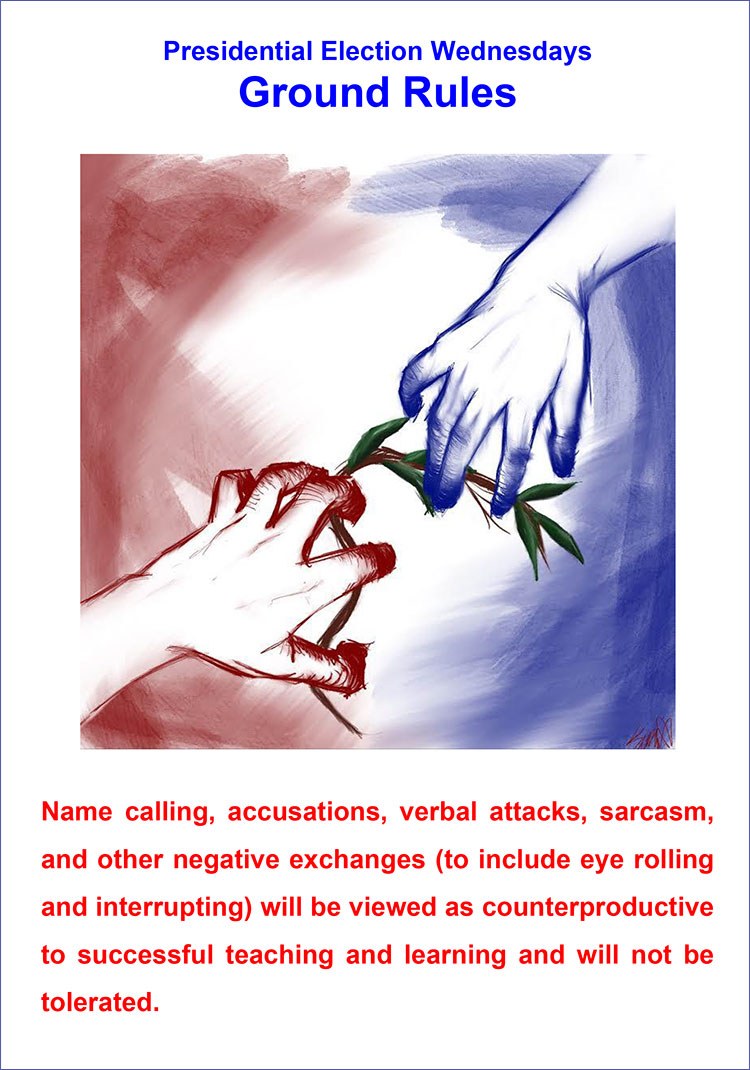 2. Incorporate as many digital media projects as possible.
Into my Presidential Election Wednesday curriculum, I incorporated many different digital media projects, and especially ones the students would find interesting, informative, and engaging.
Some of the more engaging projects invited students to:
Create a 30-second campaign ad
Video conference with another class on the question of whether America should build a wall along the entire US/Mexico border.
Play the iCivics game Win the White House
What worked best? My students especially liked the projects that called for writing letters to the next president and predicting the outcome of the presidential election.
To give your students a chance to predict the election, students can go to the PBS Learning Media's Election Central website to:
Learn about the Electoral College.
Watch an introductory video about the presidential election process.
Explore an interactive timeline of all past presidential elections.
Have them predict the outcome of the Electoral College by using PBS's new, free interactive Electoral Decoder tool, where they can "play political pundit" to see how Donald Trump, Hillary Clinton or others could win or lose this year's election. A cartogram helps students see how a geographically large state may have a low number of electoral votes – and how a candidate could lose the electoral vote in most states and still win the presidency. Students can use the interactive map to predict the outcome of the current presidential election, save or print their maps, and share on social media.
I love that PBS provides students a way to share their Electoral College predictions. My ultimate goal is to have each student not only share on social media but also print out their predictions. The day after the election, we can compare state-by-state predictions to the actual outcome.
3. Incorporate a few traditional lectures, homework assignments, tests, quizzes, and non-digital learning opportunities.
I worked in a lecture on the Presidential Election process, relying heavily on the content and graphics found at: https://www.usa.gov/election.
I added lectures that focused on challenges that the next president, whether Clinton or Trump, would face:
RadicaI Islamic Terrorism
The National Debt
Outsourcing and the American Economy
Climate Change
Illegal Immigration
One of the better non-digital learning opportunities included using the California Student Mock Election which encourages students to become active voters once they are of voting age.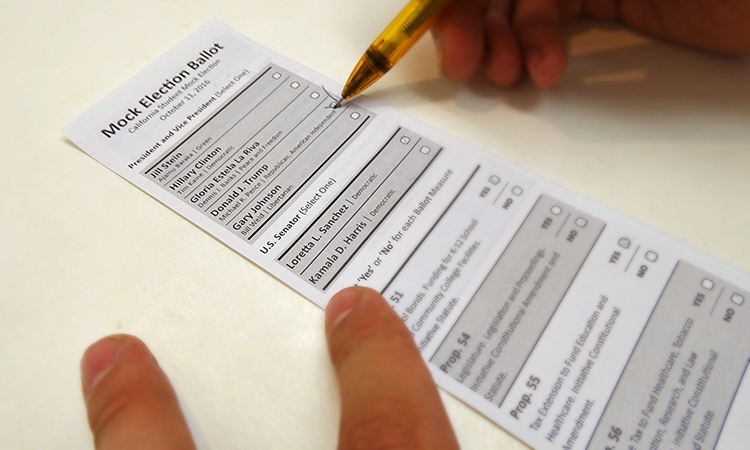 4. Create many relevant extra credit opportunities.
Some of the more creative projects invited students to:
Host and document their first ever Presidential Debate party using the video camera on their smartphones.
Apply for a chance to work the polls on Election Day.
Register to vote in class and online, as the remainder of the class watched via an overhead projector and a large screen at the front of the room.
Decorate the room with Hillary/Kaine and Trump/Pence campaign materials.
Use Blogger.com to create a My 2016 Presidential Election Blog to showcase the students' election related writings, photographs, video, etc.
To view one of my student's first ever Presidential Debate party videos, click here.
So how did it go?
Early results are in, and it's been a successful adventure so far! How will it turn out? Stay tuned for Part II of this article, which will include:
Feedback from the students on what they thought about the 2016 Presidential Election in general AND the extent to which they found my Presidential Election Wednesday curriculum interesting, informative, and engaging.
Thoughts on what I could do differently, if anything, four years from now.
Peter Paccone is a San Marino High School social studies teacher with 30 years of teaching experience. A big fan of tech in ed, civic learning, PBL's, flipping, and all things TED, he frequently writes about these topics for the Edutopia.org website, the KQED In the Classroom website, and for several other online, education-related publications as well. He's given an ED-Talk (TED-Talk style) presentation at the 2015 and 2016 California Teachers Summit and at the 2016 Arcadia Innovative Teacher Summit. His first TED-Ed Lesson - Why is it so Hard to Amend the US Constitution? - can be found at https://www.youtube.com/watch?v=FwREAW4SlVY. Former San Marino Unified School District Superintendent Loren Kleinrock worked with Mr. Paccone to not only produce this TED-Ed Lesson but to also produce this article, Teaching the Election- in an 'Age of Hate'?