March 03, 2017
I love teaching history! I am passionate about showing my students the world and how we have more in common than we can ever image. I want my students to experience the world and study its history in the process. I want history to matter and have real meaning to my students. Of course, getting middle school students fired up about Greeks, Romans, Anglo Saxons, and Ottomans can be a challenge. But when they are connected with the students in the actual places we are studying AND when they view those places using VR, students are excited about history and are willing to spend their own time studying it. That is transformative.

VR or Virtual Reality is such a fun way to learn and it really doesn't cost much. I have a classroom set of Google Cardboard viewers that we purchased from Google but you can make them yourself for under $5.00. Just do a quick Google search for DIY Google Cardboard. Students use their phones and insert them in the VR Viewer and you are ready to go.
Teachers often wonder where to find virtual field trips and there are plenty of great places to find them. I am going to focus on 5 different places my students really like.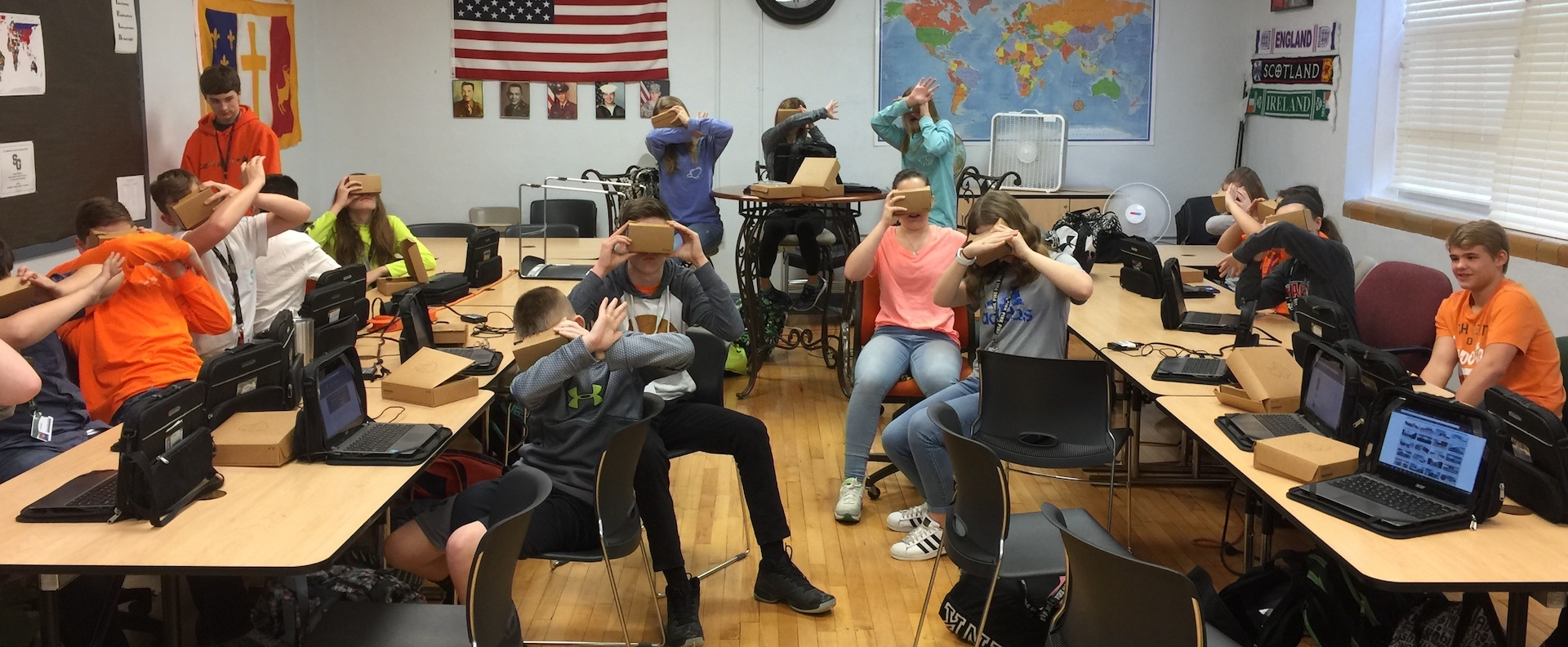 Once students get to see the world through VR, they are ready to meet students around the world. The Global Collaboration projects that we do are the best things I have ever done in education. In a single school year, my students meet students from Greece, Italy, Mexico, Ukraine, South Korea, Sweden, Czech Republic, United Kingdom, France, and Spain. They collaborate on projects using Edmodo and Padlet. They exchange social media handles on Instagram and Snapchat. We use Google Hangouts to talk to our friends from around the world about how we are similar and how we are different. Students then use VR to look at where our friends are from and where they have visited.
Students will connect with other students around the world on their own time. They tell me about their new friends and their new contacts. Students showed up at 6:15 AM to meet their new friends on a Global Collaboration call with Greece or at 7:00 PM to meet friends from South Korea. When my students move on to high school, they come back and tell me how they are still talking to the overseas friends they connected with in my class. If you want to see what my students are up to, check out our website at http://sghistoryteach.weebly.com/ and click on World History Happenings.
As teachers, we want to make a difference. Using VR and Global Collaborations allows us to facilitate learning in a new and meaningful way. I recently saw Todd Whitaker, an education leading authority, at a conference and he said, "The best part of teaching is that it matters. The hardest part of teaching is that it matters every day." It sure does and I wouldn't have it any other way.
Rhett Oldham is a Social Studies teacher at Ste. Genevieve Middle School, Ste. Genevieve, MO, and a PBS Digital Innovator.