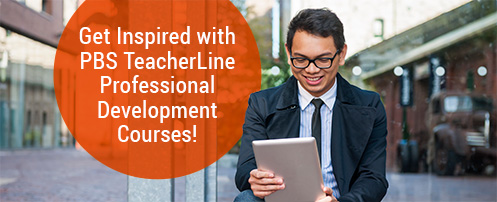 Early birds unite! Enroll in an October facilitated course by September 29 with promo code "EARLYBIRD" to catch the proverbial worm and save 10%! From graduate-level online courses to short, 3-hour self-paced lessons – all PBS TeacherLine courses offer you a chance to gain content knowledge and apply new strategies to your teaching. Explore October courses open for enrollment today!
Why PBS TeacherLine?
PBS TeacherLine's facilitated and self-paced PD courses are designed to benefit both beginning and experienced teachers. Topics include science, reading, social studies, math, instructional strategies, and instructional technology.
Innovative: Acquire new strategies and tools you can use right away to enhance classroom instruction.
Engaging: Interact with peers and experts in a virtual learning environment.
Flexible: Discover anytime, anywhere learning that fits into your busy schedule. Choose from 15, 30, or 45-hour facilitated courses or enroll in a 1.5 or 3-hour self-paced course.
*PBS TeacherLine courses are generally available for CEU credits, however it is your responsibility to verify eligibility with your school administrator or state PD office prior to enrolling in a course
What's New
Science Teaching Strategies
A suite of multimedia educational resources developed as part of the PEEP and the Big Wide World early childhood STEM initiative. View courses