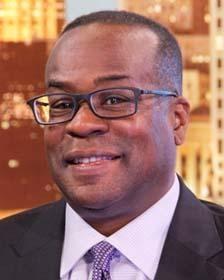 Kevin Martin
President & CEO, Ideastream | Vice-Chair, PBS Board
Kevin E. Martin is President and CEO of ideastream. ideastream holds the licenses for WVIZ/PBS, WCPN/NPR and WCLV/Classical Music. He joined ideastream in 2017 to continue the pioneering work the Northeast Ohio multiple media public service organization is known for across the country. His vision for growth includes larger audiences across all platforms, more individual and community engagement and ultimately, increased individual, community and corporate support.
Prior to joining ideastream, Kevin served as Senior Vice President and Chief Operating Officer of KQED, the public media organization serving the San Francisco Bay area. Before leading operations at KQED, Martin spent seven years as the Vice President of Station Grants and Television Station Initiatives at Corporation for Public Broadcasting, (CPB). At CPB, Martin was charged with overseeing the management and disbursement of $280 million in "formula" grants to public television and radio stations—more than 70 percent of the Corporation's total federal appropriation—and was responsible for several other competitive grant programs for public television stations.
Martin began his career in 1990 at the Independent Television Service (ITVS), as their first Director of Finance and Administration, establishing the infrastructure and core business systems for the then-new public media entity. After five years with ITVS, Martin moved on to work as Senior Vice President and CFO of Twin Cities Public Television (KTCA), where he was instrumental in developing their first for-profit subsidiary. In 1998 Martin joined North Texas Public Broadcasting (KERA), serving as Executive Vice President and COO, and Interim President and CEO, leading the effort to turn around KERA's financial performance after five consecutive years of deficits.
Martin has served on numerous boards of directors, including the International Public Television's (INPUT), the Development Exchange Inc. (now, Greater Public), and the Public Management Business Association (PMBA). He served on the ITVS Board of Directors from 1999 to 2004, serving as chairman in 2002, 2003, and 2004. Martin currently serves on the boards of Public Broadcast Service (PBS), Station Resource Group (SRG), Public Television Major Market Group, United Way of Greater Cleveland, Team NEO (Northeast Ohio Business Development Organization), and is President, Ohio Educational Television Stations.
Kevin earned a Master's Degree in Public Administration from American University and a Bachelor of Science Degree in General Management/Accounting from Purdue University.
Mr. Martin is the Chair of the Nominating and Corporate Governance Committee and Chair of the PBS Enterprises, LLC Board. He also serves on the Executive Committee, Audit Committee, Finance Committee, and National Policy Advisory Committee.