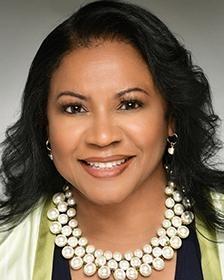 Cecilia Loving
Senior Vice President of Diversity, Equity & Inclusion
As Senior Vice President of Diversity, Equity & Inclusion (DEI) at PBS, Cecilia Loving is responsible for developing organizational strategy, providing ongoing advice and counsel, and cultivating future partnerships for PBS.
To build upon PBS's internal commitment to DEI, Loving oversees PBS's Diversity Council, collaborates across departments to evaluate current business practices, and partners with key stakeholders from the public television system to support stations' ongoing efforts to maintain a culture of inclusion.
Loving has over 20 years of experience as a practicing attorney and has held various DEI leadership roles for both businesses and government agencies.
Before joining PBS, Loving served as Deputy Commissioner, Chief Diversity and Inclusion Officer for the New York Fire Department. She also worked as a Law Enforcement Bureau Attorney and EEO Counselor for New York City's Commission on Human Rights, as well as a litigator at Patterson Belknap Webb & Tyler LLP, Kramer Levin, and the Legal Aid Society.
She chaired the Board of Directors for the Practicing Attorneys for Law Students, Inc., the first diversity and inclusion organization in the legal profession. Loving is also co-founder and co-chair of the NYC Bar Association's first Committee on Mindfulness and Well-Being in the Law.
She is a winner of the National Diversity Council's 2021 Top 100 Diversity Officers Award; the New York City Department of Citywide Administrative Services' 2021 Innovation Award for FDNY's Inclusive Culture Strategy; Lawline's Top Women Faculty of 2020 Award; the City Bar Association's 2020 Diversity and Inclusion Champion Award; and ABC News' First Responder Friday Award.
Loving holds a Juris Doctor from NYU School of Law, a Master of Divinity from NY Theological Seminary, a BFA from Howard University, and an MFA in Theatre Management from UCLA's School of Theatre, Film, and Television. She is also certified in Diversity and Inclusion by Cornell University School of Industrial and Labor Relations and Yale University School of Management.