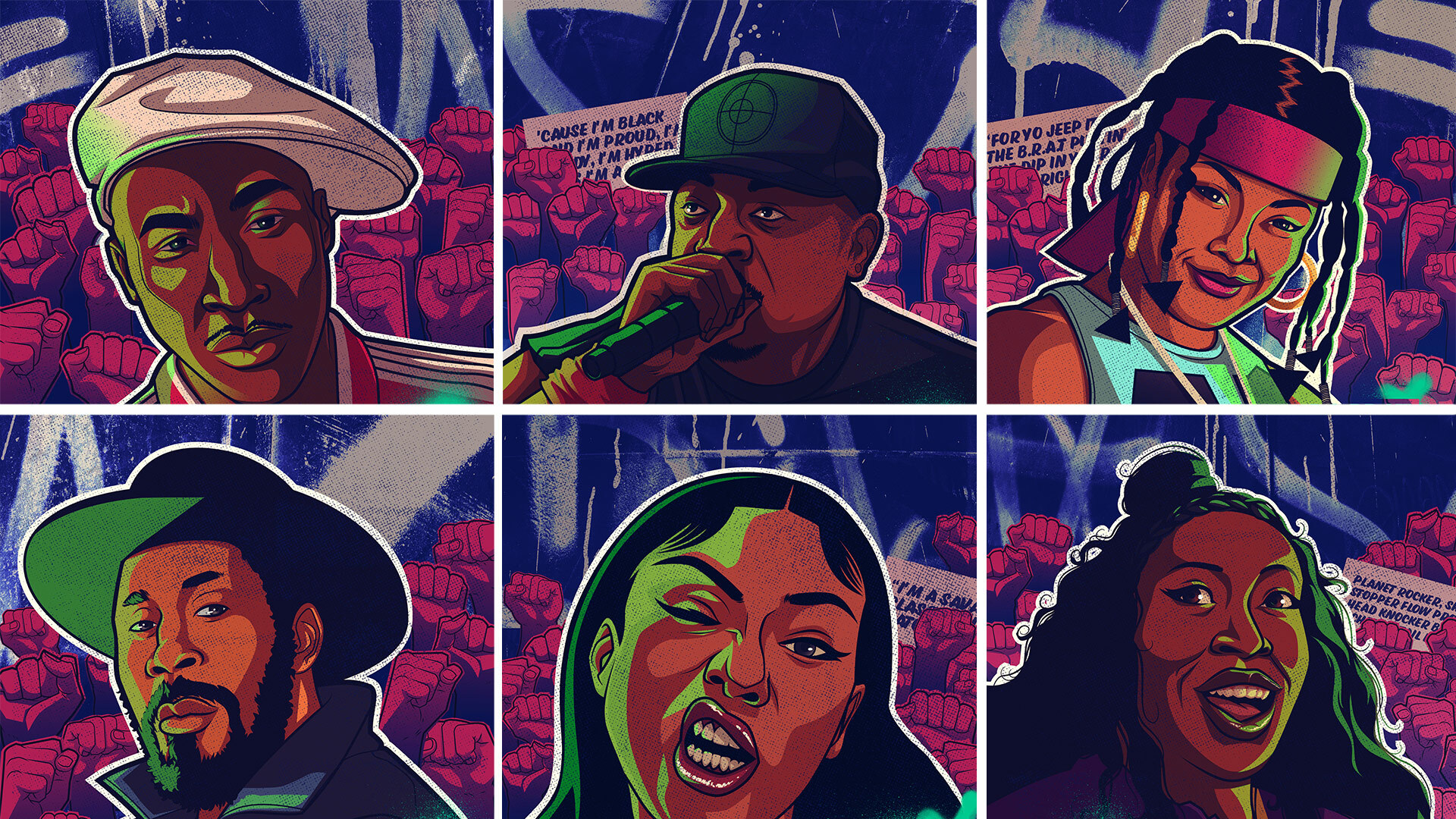 From left: Grandmaster Flash, Chuck D, Da Brat, DJ Kool Herc, Megan Thee Stallion, Missy Elliott |
Credit: Pope Phoenix
"Fight the Power: How Hip Hop Changed the World" is a four-part series that takes you through the journey of Hip Hop, from its beginnings in New York to becoming the most popular genre in the U.S. Hip Hop legend Chuck D brings together the most iconic figures in Hip Hop to reveal how this art form has both grown out of, and impacted, American and world culture.
To celebrate the 50th anniversary of Hip Hop this year, PBS's social campaign highlights the many artists who have both pioneered and carried on the legacy of the genre through illustration. This campaign serves as an ode to those that hold Hip Hop culture close to their heart.

The Artist
Pope Phoenix
Pope Phoenix is a Digital Mercenary born and raised in the Bronx, New York. For many years he's completed mercenary contracts for various corporations including IBM, ESSENCE, OKAYPLAYER, BET, Affinity by Serif, Comic Relief, and more. In the last few years of his career, he's shifted his focus to illustration, animation, and mentorship. These have been the best years of his career and he looks forward to seeing what lies ahead for him.
The Artist
Keila Gonzalez
Keila Gonzalez is a proud Dominican NY Native born and raised in the Bronx, NY, a self-taught graphic designer and a purpose-driven entrepreneur. She founded her design studio Hustling Mami Creative Studio in 2022 - a design agency with a mission to help women brand their hustles through bold and playful design.
Her work is always rooted in representing her culture, where she grew up in NYC and uplifting all women. Hip Hop is not only something that she grew up with but something that has become part of her family as she is now also engaged to Chris Rivers the son of the Late and great Hip Hop legend Big Pun.
Watch Fight the Power: How Hip Hop Changed the World
Stream episodes of Fight the Power: How Hip Hop Changed the World now.