The People, Places & Food Behind Season 2 of La Frontera
Meet the artists, athletes, chefs and journalists behind Season 2 of La Frontera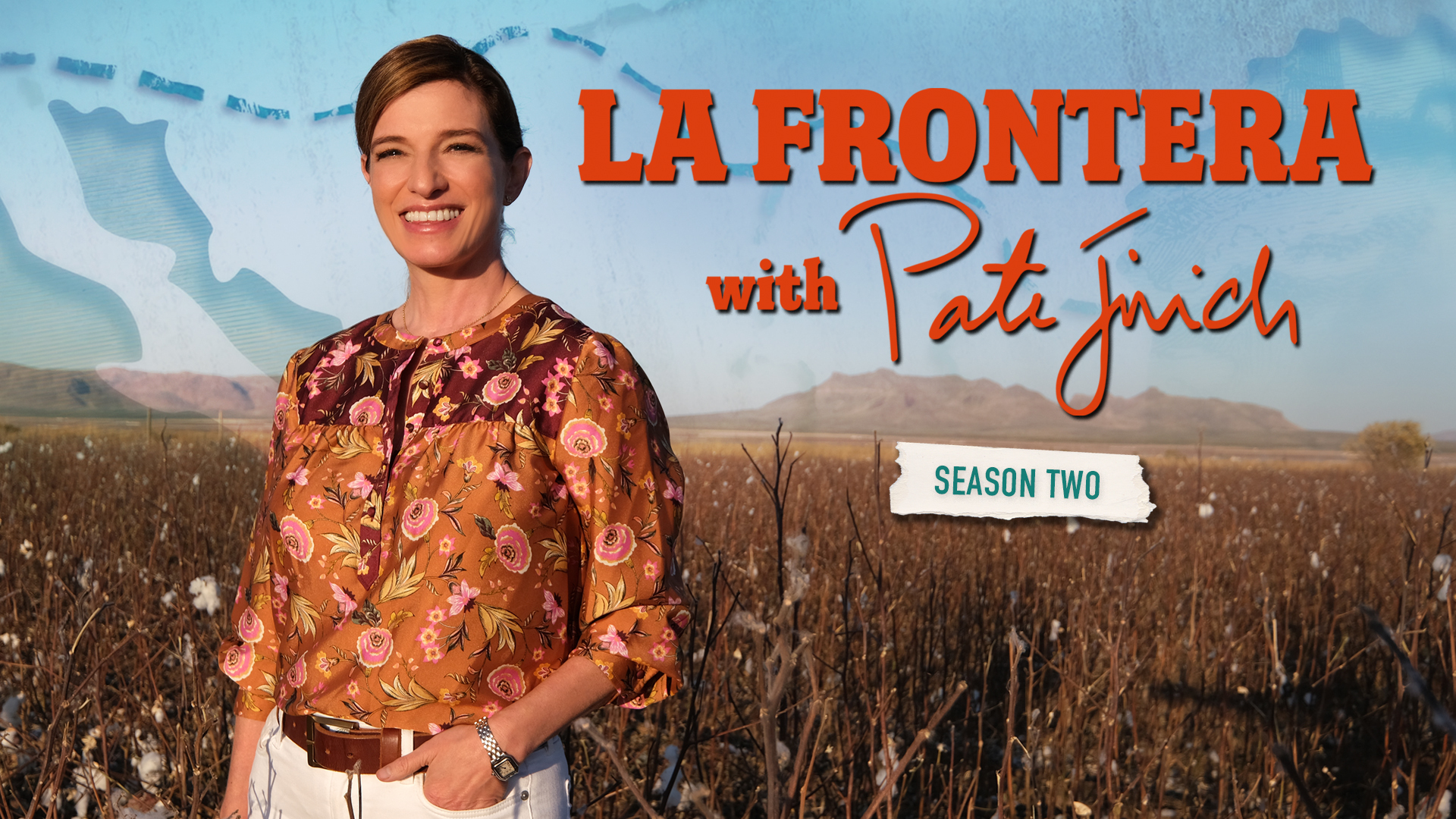 We hope you're hungry! It's almost time for La Frontera Season 2. From artists, athletes, chefs and journalists — women play a crucial role to the series. Keep reading to get to know the women behind the show, learn more about Pati Jinich and La Frontera and discover the delicious food featured in Season 1.

Season 2 of La Frontera is coming to PBS on April 3. Check it out at pbs.org or on the PBS App. Catch up on Season 1 of La Frontera here!

The Women Behind La Frontera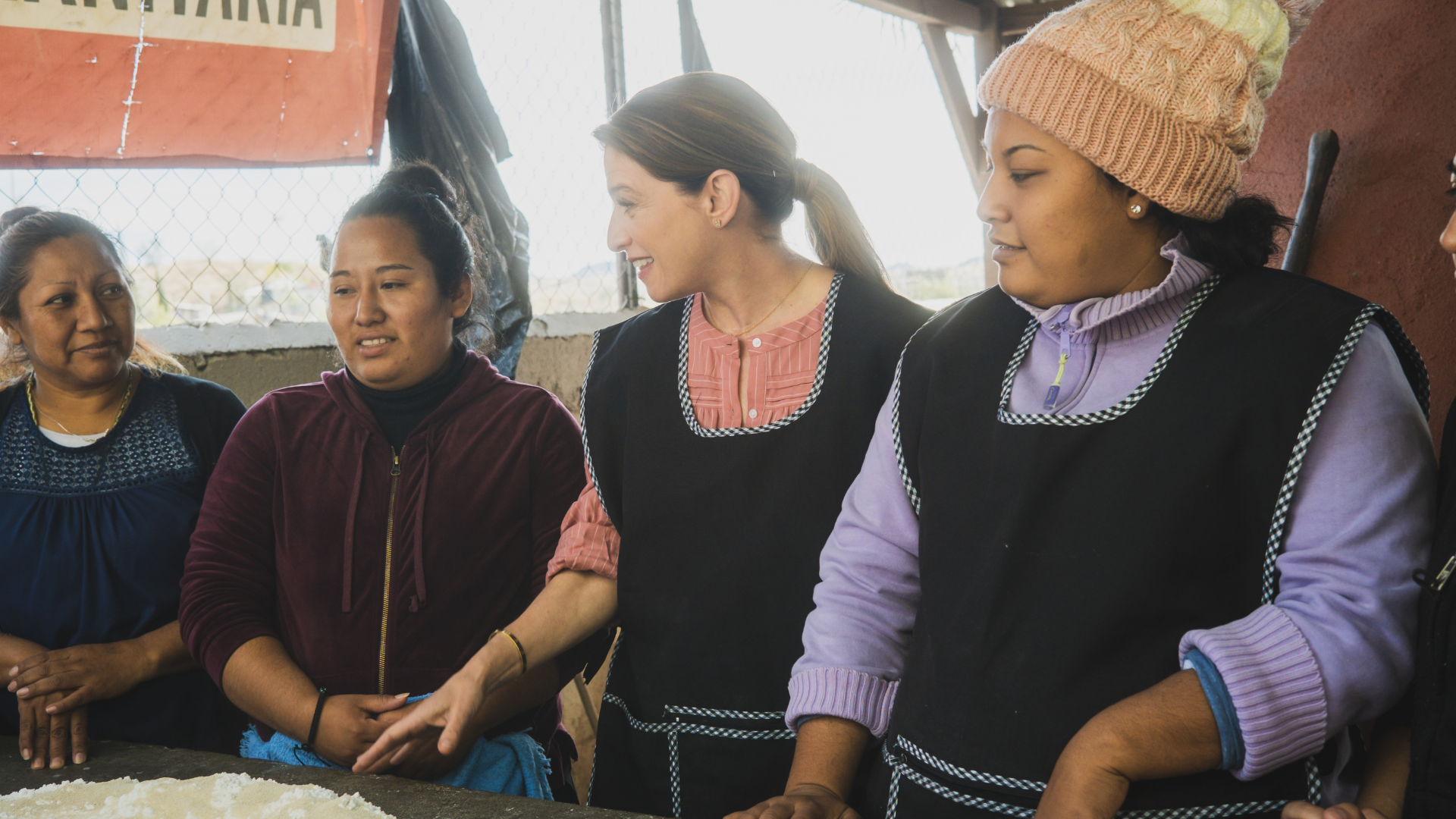 Casa De Misericordia
In Nogales, Mexico, Pati Jinich visits Casa De Misericordia, a migrant shelter. She learned about a new project called "Casa Unida," which complements a 2020 horno project at "Casa de la Misericordia." This unique space is a place for spirituality and reflection for immigrants, made out of traditional bricks.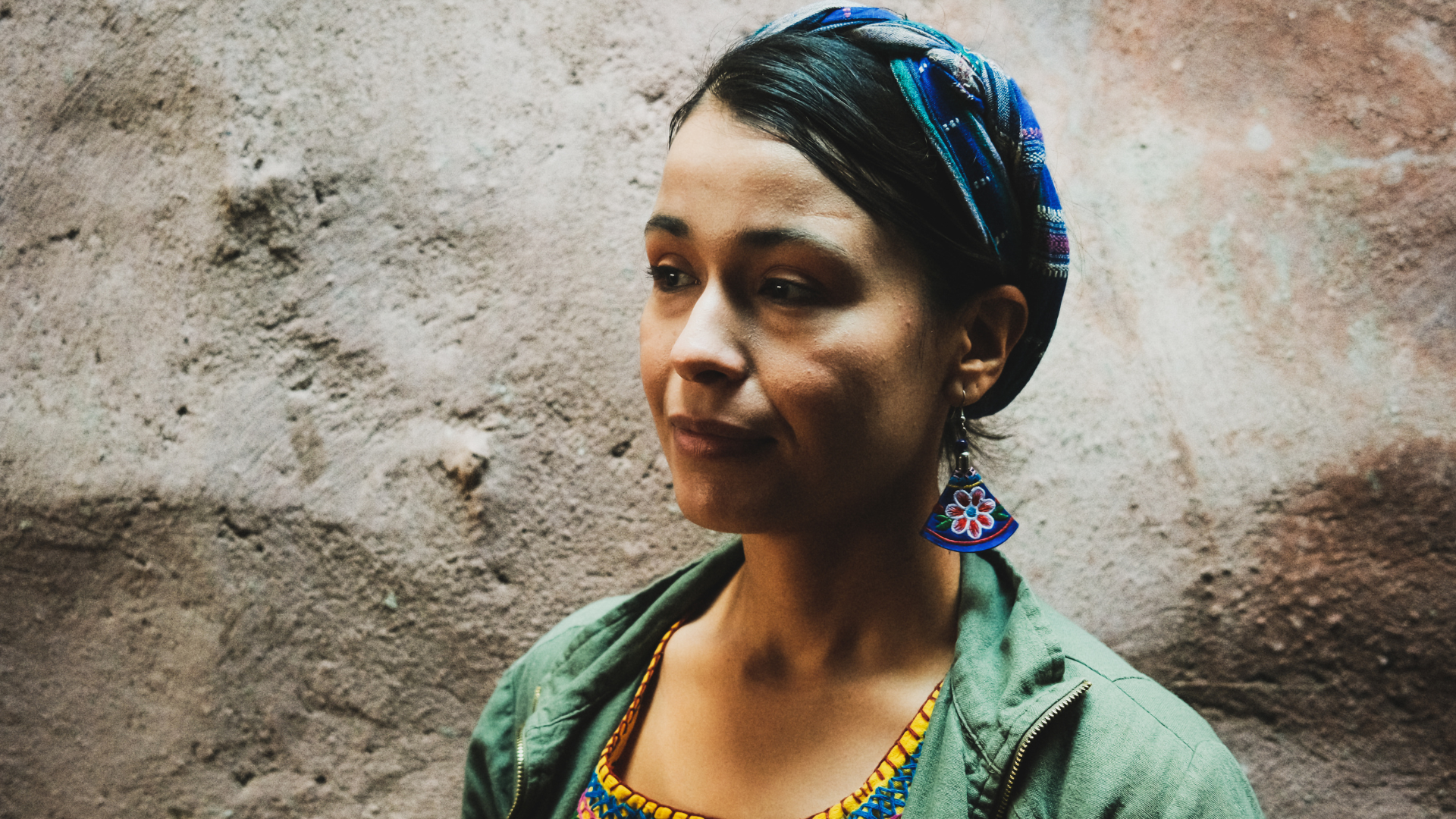 Gia Del Pino
This is Gia Del Pino. Here she's seen at a migrant shelter called Kino. Pati joins the Tucson Samaritans (volunteers) to learn about their mission to help save lives on the border. Some challenges include having over 2,000 miles of trails and knowing where the immigrants will cross. There are also several anti-immigrant groups that actively remove water jugs left for immigrants.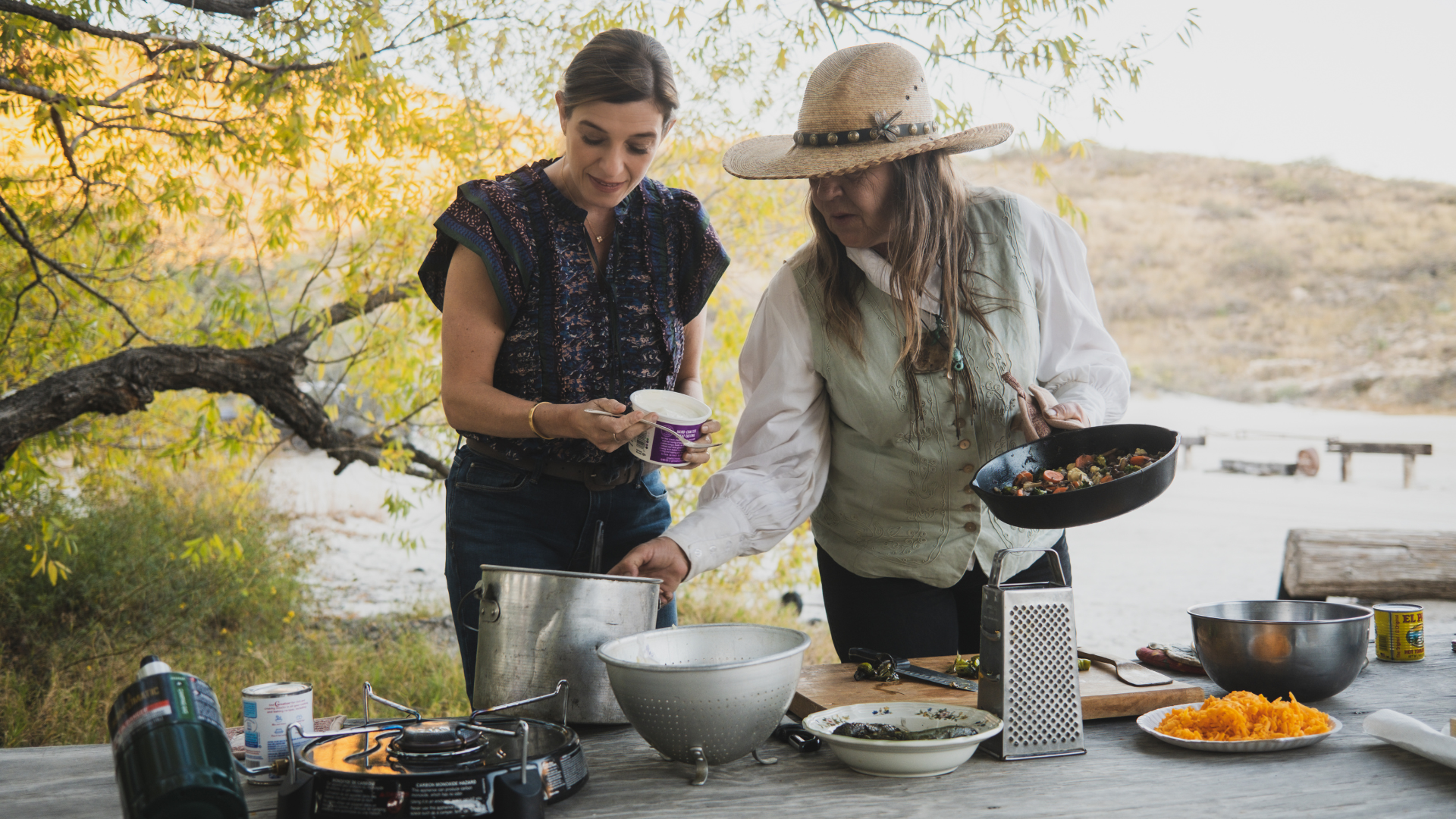 Pati Jinich & Leslie Case
As Pati Jinich travels along both sides of the Arizona-Sonora border through some of the most untouched places in North America, she meets Leslie Case, the caretaker of a ghostown in Ruby, Arizona. Here she's seen with Pati (left).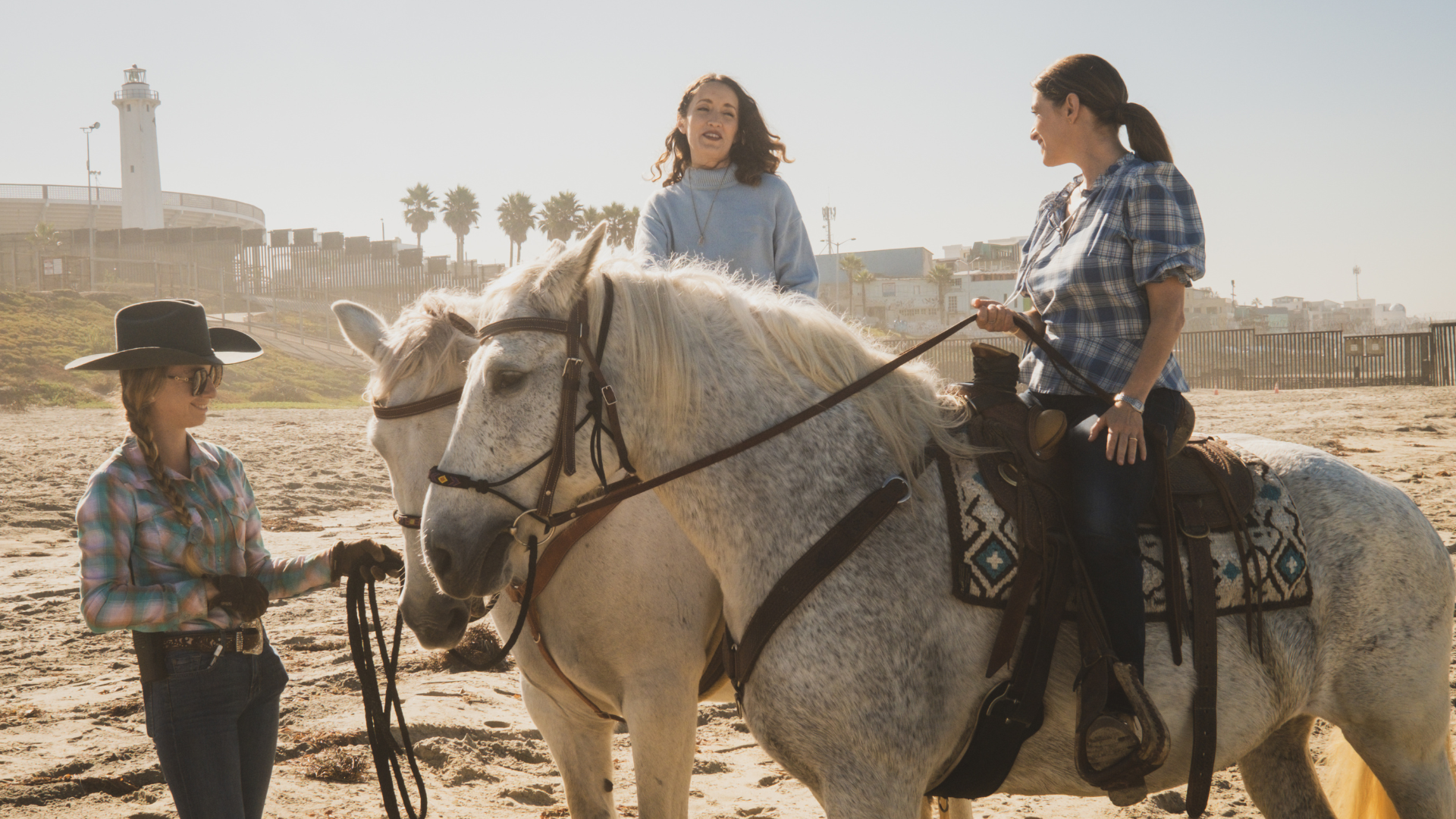 Pati Jinich & Jean Guerrero
Pati meets Los Angeles Times columnist Jean Guerrero in San Diego and explore on horeseback. Pati and Jean discuss multicultural identity over burritos and carne asada fries in the Barrio Logan neighborhood, an epicenter of chicano culture.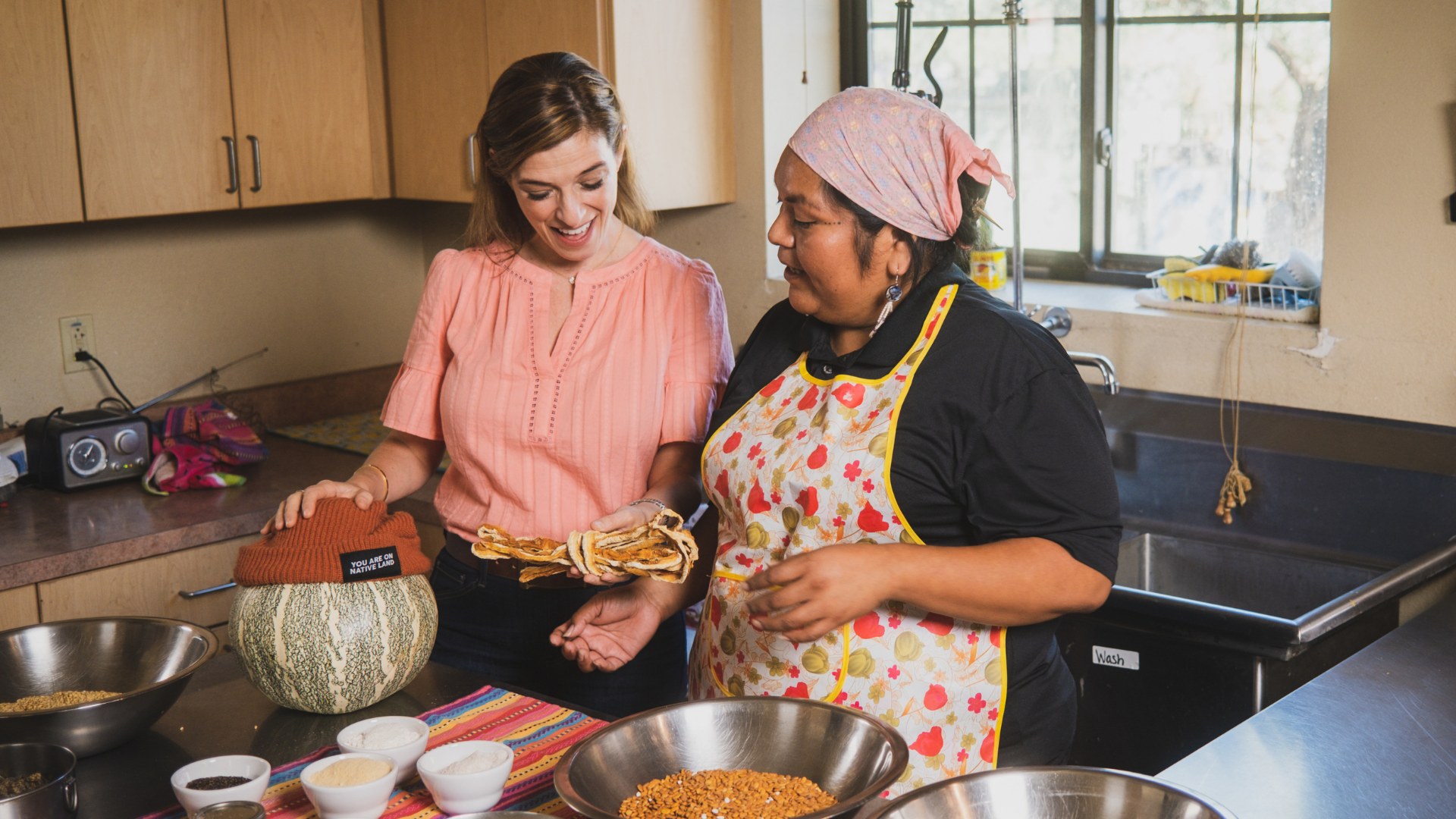 Pati Jinich & Amy Juan
Amy Juan is a member of the Tohono O'odham tribe tribe. As the ancient seeds of the Tohono O'odham Nation grew for thousands of years, so has the mother of all chiles: the chiltepin. Recently growing in popularity amongst local chefs, the chiltepin chile is native to the Arizona-Sonora border. Here, Pati learns about traditional and native ingredients with Amy.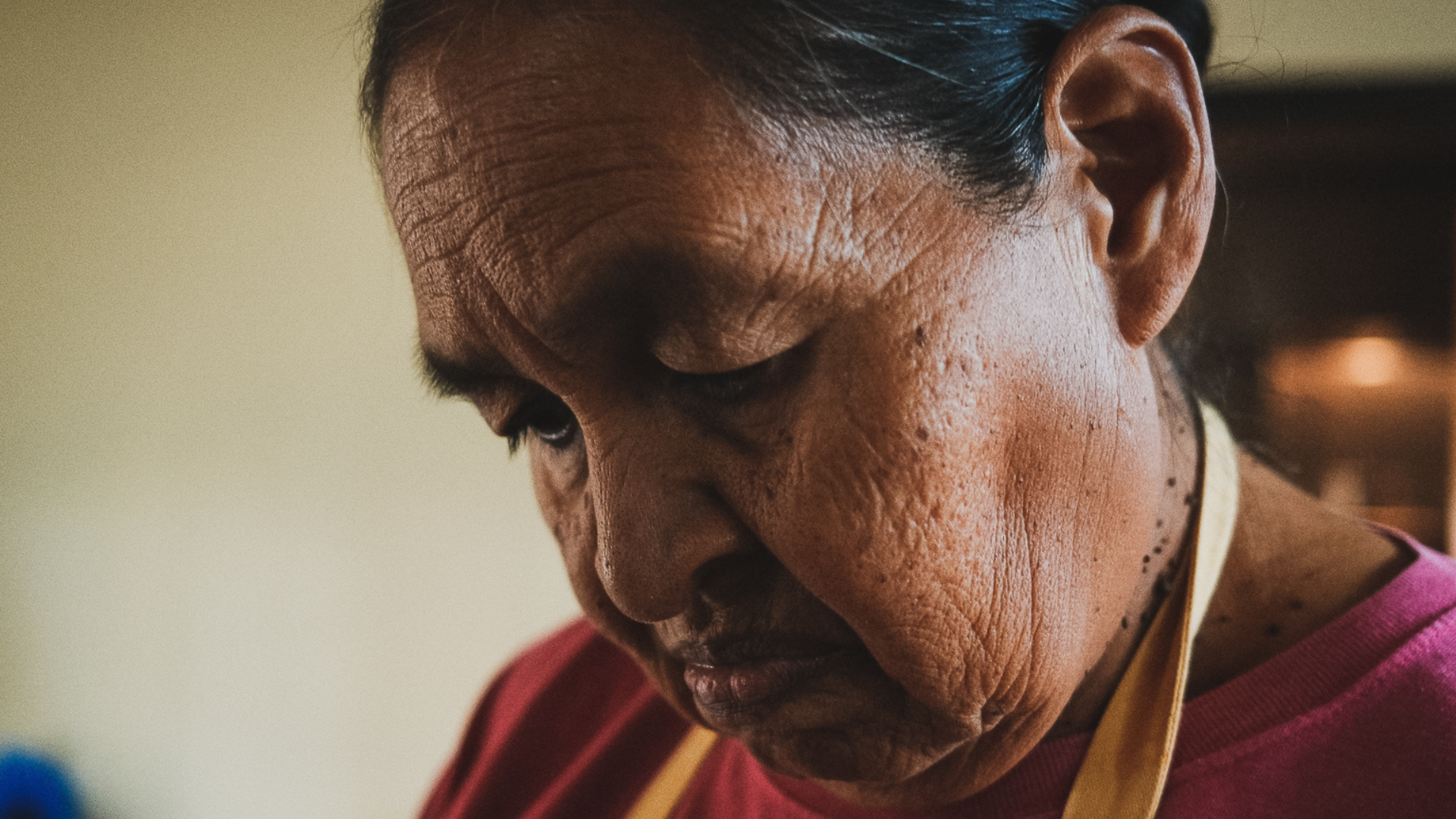 Phyllis Valenzuela
Phyllis Valenzuela is the chef at the San Javier Coop farm on the Tohono O'odham reservation.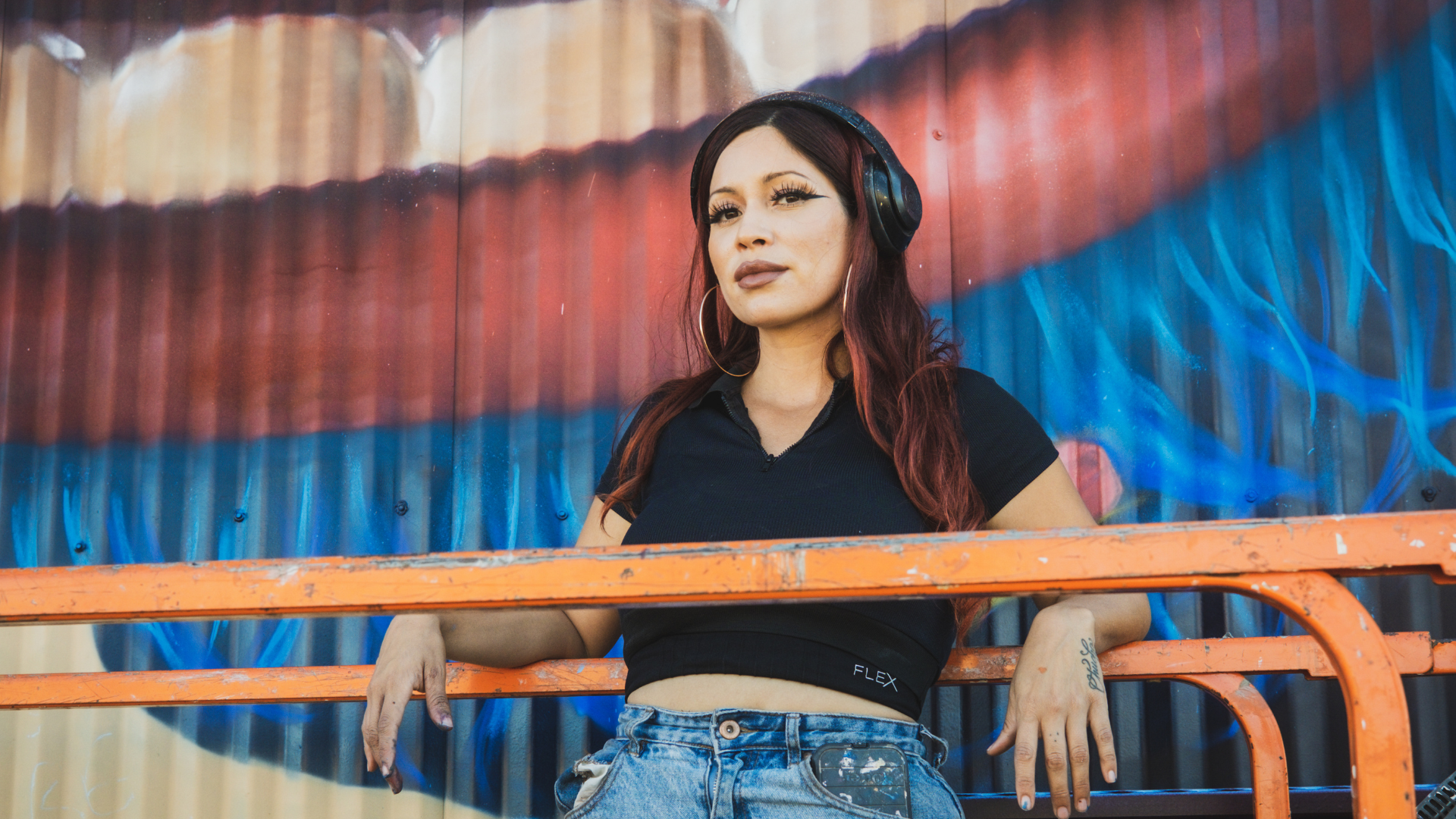 Michelle Guerrero, "Mr. B baby"
Michelle Guerrero, or "Mr. B baby" is journalist Jean Guerrero's sister and is an artist and a muralist. Pati and Michelle continue the conversation on border-related journalism, Hispanic art and and Mexican food.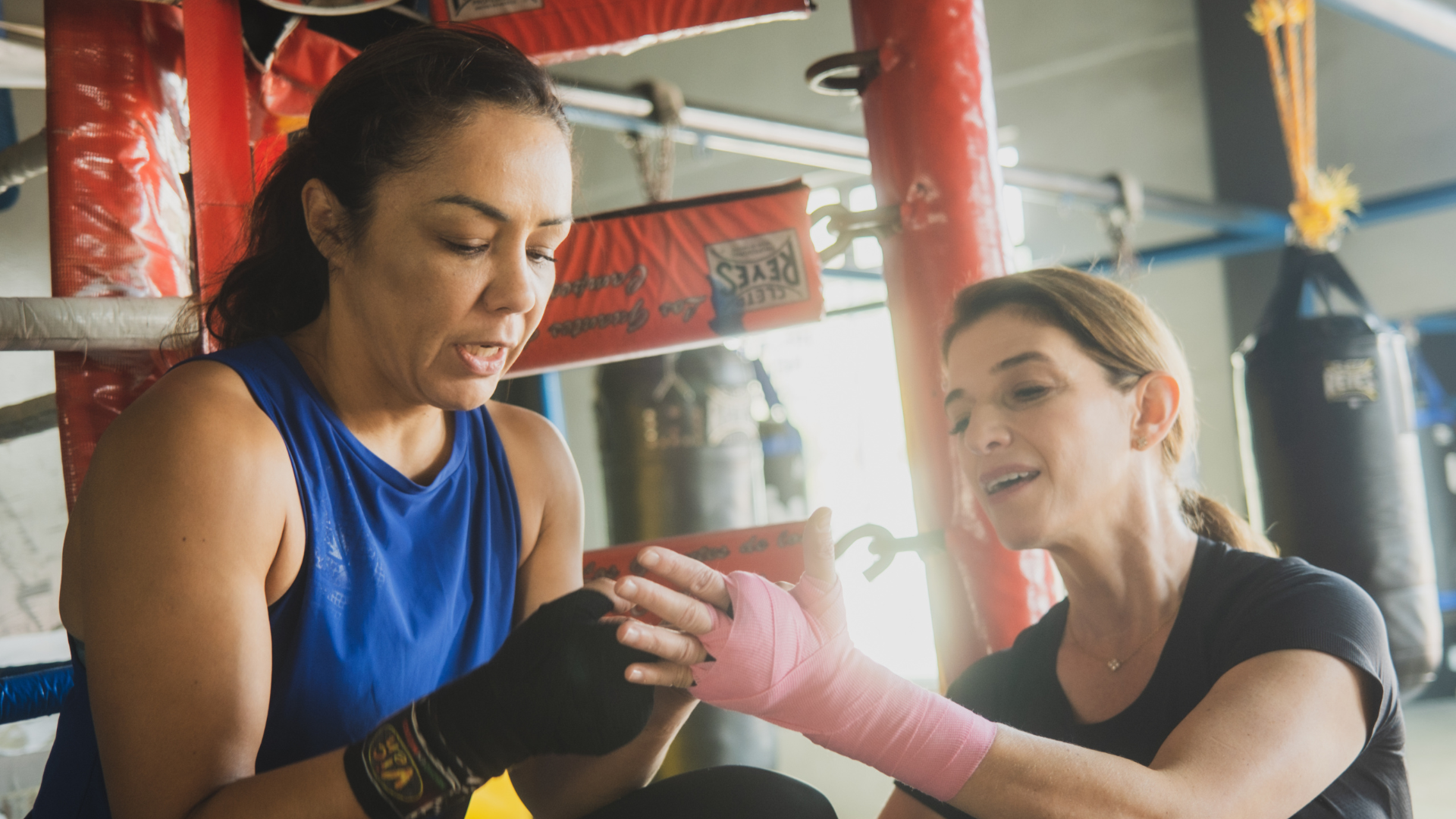 Jackie Nava & Pati Jinich
Jackie Nava is a world champion women's boxer. In Tijuana, Pati visits the restaurant where the cesar salad was invented and gets in the ring with Nava, who balances a career as a professional athlete with being a mother.
About La Frontera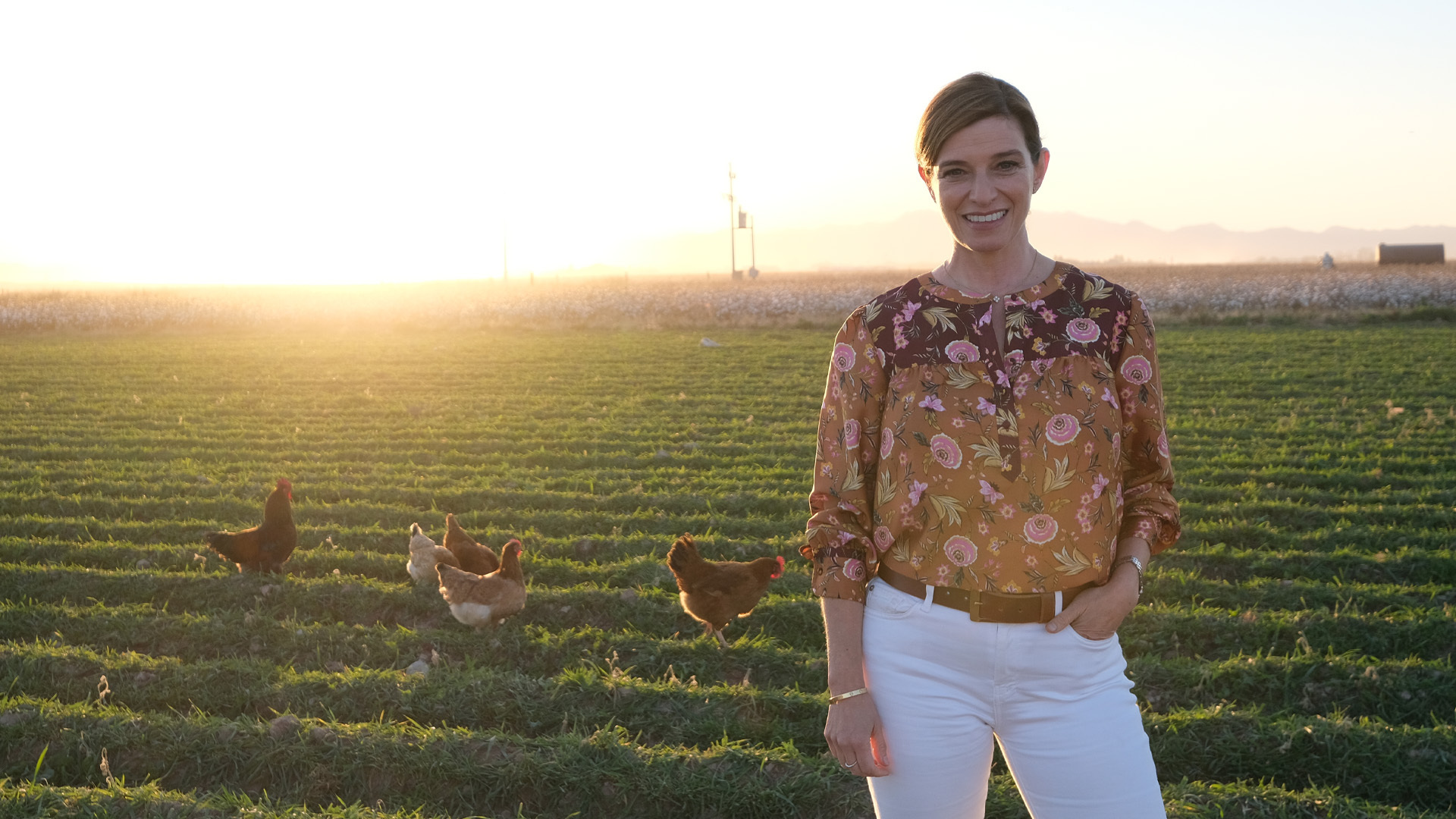 Savor the sights, sounds and flavors of the US-Mexico borderlands alongside acclaimed chef and James Beard Award-winning host Pati Jinich as she experiences the region's rich culture, people and cuisine. Travel with Pati to Southern California, Baja, Arizona, Sonora, New Mexico, and Chihuahua as she shares meals with self-described "fronterizos" or borderlanders from all walks of life and reflects on the melding of cultures.
Each border region has its own unique soul. The California area is the most crossed land border in the world leading to fascinating stories of cross-border collaboration and creativity. The Arizona border, with an ancient tribe and one of the world's most unforgiving deserts, is steeped in tradition and stories of pain from colonization and migrants seeking a more dignified life. But that pain is deeply contrasted by the overwhelming healing power of human kindness. New Mexico is the only place where US school buses pick up kids from Mexico, and we meet a community of Mennonites that will make you feel like you've traveled back in time.
La Frontera with Pati Jinich demystifies the borderland communities, sparks dialogue and discussion, and furthers the narrative that saturates mainstream media about border communities. Pati has dedicated her career to building a shared understanding between her two neighboring home countries: Mexico, where she was born and raised, and the United States, where she now lives with her Mexican-American family.
About Pati Jinich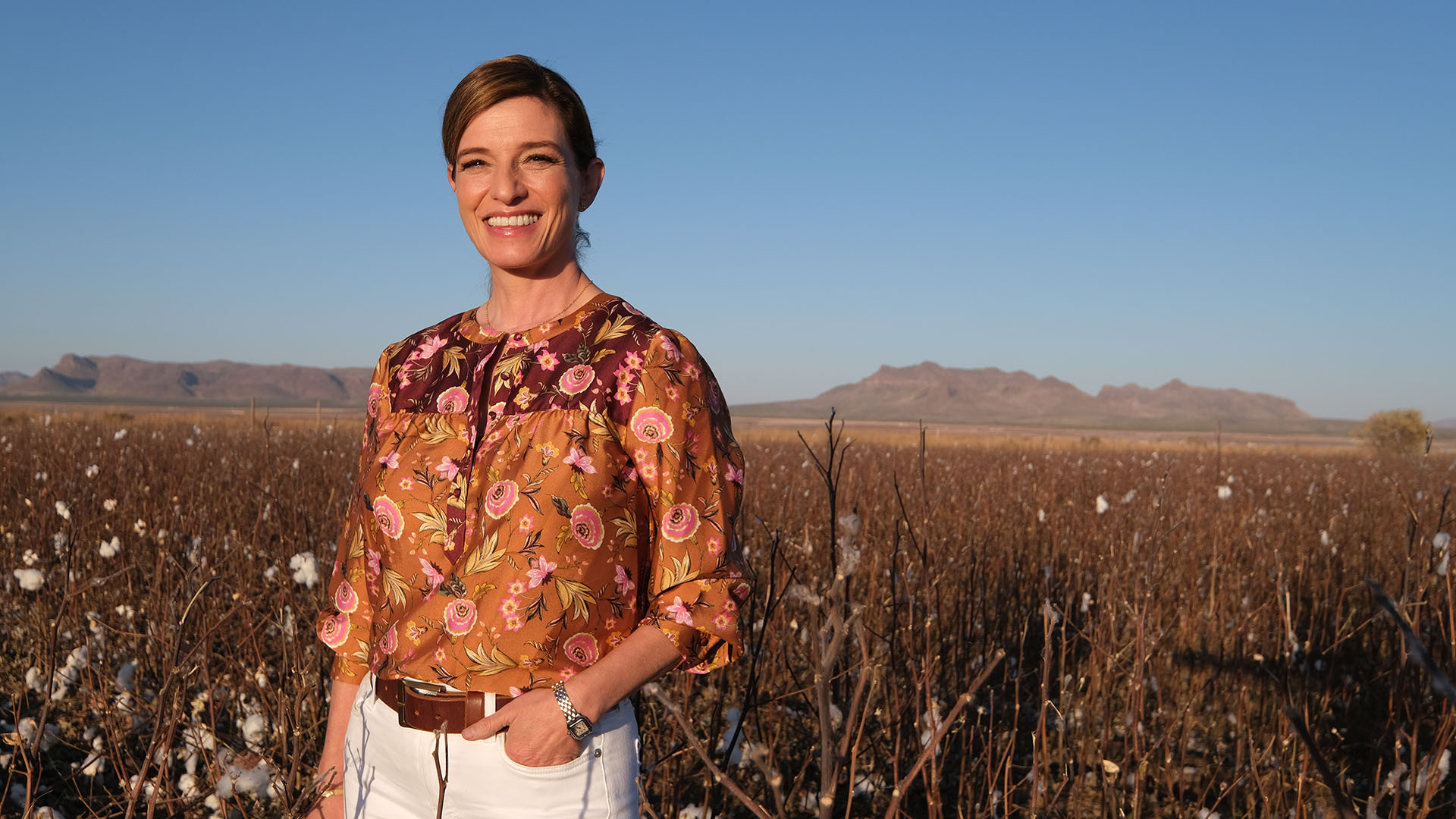 Born and raised in Mexico City, Pati Jinich is the host of the three-time James Beard Award-winning and four-time Emmy nominated PBS television series "Pati's Mexican Table" going on its tenth season. The series is widely distributed in the U.S. through PBS and streamed worldwide on Amazon Prime.
Pati is the resident chef at the Mexican Cultural Institute in Washington D.C. and author of three cookbooks, "Pati's Mexican Table: The Secrets of Real Mexican Home Cooking," "Mexican Today: New and Rediscovered Recipes for the Contemporary Kitchen" and "Treasures of the Mexican Table,"
A former political analyst focused on Mexican political institutions and US-Mexico relations at the Inter-American Dialogue, Pati holds a master's degree in Latin American Studies from Georgetown University. She switched policy papers for cooking pots to make exploring and sharing Mexico's cuisine her life's work.
La Frontera Season 1 Recipes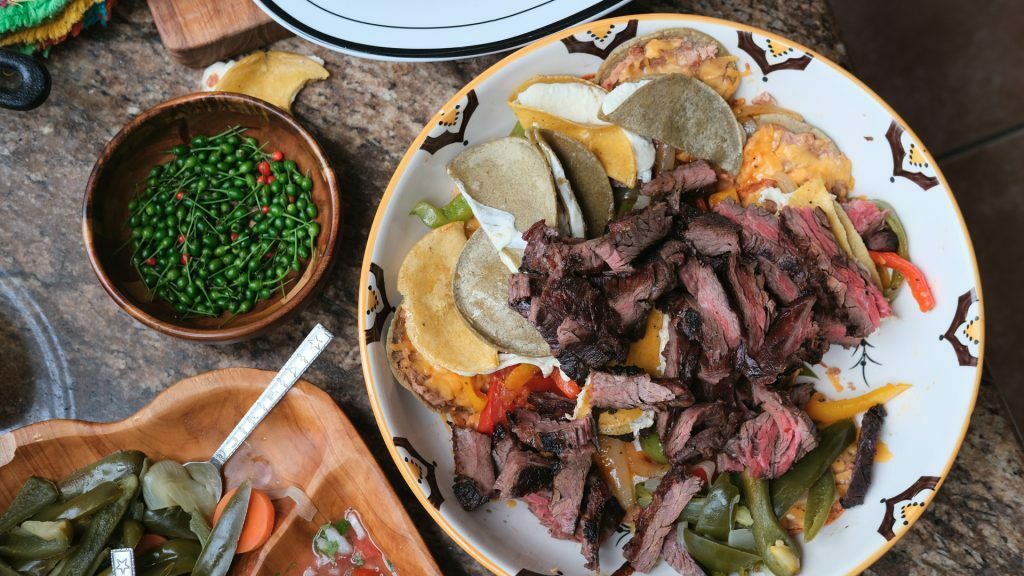 Explore the Restaurants from Season 1