Violence Against Asian Americans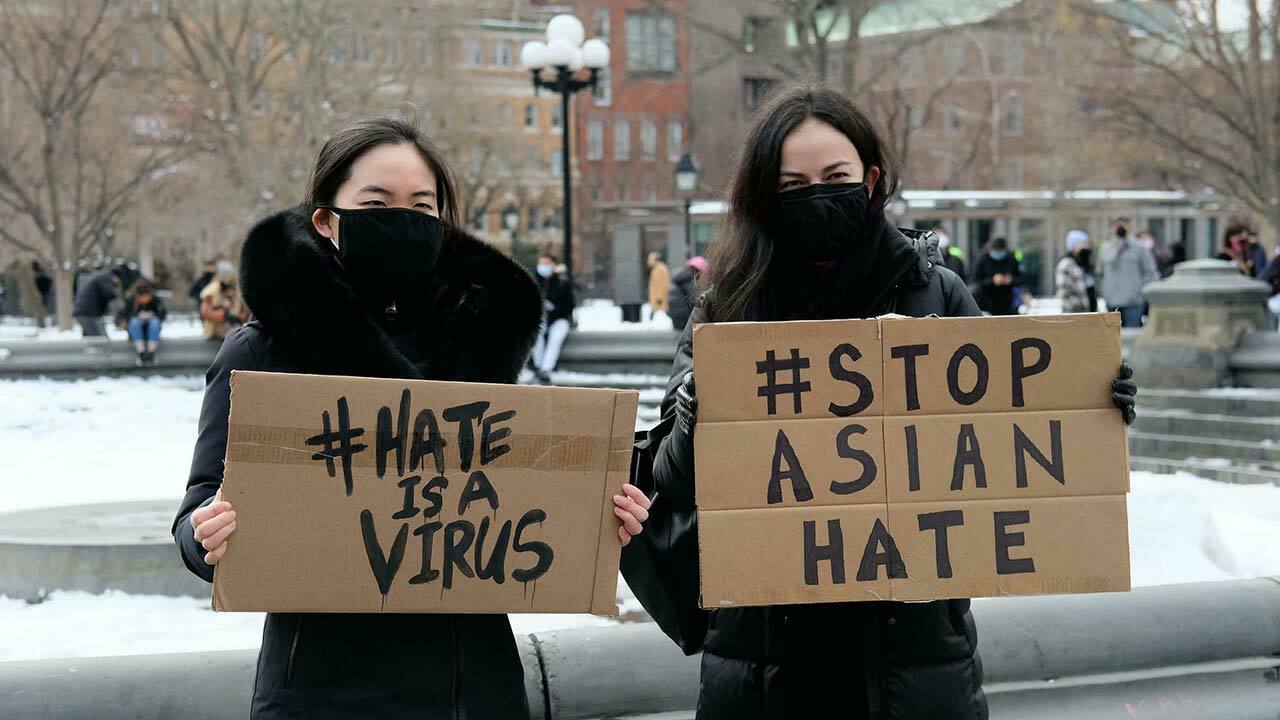 I had been waiting for what felt like an eternity, eager for this day to come. I was fully vaccinated and feeling upbeat, finally able to see my parents in person again. We wasted no time with smiles and hugs all around, but things got very real very fast.
My mom handed me a gift, it was brand new, in that impossible to open plastic packaging. As I looked down and wondered what to say, my mom broke the silence. "I have one too," she said holding up her keychain. It was pepper spray.
Then it was my dad's turn. He pulled out an orange flashlight and demonstrated its features which included a blindingly bright light and a loud siren. He handed it to me and said, "be careful."
This wasn't the reunion I had expected, but my parents gave me a very important reality check. The rise in reports of violence against Asians, Asian women in particular, is not about thinking "it could have been me, I'm so lucky it wasn't." As a member of the AAPI community, for the times my mom would call me, upset and angry about racist comments or unprovoked mistreatment from strangers and for the horrible experiences I've gone through, this is not about being lucky. We are not invisible, we can make a difference because that one day in March 2021, it became about all of us.
Rising Against Asian Hate
"Rising Against Asian Hate" explores the fight against anti-Asian American hate following the March 2021 mass shootings in Atlanta. This special examines how this critical moment of racial reckoning sheds light on the struggles, triumphs and achievements of AAPI communities. The film is narrated by Sandra Oh with music by Jon Batiste and Cory Wong. Visit PBS.org for more information on "Rising Asian Hate."
Deadly Georgia Attacks Raise New Fears for Asian Americans
Less than 24 hours after a series of attacks in the Atlanta area killed eight people, residents and Asian Americans in particular are dealing with the aftermath. Stephanie Sy reports, and Amna Nawaz speaks with Stephanie Cho, the executive director of the Asian Americans Advancing Justice-Atlanta, a national civil rights group, to get reaction on the ground.
Asian American Legislators Press Conference
Asian American and Pacific Islander state legislators hold a press conference at the Capitol following the attacks in Atlanta.
Asian Americans Face More Discrimination in Wake of COVID
A recent report found that hate crimes against Asian Americans in major U.S. cities surged by nearly 150 percent in 2020 — even as the number of overall hate crimes fell. Stephanie Sy looks at how the violence has marred one community, and how they are coming together in its wake.
Pro Basketball Player Jeremy Lin on Anti-Asian Racism
Pro basketball player Jeremy Lin is best known for generating the craze "Linsanity" after he unexpectedly led a winning turnaround with the New York Knicks in 2012. Just before the deadly attack in Atlanta, Lin spoke with Michel Martin about racism in sports and why he's choosing to speak out.
Abacus: Small Enough to Jail
'I Experience Being Asian American Way Differently Than My Peers'
Being a member of the LGBTQIA+ community can feel unsafe and isolating. Being both queer and Asian American has its own set of unique challenges. Members of Austin's Asian American LGBTQIA+ community discuss the challenges of life at the intersection of two marginalized identities.
Mr. Tornado is the remarkable story of Ted Fujita, whose groundbreaking work in research and applied science saved thousands of lives and helped Americans prepare for and respond to dangerous weather phenomena.
Why Do We Say "Asian American" Not "Oriental?"
The word Oriental is hundreds of years old, so why do Americans no longer use the word "Oriental"? And how did the word "Asian American" take its place? Watch this week's Origin of Everything to find out.
The Story of China: Ancestors
Starting with a family reunion, when 300 relatives gather to worship their ancestors on 'Tomb Sweeping Day,' Michael explores ancient myths and archaeological sites to uncover the origins of the Chinese state; he examines the first Chinese writing, and tells the dramatic tale of the bloodthirsty First Emperor, before an amazing climax with a million pilgrims at a festival on the Yellow River.
Asian Americans: Breaking Ground
In an era of exclusion and U.S. empire, new immigrants arrive from China, India, Japan, the Philippines and beyond. Barred by anti-Asian laws they become America's first "undocumented immigrants," yet they build railroads, dazzle on the silver screen, and take their fight for equality to the U.S. Supreme Court.