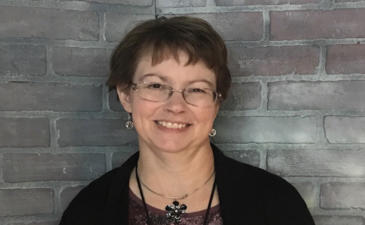 Missouri
Nine Network of Public Media
Rockwood School District
Saint Louis, Missouri
Kim Gerth is an early childhood speech-language pathologist in the Rockwood School District. She enjoys creating videos using favorite preschool storybooks to teach emotions and social communication skills to her students. Kim is most passionate about helping her nonverbal students learn to express their thoughts and ideas using technology. She has presented at local, state, and national conferences about the importance of teaching young children to become independent communicators who can advocate for themselves. 
Fun Fact: We had to give Kim two facts, because we couldn't choose which was more fun: Kim plays handbells in a church choir. She also enjoys taking her cats for walks in a stroller around her neighborhood.
Favorite PBS Character/Show: Mister Rogers' Neighborhood, and now Daniel Tiger because she "loves the way emotions are taught to kids in a calm, nonjudgmental way." Her students with autism also relate to the songs that Daniel Tiger sings.
Facebook: Miss Kim's Blue Table
Instagram: @misskimsbluetable
Twitter: @MissKimsBlueTable