(Article reposted courtesy of CreateTV)
By Christina Pirello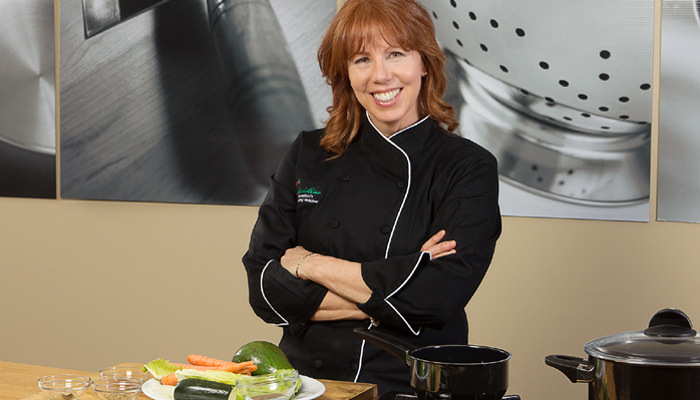 "I was new to public television … okay, I was new to television. My first cookbook, Cooking the Whole Foods Way was just published and I was at a book event with my publisher, John Duff, from the Penguin Group.
As we stood at our table surrounded by my new book, John turned to me and asked if there was someone I wanted to meet.
Of course, I said …Julia…the hero of every cook, chef, busboy and dishwasher.
As I said that word, magic happened. Julia walked by with her assistant and as she passed our table, she said, 'Now don't forget, I want to meet that new chef who doesn't cook with butter.'
My heart was in my throat as I realized I was 'that new chef who didn't cook with butter.' We were introduced and all I could think of was Dan Akroyd's iconic send-up of her. I was speechless. But she was kind and sweet. Julia's assistant reminded her that she had ten minutes to chat with me.
Two hours later, we were talking food, vegetables, cooking techniques, television and of course, butter.
In true Julia fashion, at the ripe old age of eighty-seven, she was open to new ideas and asked me if she should give up butter. I laughed and said that at eighty-seven, she should probably keep doing what she was doing. It seemed to be working for her.
Every time I saw her after that, she laughed and asked me if I had changed my mind about butter.
To learn more about Christina Pirello, visit CreateTV.
About Christina Pirello
Christina Pirello is the host of Christina Cooks, distributed by American Public Television. The popular chef and author of four cookbooks was diagnosed with terminal cancer in 1983 and with the support of her doctors, turned to a nutritional approach to combat the disease. Already a vegetarian, she turned to a macrobiotic diet — consisting mainly of whole grains and vegetables — to aid in her recovery, and whole-foods cooking became her passion. Now, more than 20 years later (and cancer free), Christina is one of the country's foremost educators on cooking and alternative health. Described as "the woman who put the fun back into healthy cooking," Christina now gives whole foods cooking classes, seminars, workshops, catering and lectures nationwide.