By Lennlee Keep
---
There isn't much the whole world seems to agree on, but I have yet to meet a person who doesn't love Dolly Parton. She's funny, glamorous, famous, and fabulous. Oh, and she sings too. For over 50 years, she's been writing songs that can bring you to your feet or bring you to your knees.  
And Dolly's also been quietly changing the world. She's given away over 150 million books worldwide to early readers around the world through her literacy program, Imagination Library. She helped fund COVID vaccine research, contributed to animal welfare, local disaster relief, and countless charities. This humble and self-proclaimed "dumb blonde" isn't vocal about her political beliefs, but she doesn't have to be; Dolly always says what she feels through her songs and the projects she takes on. 
"I still believe that women should get paid equal and should be treated with respect. I'm all about that," Parton said in an ABC interview with Robin Roberts. "I don't get out and have to preach it or march in the streets; I write about it."
In the '70s and '80's women were facing discrimination and an ever-widening pay gap. According to the US Census, through the 1960s and 1970s, the female-to-male earnings ratio was stagnant, hovering between 57 to 61 cents to the dollar of male earnings. Additionally, there was a big push to ratify the Equal Rights Amendment (which has still not been ratified though as of this writing there's renewed talk of 2021 finally being the ERA's year) there were plenty of reasons to make their voices heard. In the documentary 9to5: The Story of a Movement, we see the very long road that millions of women walked to get out of the secretarial pool to a place where they could even begin to see a glass ceiling. For decades, women in the 9to5 National Association of Working Women fought for what we now see as fundamental rights, things like not getting fired because you are pregnant or the opportunity to make a salary near to male counterparts (although still not equal). 
Early in the movement, you wouldn't find Dolly marching in the street, but she used her big platform to make statements in her own humorous, down-home way: "I was the first woman to burn my bra—it took the fire department four days to put it out." If you ever find yourself laughing at a joke about Dolly Parton, she probably wrote it herself.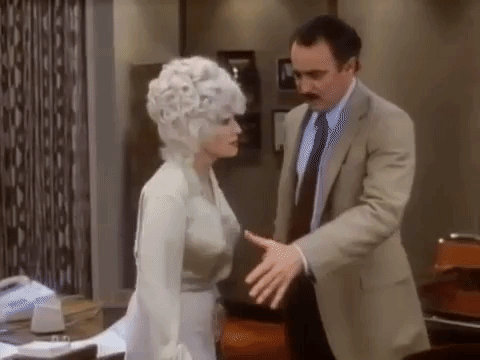 While bra-burning made for late-night television jokes, the issues in the workplace were very real. 
In 1980, Jane Fonda approached Dolly to be in her new film 9 to 5. Dolly had never acted in a movie before and said she would take the role of Dora Lee on the condition that she got to write the theme song. A deal was struck. On the set, in between takes, Dolly would work on the song, "9 to 5." 
You only need to hear the first 4 seconds to name the tune of "9 to 5." It's not even the music so much as it is the sound of a symphony of typewriters. She can play over 20 instruments; that typewriter sound was not machines. It was Dolly clicking her nails together. There is even a credit on the song: "Nails by Dolly."
The song itself is on the surface fun and light, like the writer herself, but when you take it apart, it packs a punch. While the song's opening lines seem to speak only to the hustle and bustle of just getting to the office, it strikes another chord. 
Tumble outta bed
And I stumble to the kitchen
Pour myself a cup of ambition
And yawn and stretch
And try to come to life
Jump in the shower
And the blood starts pumpin'
Out on the street
The traffic starts jumpin'
The folks like me on the job from 9 to 5
The feeling that it conjures leaves a few things unsaid, but they are there; in between the hot cup of Joe is the perceived background noise of getting kids fed and lunches packed and everyone out the door. 1980's children with working mothers are more the rule rather than the exception.  More than 17 million mothers of children under age 18 were in the workforce, an enormous change in just a decade—44 percent more than in 1970.
So here is the irony. There were more women in the workplace. Two-parent households had two incomes, but while you would think that there would thus be more than enough money, wages stayed the same, and simultaneously, the cost of childcare and housing rose, pretty much eating up any extra money brought in. (Elizabeth Warren explains it all in this 2007 talk "The Coming Collapse of the Middle Class.") For the single woman, regardless of how hard she worked, there was an agreed cap in salaries in many industries, price-fixing for all intents and purposes.
Workin' 9 to 5,
What a way to make a livin'
Barely gettin' by
It's all takin' and no givin'
They just use your mind
And they never give you credit
It's enough to drive you
Crazy if you let it
But there were so many behaviors and attitudes deemed acceptable in the workplace that would shock anyone born after 1980. Outright harassment, and overt racism, ableism, and even ageism were everywhere.  Everything portrayed in the film 9 to 5 came from the stories of real-life working women—well, all except the attempted murder.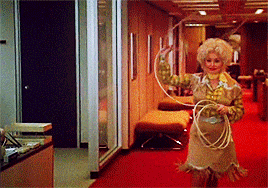 9 to 5, for service and devotion
You would think that I
Would deserve a fair promotion
Want to move ahead
But the boss won't seem to let me
I swear sometimes that man is out to get me
So if you worked in the secretarial pool, you were indeed in the same boat as a lot of your friends with no hope in sight. But the 9to5 union and the unionization of all women made use of that boat. It was a rich man's game, but if they worked together, they could change it, and thankfully, they did. 
While this all might seem as far in the past as sock hops or a $10,000 house in the Bay Area, it was only in 1980 that the Equal Employment Opportunity Commission (EEOC) issued guidelines clarifying that sexual harassment was illegal. Sexual harassment technically became illegal when Lyndon Johnson signed the Civil Rights Act of 1964, but almost 20 years later, the EEOC had to further clarify this under Title VII, which prohibits discrimination by employers on the basis of race, color, religion, sex, or national origin.
It's worth mentioning that the pay gap still remains, and if it keeps moving at this pace, the gender pay gap won't be a thing of the past until 2059. 
While the work of the group 9to5 made incredible progress for women in the workplace against enormous odds, there is still work to be done. But Dolly Parton's classic song lives on, an ode to everyone who works the 8-hour day, or the 12-hour day. And while Dolly does remain out of politics, she will stand up for everyone's right to basic respect. 
"I think everybody should be treated with respect. I don't judge people and I try not to get too caught up in the controversy of things. I hope that everybody gets a chance to be who and what they are. I just know, if I have to pee, I'm gon' pee, wherever it's got to be."
They let you dream
Just to watch 'em shatter
You're just a step
On the boss-man's ladder
But you got dreams
He'll never take away
You're in the same boat
With a lot of your friends
Waitin' for the day your ship'll come in
'N' the tide's gonna turn
And it's all gonna roll your way
9 to 5, yeah
They got you where they want you
There's a better life
And you think about it, don't you?
It's a rich man's game
No matter what they call it
And you spend your life
Puttin' money in his wallet
The holidays are over, y'all. It's back to that 9 to 5 😉 #MondayMotivation pic.twitter.com/uKCtj6Hgjr

— Dolly Parton (@DollyParton) January 4, 2021
---
Lennlee Keep is a nonfiction writer, filmmaker, storyteller, and reticent D&D player. Her writing has appeared in The Rumpus, The Southeast Review, and ESME. Her films have been shown on PBS, A&E and the BBC. The ex-wife of a dead guy, she talks about death more than most people are comfortable with. She is working on a memoir about addiction, grief and a literally broken heart. She lives in Austin, Texas with her son and their guinea pig, Chuck Norris. She is much funnier than all of this might lead you to believe.