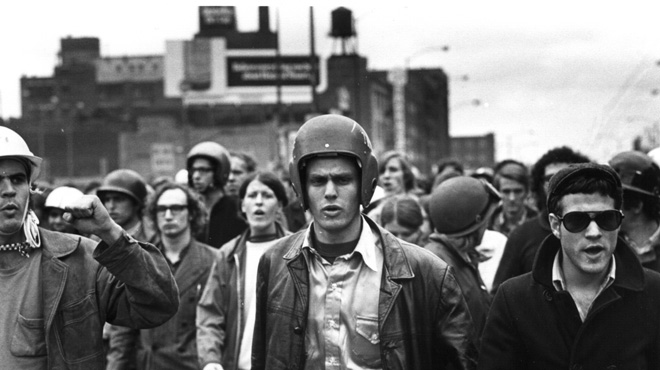 As it's Academy Award time again, where one feature documentary out of five worthy finalists is chosen as Best, it seemed fitting to take a trip down memory lane for that Oscar category in particular.
In honor of the fact that there have been 86 of these ceremonies now, I've created a few new, slightly more creative sub-categories of my own to tip the hat to past winners and  nominees. On a historical note, it's important to note that in the early days of the Feature Documentary category there were often very few nominees (the number varied wildly even within the WWII years, from a whopping 4 winners and 25 nominees the very first year of the category, in 1942, the peak of the wartime documentary effort). A number of these films, particularly the older ones of course, aren't especially easy to find or see, even today.
At any rate, here are my choices for some of the best–and in some cases oddest–of the best, as it were, in quirky new categories that are completely made up.
Best Oscar Nominated Documentaries: Nostalgia Category
Some of these films belong in a time capsule for their historical importance (Kon Tiki), but others at least win over our hearts and minds for their almost antique charm as well as the trails they may have blazed (Disney's cute and acute nature doc The Living Desert fits both these things).
Best Oscar Nominated Docs: Cult Favorites
A few of the Oscar docs that were influential beyond typical and have maintained a following.
Scared Straight!  This 1978 film won both Oscar and Emmy for its gritty-for-the-time look at juvenile criminals who are ultimately scared enough to try to get their acts together. The film spawned a sequel and the titular phrase is still used today in the world of justice and on the streets.
The Hellstrom Chronicle (1971): Still occasionally played in arthouse theaters and lava lamp-adorned living rooms worldwide, this trippy film about insects is a truly odd but fascinating combination of post-apocalyptic sci-fi, horror and nature doc
Bowling for Columbine (2002)
Best Oscar Nominated Docs: Back to Nature
March of the Penguins (2005)
Winged Migration (2001): This movie is less "for the birds" than it is "with the birds," literally it's as close to feeling like a bird as you can get, for better and worse (those scary crabs and that poor wounded bird).[see trailer below]
The Garden (2008)
The Cove (2009): Not exactly a fanciful nature film, this undercover investigation into dolphin slaughter in Japan may be even more disturbing than this past year's Blackfish.
Best Oscar Nominated Docs: War What Is it Good For?
There are truly too many good ones in this category to name them all but here are a few of the most important and lasting:
The Fog of War (2003)
Restrepo (2010) [Sadly, the co-director of this powerful film, photojournalist Tim Hetherington, was killed by shrapnel while covering the 2011 Libyan civil war]
Hearts and Minds (1974) [see trailer below]
Prelude to War (1942): Part of Frank Capra's "Why We Fight" series, this may seem like dated, wartime propaganda but it is historically important as a vital WWII recruiting effort and time capsule piece. [watch on PBS]
No End in Sight (2007): Undeniably powerful, enervating yet level-headed investigation into the US occupation of Iraq.
Best Oscar Nominated Docs: Unique Characters
These folks don't have much in common other than being frankly creepy in their own ways, but all are memorably fascinating.
Marjoe (1972): You young 'uns may not know of this charismatic former evangelist who changed his ways and allowed filmmakers access to his manipulative tricks of the trade.
Capturing the Friedmans (2003): Fascinating  if disturbing. Roger Ebert wrote: "The film is as an instructive lesson about the elusiveness of facts, especially in a legal context. Sometimes guilt and innocence are discovered in court, but sometimes, we gather, only truths about the law are demonstrated."
Hotel Terminus: Life and Times of Klaus Barbie (1988): Marcel Ophüls' (The Sorrow and the Pity) epic, chilling portrayal of the former Gestapo chief, the infamous "Nazi Butcher of Lyons." [see trailer below]
Best Oscar Nominated Docs that Rock (and Swing and Sway)
Put your stereophonic headphones and bop your head while watching and listening to these musically-inclined docs.
Best Independent Lens Films Nominated for an Oscar:
Well, all of them, so far.
What are some of your favorite Oscar-nominated/winning documentaries over the years?