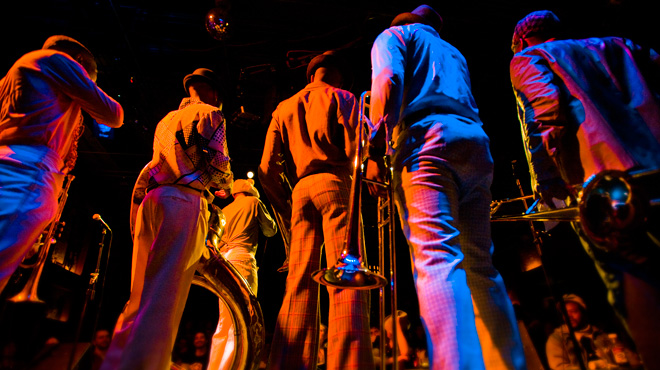 Enjoy this collection of additional videos and links to check out more from the Hypnotic Brass Ensemble, who are the center of Reuben Atlas's new Independent Lens documentary Brothers Hypnotic, premiering tonight April 7 at 10pm on PBS (check local listings.)
"Brothers Hypnotic will restore your faith in humanity, bring a tear to your eye, a heavy stomp to your right foot and, possibly, make you curse your parents for not forcing you to wake up at the crack of dawn for tuba practice." – CBS
"A film about being true to your roots and cutting the strings," wrote Robert Lloyd in the LA Times, "and values passed on and values transformed, beautiful to behold and exciting to hear."
Now prepare yourself for the film by horn-ing in on some samples of the band's funky music.
Update (4/15)! Brand new video from Hypnotic Brass Ensemble:
Hypnotic plays with  legendary Nigerian drummer, composer, and songwriter Tony Allen, in this mix of behind the scenes stuff and awesome music:
Hypnotic Brass Ensemble performing in Times Square Subway Station, NYC:
In the film you see the band touring Ireland; here's footage from their show at the end of European tour, in Bruges, Belgium. (Taken by someone at the show, the sound quality isn't amazing but it's otherwise quite good.)
Hypnotic Brass Ensemble on Spotify:
Read more about the film in this review in the Chicago Reader by Peter Margasak.
Read interview with Brothers Hypnotic filmmaker Reuben Atlas.