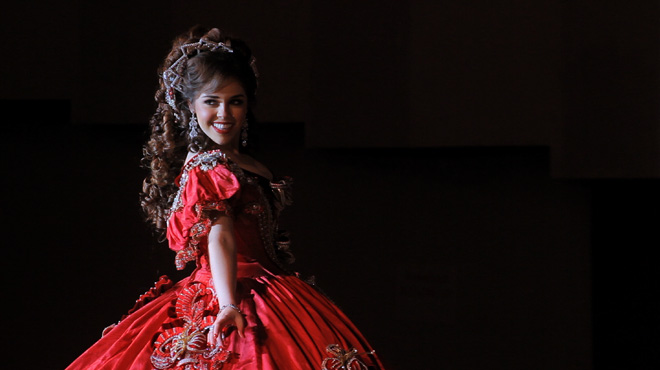 Laura and Rosario, the Laredo debutantes and stars of the Independent Lens documentary Las Marthas, participated in a unique rite of passage, in an event they will no doubt never forget even as they leave it in the rear-view mirror. The film premieres tonight, Monday, February 17 on PBS at 10 PM (check local listings).
Want to know where these dynamic young women ended up next? Read on.
Laura, a.k.a. Laurita, is the 13th debutante in her family and 28th participant in Washington's Birthday Celebration. She currently lives in College Station, Texas where she is super-busy studying pre-med at Texas A&M University as a Gates-Millenium scholar.  As she continues her goal towards medical school, she has been dedicating community service hours to several local hospitals concentrating on emergency medicine, labor/delivery, and pediatric emergency care. "She carries her childhood bi-cultural experiences and family values close to her heart, which helps her stay grounded in a multi- cultural university environment," her mother Laura L. Hovel tells us in an e-mail. "She remains unaffected by the misconceived stereotypes and ideas of Hispanics. She intends to carry on her same ethics and remain proud of her family values and heritage."
Rosario, meanwhile, was the first in her family to debut. Raised in Mexico, yet educated in the U.S., she is one of only two "guests" invited to present at her Colonial Ball. She currently lives in San Antonio, Texas where she is studying accounting at Trinity University.
Las Marthas filmmaker Cristina Ibarra told us: "As soon as we finished the film, my producing partner, Erin, and I flew to Texas and showed it to Rosario and Laurita. I think the girls were both really struck by how beautiful the gowns looked on the big screen.  Rosario kept saying, 'Que hermoso.' ('How beautiful.')  Laurita was nervous that she may have come across as a little too outspoken.  Seeing the film, Laurita says that now she feels older and a little more grown up than she was back then.  But she still cherishes her experience."