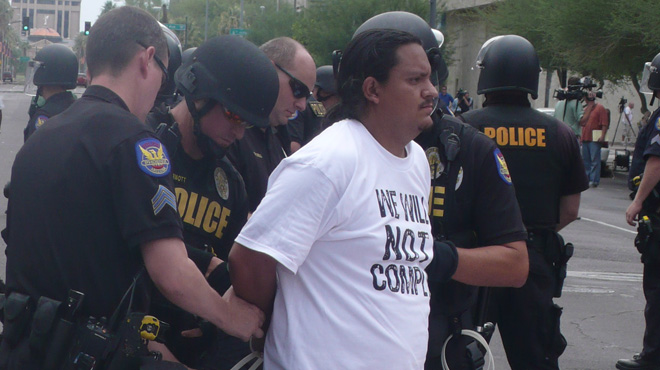 Doing a fair-minded film about an issue as contentious as U.S. immigration policy is no easy task, but filmmakers Catherine Tambini and Carlos Sandoval aren't strangers to dealing with some of the more painful aspects of immigration. Their previous film was the Sundance Jury Prize-winning Farmingville, which investigated the attempted murder of two Mexican day laborers in a suburban New York town.
Now comes The State of Arizona, which premieres on PBS Monday, January 27 at 10 PM [check local listings], and doesn't shy away from the things that divide that border state — issues extending well beyond the state line. The film gives "a sense of the issues as lived on the ground, of the energies marshaled by each side – so often missing from the reported news – and the human consequences of policymaking," wrote Robert Lloyd in the L.A. Times. We asked the directing duo about the experience of making this film and the many challenges encountered along the way.
What led you to make State of Arizona?
Catherine: Hearing all that was going on in Arizona including Sheriff Arpaio and his community raids, trying to resist the forces calling to me, remembering what had been said in Farmingville a few years ago that Arizona would be the next battleground, reading about SB1070 being signed into law and ultimately feeling that it was something I just couldn't turn my back on.
Carlos: Watching what was going on in Arizona in 2010, I felt itchy and scared. All the talk about racial profiling and splitting up families just didn't make sense. If that was in fact what was happening, I wanted to be there as a witness to history and maybe, through the telling of the story, change it.
Did you get any advice from other documentary filmmakers about putting together a film about such a contentious subject? 
Carlos: The best advice I received when first started down this dicey path was from the great director, Nigel Noble.
It was when I was first contemplating Farmingville and courting Nigel to possibly direct it. He read an OpEd piece I had written that appeared in the Long Island section of NY Times. In it I used my law and economics training to try and understand the frustration of Farmingville residents. Essentially I saw the situation as cost shifting. Wealthier communities like the Hamptons (where I lived) were benefiting from the day laborer work force while shifting a lot of the costs associated with the housing of this new community on to the residents of Farmingville.
Nigel recognized the validity of the nuanced approach. He said in our first meeting, "We have to keep it straight down that path." As things unfolded, Nigel had other commitments and had to leave the project, but his advice acted – and continues to act – as a lodestone.
Catherine: Our process in editing is to have roughcut screenings to which we invite other filmmakers and trusted friends to comment and see if we're on the right path.  We try very hard to give voice to all sides of the issue.  It was interesting to see that at one point in the process some of our more liberal friends were really identifying with the pro-SB1070 voices on the right.  We realized that maybe we had gone overboard in making their case and had to swing it back so that both sides were more fairly represented.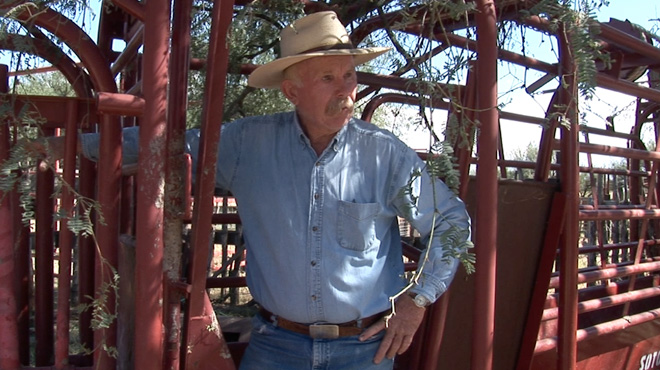 Along those lines, are you concerned about capturing such a controversial topic and actually getting people to watch with open eyes — and even feel differently about immigration afterwards? Do you think people are set in their ways, or can this film be used as a tool to lead to less divisive dialogue about immigration? 
We each believe that film, that storytelling, has a special power to reach directly into people's hearts and imagination. As someone with legal training, Carlos could have sought to impact policy in a more direct and traditional way. But there's something in the power of story that's necessary in an arsenal for change.
Obviously, people embedded in their convictions on either side aren't going to be convinced to change their minds. But people closer to the center of the spectrum may broaden their perspective. We saw this happen in screenings of Farmingville and are seeing it happen at screenings of Arizona.
On the micro level, a pivotal character in Farmingville, Louise Scarola, started an organization that took small, but meaningful steps to build a two-way bridge within the town. She organized Saturday clean-ups where she made it a point to reach out to the day laborer community, who responded. On a macro-level, we continue to come across people who talk about the film's impact on their lives, their communities or their work.
What were some of the other big challenges you faced in making this film?
Catherine: Gaining access and establishing trust especially with the pro-SB1070 side.  One of our main characters, Kathryn Kobor, has a lot of signs [including] "Don't trust the liberal media."  We had our work cut out for us.
Raising money for a documentary is always a challenge. The fact that we were based in New York and making a film about Arizona added another level of anxiety. We spent the better part of two years in Arizona or trying to get to Arizona. Of course, the more time you spend with your subjects the better material you come away with.
The final year and a half of production and editing were a blessing and a curse. We benefitted by the Supreme Court deciding to hear the case of SB1070 because we were able to deepen our relationships with our subjects and ultimately make a better film but we were not budgeted to go for that much longer.  That's when it comes down to passion and commitment to finishing the project.
Carlos: The usual trinity of documentary filmmaking:
Access, access, access…
Finding the story, finding the story, finding the story…
Money, money, money.
In truth, finding the story was the toughest part. We thought we had it in the can when the Supreme Court announced it was reviewing the case of SB1070. It was only when we took up the camera again, went back with more access (and at the nudging of our editors/collaborators), found and went through the trove of local activist footage (thank you Dennis, Sal, Lydia, Sylvia and Carlos G.) that we really began to penetrate the story. Then it was only a question of wrestling down the over-200-hours gorilla to 83 minutes and 25 seconds, not counting credits (thank you Mona).
What would you have liked to include in your film that didn't make the cut?
Catherine: After the Supreme Court handed down its decision, Puente organized the  "Undocubus." It was a campaign in which undocumented immigrants would ride in an old retrofitted bus dubbed "Priscilla" through states that had passed SB1070 copycat laws. We filmed the first time the undocumented members of this group performed a civil disobedience action in Phoenix in effect outing themselves, coming out of the shadows to declare they were undocumented and unafraid. They were arrested. It was an emotional moment to witness.
Carlos: I wish we could have included all of the people who gave of their time and their stories. Two in particular come to mind. There's Rudy Peña, a very thoughtful and insightful man who comes from a Latino activist family, and yet supported SB1070. He lives in a neighborhood that he's seen transformed by immigration. As a tradesman he's experienced economic competition and even a kind of reverse discrimination because he doesn't speak Spanish. There's also Celia Alvarez who described severe physical abuse while being arrested by the Sheriffs. She was separated from her nursing child for three months while she was held in detention. Celia had the extraordinary courage to tell her story to a congressional committee in D.C.
And have any of the people (politicians or others) now seen the film, and how have they reacted?
We made a point of showing the film to each of the characters on the eve of our Community Cinema premiere. It's our practice to do this so that people who were generous enough to let us enter their lives won't be caught by surprise. Overall the reaction has been supportive and favorable, but of course it has varied according to perspective.
Some of the activists at Puente felt they'd moved beyond the strategies shown in the film as they engage in more-and-more highly visible public actions. Renee Taylor (who in the film we see debating with the man in a beret) thought we had sanitized the portrayal of the immigrant community and their supporters, noting that she had some near physical encounters at rallies; she was so menaced that police had to intervene to protect her. Mayor Scott Smith appreciated seeing the process by which the immigrant supporters organized. Russell Pearce and Alfredo Gutierrez participated in an extremely heated Community Cinema panel. They had each seen the film earlier, so they appreciated it enough to participate. Jorge Martinez was moved; he didn't realize we had captured his phone call with Amparo and Joey and reliving his detention shook him up. Duncan and Susan Blair gave it two thumbs up (each).
As a filmmaking team, how do you divide various roles? Or do you both wear all hats?
We divide AND share hats. Catherine is a one-person production crew, handling the camera and, when needed, supervising and sometimes even recording sound, along with logistical coordination. Carlos handles the schmoozing and yeoman's work on the fundraising. In the edit room, Carlos is big picture, Catherine the refined eye. We each share overworked hours, greyed hair (okay, Carlos has more of those), tears, and laughter.
The independent film business is a difficult one. What keeps you motivated?
Catherine: Oklahoma is a wonderful place to be from, I've always said.  It inspired me to look beyond where I was, be curious about the world, and through a very circuitous route, led me to documentary filmmaking.
I've always loved film and entered into it first through acting. At NYU I had the great luck of studying with the likes of Olympia Dukakis and got to teach circus technique with Hovey Burgess. I lived in the East Village when it was really the East Village. I performed with the Nuyorican Poets Society, did "performance art" at the Pyramid Lounge and The Kitchen, comedy cabaret at La Mama and the West Bank Café, and finally decided I needed to learn about the production side of film. I spent a number of years as assistant to production designer Edward Pisoni working on some major Hollywood films. As much as I enjoyed that big commercial world, I felt the tug of wanting to confront reality.
Ironically at first it was through the illusion of art, when I worked with my good friend, the late Anne Belle on Suzanne Farrell: Elusive Muse.  I found myself stretched, and using everything I'd learned being put to use. I found that satisfaction incredibly inspiring. Even my clowning helped when we were shooting in Mexico for Farmingville, but that's another story.
Having a camera in my hand and witnessing some incredibly serendipitous moment that you come away from afterwards saying, "Wow! The documentary gods are shining on us today," makes it all worthwhile.
Carlos: I believe in the power of story and image. As a child growing up in the Southern California of the 1950's, the absence of stories, images and characters to whom I could relate created an enormous – even damaging – void. Wanting to fill that void for a new generation is a deep part of my motivation to make films. As a product of the '60's, I have an activist strain. As a lawyer and part-time policy wonk, I have a pragmatic bent. These factors sometimes combine into an uncontrollable frenzy to tell a story about an issue, that's what motivates me.
What are your three favorite films?
Catherine: Crisis: Behind a Presidential Commitment and Last of the Mohicans come readily to mind.  Crisis was shot long before we had cell phones and the 24-hour news cycle.  The filmmakers had unbelievable access to President John F. Kennedy, Attorney General Robert Kennedy, and Alabama Governor George Wallace, among others.  They each recorded one end of phone conversations not knowing what the other end was saying. When they got all the footage back to the editing room and began piecing it together it was magic.  We think of that sort of filmmaking as commonplace now but it was an incredible achievement back in the early 1960's and a wonderful record of an historic event from the inside.  You just don't get that kind of access these days.
Last of the Mohicans I could watch anytime…It's so beautiful and romantic and a great story.  All these gorgeous people running through the woods with long hair streaming behind. It's beautifully shot by Dante Spinotti, a director of photography I worked with in my former life as a production designer's assistant.
There are lots of films that have influenced me and my thinking.
Carlos: I refuse to answer this question. The answer would be far to revealing about my trashy movie habits; think sci fi and early horror more than Errol Morris or Jean Cocteau.
What project(s) are you working on next?
Carlos: Breathe, relax, tend to my home life, and then go internal. I have a couple of scripts I want to return to and a project weaving historical events and family in Puerto Rico.
Catherine: A little breathing and relaxing, too. And even though Carlos thinks he's going to go internal, the next step is the larger community engagement campaign.  We make these films to help make a difference and that goes beyond broadcast. We'll be banging the drum on this one for a while. After that we'll see.  I have a few ideas that are percolating.
[Note: Sandoval and Tambini were also on HuffPost Live this past week to discuss the documentary.  And join them both for a live online chat via OVEE, on Tuesday, January 28, at 1 PM Pacific. ]