"The 2nd best film of the year" – Wesley Morris, Boston Globe Top Ten Movies of 2012. "It's hard to overstate how ingenious France's formal choices are…The material has been shaped in an artful manner that devastates, rouses, and shames."

"Riveting…moving and essential." – Bruce Diones, The New Yorker
The Oscar-nominated How to Survive a Plague makes its television broadcast premiere on PBS tonight, December 30 [check local listings]. And as its maker, David France, told us, that's just where he wanted it, even after the film received heaps of critical praise and awards over the past year; "I had public television in mind as we were making How to Survive a Plague," says the Michigan-raised, New York-residing France. "It is exactly the audience I was hoping to reach with the film: sophisticated, caring, motivated, and vast."  The long-time journalist wrote about the AIDS epidemic since 1982, beginning in gay community papers, and continuing in The New York Times, where he was AIDS news writer in the 1990s; Newsweek, where he was senior editor for investigations until 2003; and GQ and New York magazine. But bringing to film the story of ACT UP and other AIDS activist groups' critical role in pushing the government and pharmaceutical industry for faster advancement in a cure, well, it was still a challenge.
And as France tells us, was very much worth the effort.
What led you to make this film?
I have always said that a lot of good came out of the terrible AIDS epidemic. The plague years were a time of mass death, desperate suffering, and political indifference, but also a time of incredible transformation: Transformation of the gay community, of the science establishment, of medicine, of culture. That happened thanks to a small group of activists, most of them HIV-infected themselves. Through their work, the breakthrough drugs that made surviving AIDS possible were discovered and brought to market. Thanks to them, 8 million people are alive today on those drugs. From the ashes of the plague grew the civil rights movement that today has brought us gay marriage. And it all began with the opening scenes of How to Survive a Plague.
What impact do you hope How to Survive a Plague will ultimately have?
I want future generations to know the profound contributions to American life – and global health care – that is the legacy of AIDS activism. The people whose stories I tell weren't trained in science. They taught themselves the fundamentals of biology, virology, and immunology – and through nothing more than a fierce will to live, they charted a course that stopped an HIV infection from being an automatic death sentence. They taught us the limitless power of activism to address a terrible truth, and to triumph. They remind us that the human spirit is indeed indomitable.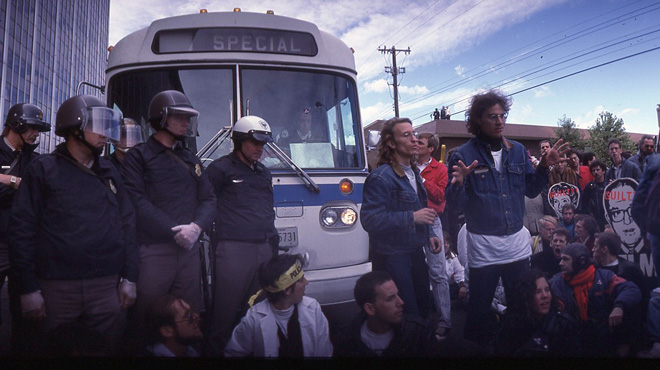 How did you gain the trust of the subjects in your film?
I am a longtime AIDS reporter, so I knew this remarkable story from having witnessed it first-hand. In that way, the subjects had a fair familiarity with me as well. I didn't have to work hard to convince them that I understood the nuance of their experiences. Additionally, I was committed to telling their story using only archival footage shot by activists themselves, honoring the activist-cinematographers as much as the treatment innovators. This appealed to them more than if I were asking them to become my talking heads. They signed up without reservation.
Tell us about a scene in How to Survive a Plague that especially moved or resonated with you.
There is a scene in the film of a funeral of an AIDS activist, Mark Fischer, who died at age 39. The archival footage tells an intense story of his send-off, as his fellow activists gathered at the steps of a church, his coffin on their shoulders. Under a light rain, the funeral cortege went not to a cemetery or mortuary, but through the busy city streets for an angry "political funeral" meant to confront the public with the epidemic and its deadly toll. The eulogy offered over him by the activist Bob Rafsky, standing in midtown before a crowd of gawking commuters, is one of the most eloquent and heartbreaking farewells every voiced.
---
Trailer for How to Survive a Plague:
Update: