By Ade D. Adeniji
---
Philly D.A.,the eight-episode docu-series on PBS, explores the unlikely emergence of Philadelphia District Attorney Larry Krasner, who runs on a progressive platform, and wins with nearly 75 percent of the vote. Pledging to end mass incarceration, Krasner believes in changing the system from within—all the more timely during renewed calls for social justice.
Depictions of district attorneys in film, television, comics, and literature run the gamut from the lofty goals Krasner is after, as perhaps seen in rising District Attorney Sean Casey (played by Andy Garcia) in Sidney Lumet's thriller Night Falls on Manhattan ("You were a cop, Joe. Now you're a garbage! You are nothing!"), to a soap opera D.A. character spending more time in his apartment than in the hallowed halls of the court.
And everything in between. 
That said, D.A. characters in the media are often shown as admirable and crucial components of the criminal justice system and figures who lawyers, judges, juries, criminals, and even superheroes all need to reckon with. 
Here's a quick exploration of some of the most memorable district attorney characters in media:
1. Harvey Dent/Two-Face
District Attorney Harvey Dent becomes "Two-Face" after mobster Sal Maroni throws chemicals at his face. One of Batman's most enduring villains, Two-Face first appears in Detective Comics #66 under the name Harvey "Apollo" Kent, which in later stories was changed to Harvey Dent lest he be confused with a certain Last Son of Krypton. 
Acid is thrown onto Harvey Dent's face in Batman: The Long Halloween (1997; art by Tim Sale).
Two-Face shows up in a range of Batman iterations including the video game Batman: Arkham series,  Batman vs. Two-Face, and Batman Forever, which takes a particularly cartoonish look at the fallen D.A. as played by Tommy Lee Jones. 
In Batman: The Animated Series (TAS), Harvey Dent is portrayed as a good-looking young civic figure on the rise in Gotham. Like Bruce Wayne, Dent is committed to reforming the corrupt city but also might be a bit too idealistic for his own good. As a district attorney, he has some power to deploy, but it's also clear that there is politics at play; just when Dent thinks he's finally got Maroni put away, the mobster weasels his way out again. 
And later, Maroni lords Dent's psychiatric records over him, threatening to release them to the public. What records? Well, Two Face's dissociative identity disorder, fostered out of years of never expressing a full range of emotions—including healthy anger. TAS especially captures Dent's descent into darkness, which isn't just about the chemical explosion that leaves half his face disfigured, but about an out-of-control Gotham whose justice system is less reliable than his trusted two-headed coin.
Memorable quote: "You thought we could be decent men in an indecent time…but you were wrong! The world is cruel. And the only morality in a cruel world is chance. Unbiased, unprejudiced, fair."—Two-Face in The Dark Knight.
2. Jim Garrison
Oliver Stone's 3-hour-and-21-minute epic political thriller JFK is based around 6-foot-6 real-life Orleans Parish District Attorney James Carothers Garrison. Bringing home several Oscars in 1992, but not Best Picture, JFK stars Kevin Costner as a fictionalized version of Jim Garrison, who conducted the investigation into the assassination of President John F. Kennedy Jr. For what it's worth, the most realistic D.A. portrayal on our list, Garrison is a whip-smart hero who pores over one of American history's most enduring moments with a savant's attention to detail.
Sure, this is about a watershed moment in history, but it's also about a fascinating character completely obsessed with uncovering the truth.  Garrison himself appears in the film as Supreme Court Chief Justice Earl Warren. The real-life Garrison was once put on trial, though found not guilty, for accepting bribes to protect illegal pinball machine operations, and was inarguably a colorful character in the world of New Orleans law. 
Memorable quote: "One may smile and smile and be a villain."
3. Laurel Lance
In the "Arrowverse," Laurel Lance is a rising attorney and Oliver Queen's (a.k.a. Green Arrow's) ex-girlfriend. The daughter of a cop, Lance is also interested in justice and eventually becomes assistant district attorney. Like Two-Face, she becomes disillusioned with the corruption within her midst, especially after her vigilante sister Sara dies. Soon Lance assumes the role of Black Canary, meting out justice in disguise throughout Star City. 
Things get a bit complicated as Arrow wades into the world of multiverses and another Lance—an evil Lance—from another Earth comes on the scene. With everything else going on, it's tough to remember back to a simpler time when Lance was working in law. But part of the beauty of the comic book multiverse device is that it makes us question if heroes would actually be heroes with a different backstory. And part of new Lance's struggle is to try to tap into the potential hero she can be. She's played by Katie Cassidy in the Arrow TV series.
Memorable quote: "There was just something I needed to work out. I know that the world isn't fair. I know it's a terrible place where people deserve to get punished and they don't. I just, for just one night, I needed the world to be different"—Laurel Lance in CW's Arrow.
4. Hamilton Burger
Los Angeles District Attorney Hamilton Burger is best known for his central role in the long-running CBS series Perry Mason (where he was played by William Talman), and more recently the much more noirish HBO reboot which began in 2020 (where he was played by Justin Kirk). Supreme Court Justice Sonia Sotomayor says she admired Burger the prosecutor for his ability to be a good loser, perpetually bested by central character Mason week after week.
However, every Harlem Globetrotters team needs a Washington Generals foil to beat, and Burger plays that role to a T. And in a sense, Burger's only fault might be living in Perry Mason's world. In any other world, he's world-class. 
The defense rests. 
Memorable quote: "Your honor, this is just another wild-eyed, dramatic grandstand play for which counsel is so noted."—Hamilton Burger in Perry Mason (1957-1966)
5. Blake Tower
African American District Attorney Blake Tower made a name for himself in Daredevil, and shows up or is mentioned in Luke Cage and Jessica Jones. Still, it's his role in providing Daredevil with vital information to track down and capture criminals that stands out. Kind of like a Commissioner Gordon to Batman, Tower is also driven by getting justice for his slain boss Samantha Reyes and even helps capture notorious vigilante Punisher. This is another superhero story that gives our D.A. a meaty backstory, revealing that the best comic book stories also build out the heroic arcs of its secondary and tertiary characters. 
Memorable quote: "What makes you think I could help you, even if I wanted to?" Blake Tower in Daredevil (2015-2018)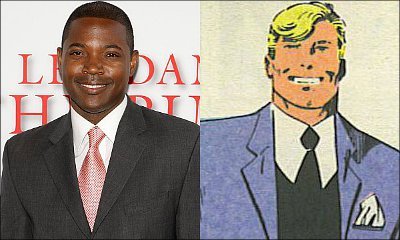 Blake Tower was a white, blonde D.A. in the original comic books but played by African American actor Stephen Rider in the Netflix series.
---
Take Our Quiz! 
---
6. Jack McCoy
Can you hear it?  It's the patented opening bleat from one of the longest and most successful television series of all time, Law & Order. Eventually appointed District Attorney, Jack McCoy is played by affable, venerable actor Sam Waterston (who has played both Lincoln and Robert Oppenheimer). What makes McCoy and Law & Order overall so compelling is that so many cogs of the criminal justice system—including cops and lawyers, judges and prosecutors, and victims and perpetrators—are all represented here. 
Without the help of superheroes, D.A. McCoy often just has to rely on the heft of his own voice, telling off criminals and negligent cops alike. While someone like D.A. Harvey Dent often keeps his true feelings under wraps (unless he's "Big Bad Harv" and feeling a little two-faced), McCoy regularly goes off and would definitely go viral on Twitter or Youtube.
McCoy isn't the only D.A. in the Law & Order universe, either. There's also D.A. Adam Schiff played by the late Steven Hill, and D.A. Nora Lewin, played by Dianne Wiest. Melding fiction with the real-life New York City political landscape, Lewin was appointed D.A. by a certain Mayor Rudy Giuliani to replace Schiff for an interim term. The mayor was familiar with her strong work when he was U.S. Attorney, and thought she would do well in the position. Ultimately, like other D.A.s, Lewin became disenchanted with the position.
Oh and before we close this docket, try this one final factoid on for size: There's a D.A. character named Jerry Hardin in Law & Order played by Peter Coyote, and there's an actor named Jerry Hardin who played a D.A. in LA Law! Coincidence? 
LISTEN:
Memorable quote: "Never get Freudian on a man holding a pickle."—Jack McCoy in Law & Order.
7. Christine Blair
If you want real drama, turn on The Young and the Restless and check out Christine Blair, a teen model turned lawyer and district attorney. Yes, she goes through this entire arc over the course of the long-running soap opera. Given the genre, Blair won't get points for realism, but it is surprising how many D.A. characters there are on soap operas. There's District Attorney (and murderer) Daniel Colson on One Life to Live, Justin Kiriakis on Days of Our Lives, and Alexis Davis on General Hospital, and more. Blair has been played by Lauralee Bell, the daughter of Young and the Restless creators William J. Bell and Lee Phillip Bell.
What's with the preponderance of soap D.A.s? Well, former soap actor Sean Moynihan says he enjoys performing in front of juries. In fact, he went on to become a deputy district attorney in Colorado [Read more.].  Quite the soapy twist.
Memorable quote: "My Ex-Husband is the farthest thing from my mind, I have no intentions regarding Danny, you can stop blaming me for what's wrong with your marriage, and start looking for the real answers."—Christine Blair in The Young and the Restless
8. Mr. Scarlet and Pinky the Whiz Kid
First introduced in Wow Comics, part of the Golden Age of American comics from 1938 to 1956, the dynamic duo of Mr. Scarlet and Pinky the Whiz Kid initially fought crime in Gotham City. Mr. Scarlet is district attorney Brian Butler, who teams up with his adopted son Pinky, a.k.a. the Whiz Kid. The two use an array of gadgetry including Mr. Scarlet's Red Ray Gun. So effective is their crimefighting that Butler takes up odd jobs to supplement his family income. Now those are the kinds of tangible results we like to see out of our D.A.-superheroes.
---
Ade Adeniji is a Staff Writer for Inside Philanthropy and an approved Rotten Tomatoes critic. He's also written for outlets CBS News, Newsweek, Mic, and The Rumpus, and blogs about film, television, and the majestic NBA on his own website, adeadeniji.com. He holds degrees from Pomona College and American Film Institute Conservatory.