Peonage, also called debt slavery or debt servitude, is a system where an employer compels a worker to pay off a debt with work. Legally, peonage was outlawed by Congress in 1867. However, after Reconstruction, many Southern black men were swept into peonage though different methods, and the system was not completely eradicated until the 1940s.
In some cases, employers advanced workers some pay or initial transportation costs, and workers willingly agreed to work without pay in order to pay it off. Sometimes those debts were quickly paid off, and a fair wage worker/employer relationship established.
In many more cases, however, workers became indebted to planters (through sharecropping loans), merchants (through credit), or company stores (through living expenses). Workers were often unable to re-pay the debt, and found themselves in a continuous work-without-pay cycle.
But the most corrupt and abusive peonage occurred in concert with southern state and county government. In the south, many black men were picked up for minor crimes or on trumped-up charges, and, when faced with staggering fines and court fees, forced to work for a local employer would who pay their fines for them. Southern states also leased their convicts en mass to local industrialists. The paperwork and debt record of individual prisoners was often lost, and these men found themselves trapped in inescapable situations.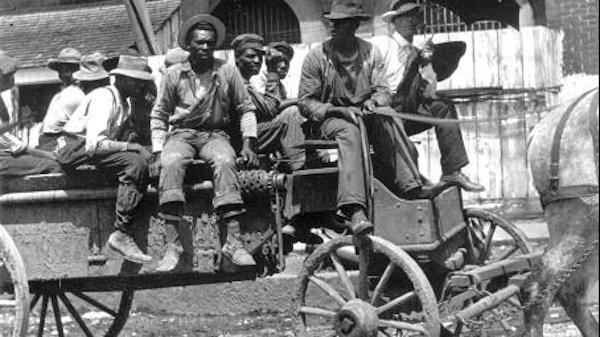 Slavery by Another Name
What is Peonage?
2:25
Published:
Historian Pete Daniel breaks down peonage and debt servitude.
Slavery by Another Name
Peonage and Pearl Harbor
0:00
Published:
Historian Risa Goluboff explains prosecution of peonage cases after Pearl Harbor attacks.
Slavery by Another Name
Reflections on Peonage
1:26
Published:
Descendant Kate Willis describes peonage and how it worked.
Support your local PBS station in our mission to inspire, enrich, and educate.
Donate
Stream the best of PBS.
Anytime, anywhere.
Download the Free App