Begin
Click the arrow to continue
Tap to continue
Two weeks before recording that video, New Yorker Brendt Reil had boarded the Zaandam for what he hoped would be a dream vacation.
The trip did not go as planned.
BREAK

Brendt

4 people died last night on ship

Ryan

Ryan

How are you feeling babe?

Ryan
The Virus at Sea
On March 7, Brendt Reil boarded the Zaandam in Buenos Aires, Argentina as the guest of a longtime friend who was performing on the ship.
Argentina had recently confirmed its first two cases of COVID-19. Brendt says his doctor told him the risk was low and encouraged him to carry on with his travel plans.
The Zaandam's 1,243 passengers and 586 crew expected a two-week journey around the Southern Cone of South America.
Brendt stayed in constant contact with his partner, Ryan Murvin, who remained in New York City with their dog Linus.
Click the arrow to continue
Tap to continue
Posted to Facebook
Brendt Reil
Finally made it to Eva Perons grave. Feeling unusually emotional…
#
Scroll to read more
On the second day of the trip, the U.S. State Department issued an advisory against traveling on cruise ships. Seattle-based cruise operator Holland America Line chose to proceed with the voyage.
BREAK

Brendt

Beunos Aires

We could live there

Ryan

Brendt

We could have a normal cute modern/ reclaimed/ natural green living life

Ryan

Brendt

It is very French

Colorful, artistic…..

Brendt

Except all they eat is meat

Ryan

Brendt

I need more veggie options. 😆

Today at sea all I ate was veggies.

Ryan

Good!

You feel good though?

And nobody is sick?

Brendt

Ryan

As long as you stay healthy, I'm good.

Ryan

Brendt

It won't download completely cause I'm at sea but I know it's liniiiiii [Linus]
Posted to Facebook
Brendt Reil
Feeling great on formal night!
#cruising
Scroll to read more
BREAK

Ryan

Hey babe!

Involuntarily cut from work tonight. It begins…

Brendt

I'm sorry about that. That sucks

We will be ok. […]

Brendt

I saw the most amazing penguins today and they reminded me of u… […]

Us

Ryan

They're so fierce!!

I'm so happy you got that experience babe! I would have cried! Lol

Brendt

Linus

Ryan

HAHAHAHA. That's him right now
BREAK

Brendt

Are u up babe?

There is a lot of news happening right now

Brendt

Chile closed its boarders [due] to the coronavirus.

I was suppose to dock there

Ryan

Brendt

There was a ship that had our same ports that docked a week before us […] they have the corona virus on board

Ryan

Just stay calm. You guys have probably been a lot more careful than this other ship

As far as corona

Brendt

Ryan

Brendt

I'm fine I just want to go home

Ryan

I know babe

Ugh. This is crazy

Ryan

Hey ash your hands constantly.

*wash

Brendt

Ryan

I'm just saying. Don't touch anybody

Wipe your utensils. Don't touch doorknobs.

Brendt

Ryan

Act like a germaphobe

I know I know

I love you

Brendt
Halfway through the planned two-week journey, Holland America announced it would abort the cruise and find a way to get everyone home.
BREAK

Brendt

Only one in the pool on this freezing day

Ryan

Nice! Lol. Are you drinking water?

Brendt

Wine.

[…] I'm trying to lead by example on a ship where everybody is panicking

By at least having fun

Ryan

Brendt

Well the trip is canceled […]

Not going on to any other ports

Trying to find ways to get people home as countries are closing boarders all around us

Ryan

Brendt

I think everyone needs to relax and realize we are in the safest space possible

Unlimited food

People who clean up

Brendt

Just if someone gets sick on this ship then we are all f—ed
BREAK

Brendt

I have a sore throat this morning. 😒
Holland America had hoped passengers could immediately disembark and fly home. But negotiations with the Chilean government failed.
They sailed north, searching for a port that would allow its passengers to disembark.
BREAK

Brendt

This internet is not connecting at all now because we are traveling through the fiords.

Ryan

Grrrr. As long as you're safe babe. Do you have a fever? How's your throat?

Brendt

No fever

Throat is fine

Just a little bit of a dry couch I can't seem to kick

Ryan

What!?

If you have a dry cough, that's a symptom!

Brendt

I know

But the air is dry here

I always have that cough
My mom gets it too

Ryan

Brendt
Posted to Instagram
Click the arrow to continue
Tap to continue
Posted to Facebook
Brendt Reil
I just wanted to give everyone an update to what's the latest in my never ending cruise to no where…we just refueled and restocked in Valparaiso, Chile. They would not let us come dock side so for the past two days they have been sending out little cargo boats full of supplies…food , drink etc…. and enough fuel for three weeks of travel.
The captain just announced that if all goes according to plan…..we will make it through the Panama Canal on the 27th and continue to Ft. Lauderdale by March 31st which would be amazing! Plan B and plan C will happen if we can't get through Panama…. Then we will continue on to Puerto Vallarta or San Deigo. Either way we have a plan.
Up until now we had no destination and weren't even sure they would get us fuel and supplies. So the mood on the boat is ecstatic. I am talking with people from all over the world and the love and support for each other is overwhelming, transgressing languages, age and cultures. We all want the same thing…. to be heard.
If all goes well I'll be back in New York to celebrate my 12 year anniversary. Many things can happen in the next week or so but I'm coming for you Ryan Murvin.
#
Scroll to read more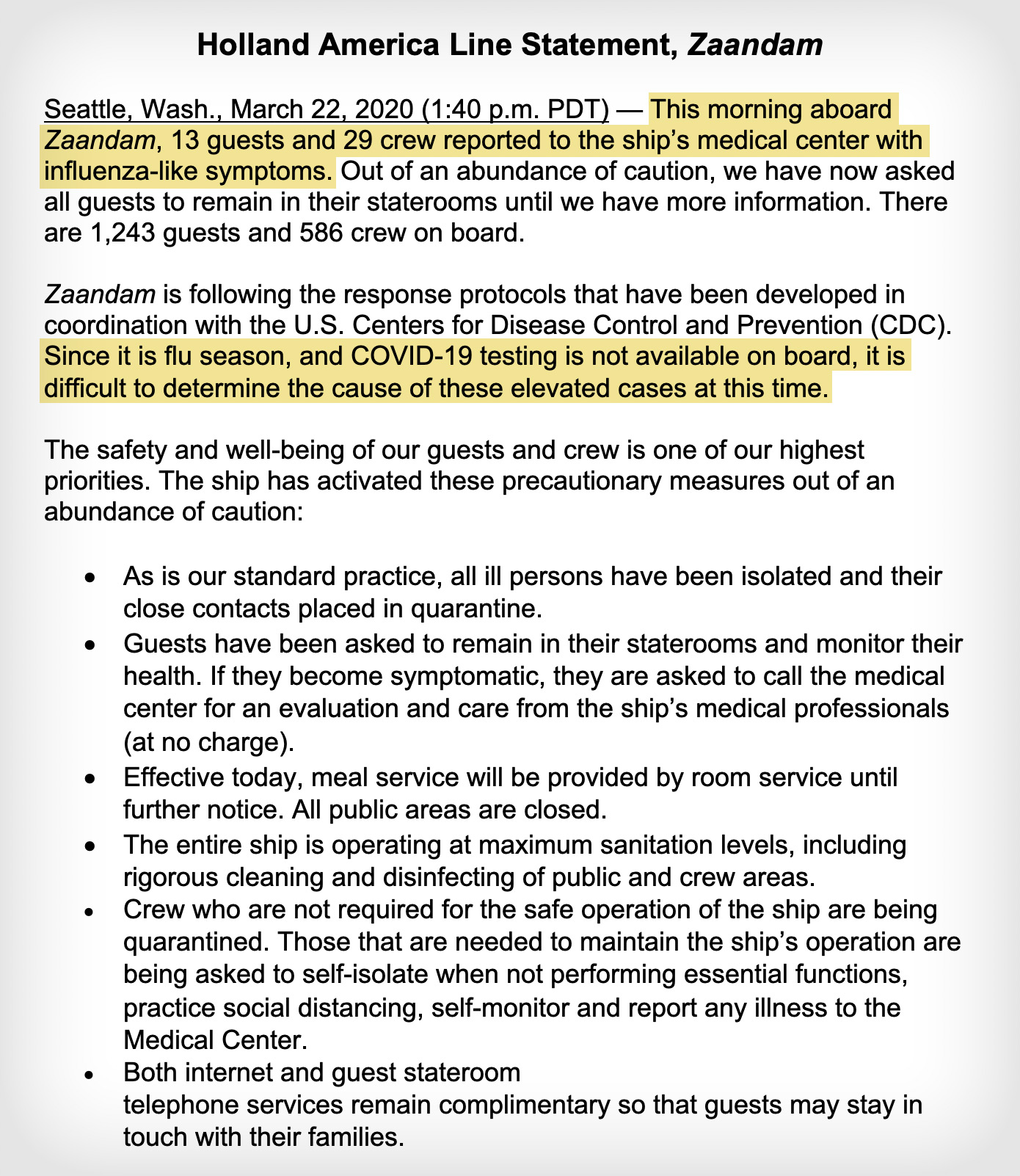 The day after the cruise was scheduled to end, passengers learned coronavirus may be circulating on the ship.
Passengers were asked to remain in their rooms until further notice. Meals would be left outside their doors.
Photo of the cruise ship Zuiderdam
Click the arrow to continue
Tap to continue
The Zaandam sent out urgent humanitarian requests to ports across the Americas. No country granted their request to dock.
Meanwhile, Brendt began to feel sick. He started tracking his temperature.
38.0°C (100.4°F) 9:00 pm
38.6°C (101.5°F) 11:17 pm
39.2°C (102.6°F) 3:14 am
Even as his fever rose, Brendt downplayed its severity to Ryan.
BREAK

Ryan

Sorry babe. I picked up but didn't hear anything on your end

Brendt

Ryan

Have you had a fever though? Don't keep stuff from me to keep me from worrying. I'd rather know what's really up

Brendt

Ryan

Yeah. Ugh. Just want symptoms to pass for you.

Brendt
Click the arrow to continue
Tap to continue
I have to admit to myself that I have corona virus. […] I am coughing + now expectorating. My lungs feel like there is liquid in them and when I cough too hard I am coughing up blood.
There is always a slight panic to [whether] or not I am going to be able to take in a big enough breath so I don't suffocate.
Click the arrow to continue
Tap to continue
As the Zaandam approached the Panama Canal, its authorities announced they would not allow the ship to pass through.
BREAK

Brendt

4 people died last night on ship

Ryan

Ryan

How are you feeling babe?

Ryan

Brendt

I'm feeling so much better babe

Honestly

Ryan

Brendt
Four passengers had passed away over the last five days. They had all suffered symptoms of COVID-19.
With more people falling ill each day, Holland America sent sister ship Rotterdam, stocked with medical supplies and doctors, for a rendezvous on the open sea. Some passengers transferred to the new ship. 
I don't know when it's morning or night or breakfast or lunch or anything. All there is are 4 walls constantly staring back at me mocking me because I'm still here in the same spot and that's all there is.
Mood of the ship: everyone is very worried.
After stalling off Panama for days with no clear destination, the ships were finally granted permission to cross from the Pacific to the Atlantic.
And after more than a week of struggling to breathe, Brendt's symptoms began to abate.
But as the ship headed for Florida, the governor said he would not allow them to dock. Passengers organized a campaign demanding they be allowed to disembark.
BREAK

Ryan

HAPPY ANNIVERSARY I LOVE YOU SO MUCH!!!!!!

Brendt

Ryan

❤️ ❤️ ❤️ ❤️ ❤️ ❤️

We will celebrate in person so soon

Brendt

I thought I'd be home for it

I always secretly thought I'd make it

Ryan

Brendt

Just posted a video

I'm
Just VARY EMOTIONAL

PEOPLE WILL MAKE FUN OF ME FOREVER
Posted to Instagram
Click the arrow to continue
Tap to continue
BREAK

Brendt

Brendt

They are having a meeting tomorrow to discuss disimbarking

We should know by noon

Brendt

We have to stay in foreign waters so right outside the us limit….

But it all depends on the meeting tomorrow

Ryan

Ok. 😬

Almost done with this s— babe!!!!
On April 2, the ships were permitted to dock in Ft. Lauderdale, Florida. Fourteen critically ill passengers were immediately transferred to nearby hospitals. Other passengers could disembark the next day, provided they passed a health screening.
BREAK

Brendt

Just stepped on American soil

Brendt

Now I'm back on the ship….

Wah wah

Ryan

BABE!!! Does it feel amazing? Even though it's… Florida…? Lol

Brendt

But I'll be leaving tomorrow!!!

Even Florida feels amazing

Ryan

[…] Why did you go to land?

Brendt

Passport and medical exam

I'm cleared

So I'm leaving

Ryan

Ryan

No. More. Boat.

No! More! Boat!

Brendt
Posted to Instagram
Click the arrow to continue
Tap to continue
Two weeks after his journey was supposed to end, Brendt flew home to New York.
BREAK

Brendt

Hey babe. Getting an Uber!!!!

Ryan

Holy s—!! I gotta shave!!

Brendt
Click the arrow to continue
Tap to continue
Posted to Facebook
Ryan Murvin
Both of my boys! Together at last! ❤️❤️
#
Scroll to read more
At least seven Zaandam passengers and one crew member died of confirmed or presumed COVID-19. An antibody test later confirmed that Brendt had been infected with the disease.
In a statement, Holland America told FRONTLINE that it had responded to the rapidly evolving global pandemic in accordance with guidance from U.S. and international health officials.
While Brendt and other passengers were allowed to disembark in Florida, the ship's crew was not. In the weeks to come, employees remained stuck at sea because no port would allow them to dock and return to their home countries.
This was true for cruise ships all over the world. As of June, more than 52,000 cruise employees were still stuck on the ships, waiting to go home.
Watch the FRONTLINE Documentary:
This story is derived from Brendt Reil's social media posts, photos, videos, journal entries, and text messages. Texts were edited for clarity and length.
Reported and produced by Katie Worth, designed by Dan Nolan, built by Anthony DeLorenzo and video edited by Miles Alvord. Coordinating Producer Katherine Griwert. Fact checking by Lauren Prestileo. Special Council Dale Cohen.
Director of Digital Video Carla Borrás. Senior Editor Sarah Childress. Managing Editor Andrew Metz. Executive Producer Raney Aronson-Rath.
Photo credits: Chris and Anna Joiner. Aldy Rinaldy Arismansyah. Getty. Panama Canal Authority. Shutterstock.
Funding for FRONTLINE is provided through the support of PBS viewers and by the Corporation for Public Broadcasting. Major funding for FRONTLINE is provided by the John D. and Catherine T. MacArthur Foundation and the Ford Foundation. Additional funding is provided by the Abrams Foundation, the Park Foundation, The John and Helen Glessner Family Trust, and the FRONTLINE Journalism Fund with major support from Jon and Jo Ann Hagler on behalf of the Jon L. Hagler Foundation. Funding for "The Virus at Sea" is provided in part by the Lisa and Douglas Goldman Fund.
Click the arrow to continue
Tap to continue
Please rotate your device