Native Hawaiian filmmaker Ciara Lacy has had her work aired on PBS, ABC, TLC, Discovery, Bravo and A&E, and was an inaugural Sundance Institute Merata Mita Fellow for Indigenous Artists. A graduate of Yale and Hawai'i's Kamehameha Schools, Lacy's first documentary short, shot for the Guardian Online, chronicled a unique homeless encampment in Hawai'i and yielded over 630,000 views in roughly three months. Her new Independent Lens film Out of State took Lacy–like her subjects–from the islands to a very different place, a private prison in the Arizona desert, to tell the story of native Hawaiians discovering their indigenous traditions from a fellow inmate serving a life sentence.
Upon bestowing it the inaugural Best Made in Hawaii Film award, the Hawai'i International Film Festival jury recognized Out of State by writing: "The themes that this powerful, poetic film explores are specifically grounded in a uniquely Hawaiian experience — exploring the struggles of contemporary Hawaiians through an intimate, honest, and empathetic lens. Yet the story this film tells, the complex characters it follows, and the struggles they face have universal relevance."
Lacy talked to us recently about how she first came across this story, how she felt as a woman filmmaker at a men's prison, and what surprised her the most in the making of Out of State.
Can you talk about what first led you to want to make a film about Hawaiian exiting inmates?
In 2011, I took a big leap of faith, leaving my permanent job to head back into the freelance world in the hopes of doing more creative work. However, a few days after I quit, a knife-like sparking sensation erupted in my hands and arms. I brushed it off at first, but the symptoms got progressively worse until I found myself unable to work. Defeated, I left my life in New York and returned home to Hawaii for physical therapy.
While I was in the process of recovery, a close Aunty began to toss out ideas for movies she thought I should make. I remember the moment she mentioned doing a film about our native Hawaiian men dancing hula at a prison in Arizona. Something just struck me. As a fellow native Hawaiian, the visual of our men practicing their culture behind bars so far away from home just didn't make sense to me.
I dove online and found a single video about them on YouTube, and I immediately cried. I was so moved, so impressed at their efforts to help each other grow in a positive way, despite the fact that no one was looking. It might sound crazy, but in that moment, even while I was still in recovery, I decided that maybe we could heal each other. That was the start of the almost 8 year journey to make this film and bring it to Independent Lens' audiences.
As a native Hawaiian, the metaphor of our cultural practices behind bars was immediately overwhelming when I first learned of this, evoking profound resentment for the ramifications of the colonization of our people. To date, we struggle at the bottom rung of so many socio-economic factors in our own lands, including a striking overabundance of our people populating local and distant prisons.
Sadly, this is not new information about our community, nor is it new for communities of color across this country. However, this can change. Once we begin to understand the first-hand difficulties toward success post-incarceration as well as the bigger picture, systemic issues, we can begin to engage the many solutions needed.
And, of course, it all starts with people. If we have the will to change, if we understand the why of it all, it will happen.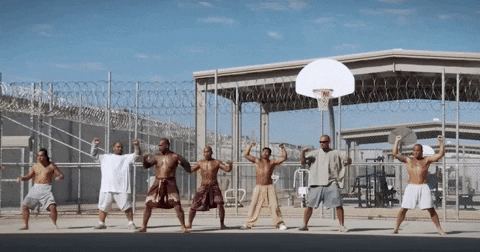 And how did you hone in on the men who "star" in the film, ultimately?
At first, I wasn't sure how the film would take shape. I wanted to be as true to what we saw as possible, so we really took our time filming the events we attended in the prison setting without focusing in on any one person This allowed things to transpire organically.
In fact, I remember the first time I met David, one of our lead subjects in the film. He spoke about his desire to have us film with him after release, which is eventually what happened."There was a spectrum of gender represented there, which is not only beautiful but also very Hawaiian."
Over time, things continued to move forward as we built trust with David, Kalani, Hale, and the other men held at the facility. Any film, particularly an observational one like Out of State, relies on a partnership between the filmmakers and those featured on screen. Truly, this film only exists because the men on screen decided to make it possible, so as much as it was about our selection process it was also their choice to participate as well.
What was it like working as a woman director filming at a men's prison?
Prior to my first day of filming at the Saguaro Correctional Center, I had never been in a prison. I'd seen plenty of movies and TV shows about prisons, but I had no idea what to really expect. From the moment I walked into the facility, I was humbled by the feeling that I had flown thousands of miles from Hawai'i to the desert of Arizona only to feel like I was home again. The men at Saguaro were generous and welcoming, and, truly, I never felt like I stuck out as a female.
In fact, I was moved by what we'd call the Ku and Hina, or male and female, energy in the place. There was a spectrum of gender represented there, which is not only beautiful but also very Hawaiian.
What was a surprising revelation to you personally while making Out of State?
Prior to making Out of State, I had never stepped foot in a prison. What captured me in this space was the humanity and connection between men. I saw men hugging, talking openly about their feelings, and sharing what they knew with each other. If, in this most unlikely location, thousands upon thousands of miles away from home, they could connect with each other, discover their native culture from each other and create a bond, so much more was possible. And still is.
What would you like audiences to discuss with each other after they watch this film, if they could only discuss one thing? What would you like them to take away from it?
As our prison population is, by definition, separated from the rest of our community, I'm hopeful the film offers viewers access to people and places they might not have the chance to connect with otherwise. And for those families who have not seen their loved ones in a while, I hope this gives them insight into what life is like in Arizona. If I could ask for one thing, I'd hope this film makes people feel something, makes them care. I've heard many audience members say the film sticks with them days after they've seen it, even weeks. This is meaningful, and if we're all thinking about this issue just a little bit more, I think we're going to collectively find the solutions we need to do better.
What was producer Beau Bassett's role in helping make this happen?
As a native Hawaiian and former public defender, Beau is the kind of producer you want at your side, providing critical insight, contacts, and everything else needed to make this film possible. He was the first person I went to when the idea to make this into a film began kicking around in my head, and he still provides all the day to day support needed to help this film do the work we hope it will do in our community. I'm particularly grateful for his creativity and his native intelligence, and look forward to seeing him do more directing in the future.
[Note: Beau is also certified in ho`oponopono, a native Hawaiian form of dispute resolution.]
What film/project(s) are you working on next?
I am working on a new documentary called The Ninth Island, which in partnership with fellow native Hawaiian filmmaker Christen Marquez, tells the story of Hawaii's indigenous population and its struggles to stay connected to its ancestral home. I consider this film to be the follow-up to Out of State, and am eager to get into production on it.