Get Updates from the PBS Public Editor
Sign up for the Public Editor Newsletter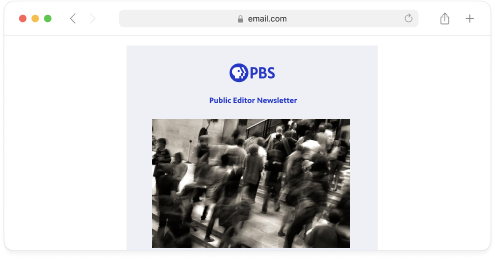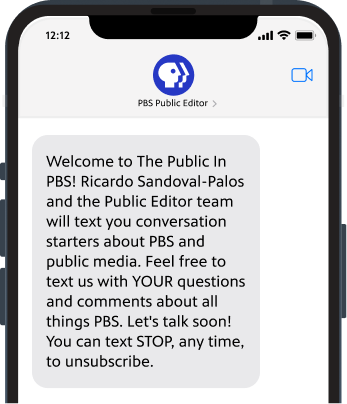 The Public in PBS
Want to receive texts from the PBS Public Editor? Sign up here!
Submit Your Comments
Have a comment related to the journalistic integrity of PBS content? Send an E-mail to Ricardo or contact him at 703-739-5290. You can also follow the public editor on Twitter @PBSPubEd.

The public editor does not replace viewers' long-standing ability to contact stations, producers and PBS.

If you have a comment related to PBS website design or user experience, please contact the Audience Services team.
Public Broadcasting in the News
NPR Executive Editor Leaving for USA Today
Terence Samuel, NPR vice president of newsgathering and executive editor, will leave the public radio broadcaster to become USA Today's editor-in-chief, reports Current. He will depart NPR June 23 and begin his new role at the Gannett-owned paper July 10.
Local PBS Stations and PBS KIDS Coming to Hulu + Live TV
Streamed content from PBS stations across a combined 300 markets and the PBS KIDS channel will become available on Hulu + Live TV under a new partnership, PBS and Hulu announced in a release. The streaming service is one of the nation's largest with more than 4.5 million subscribers.
Twitter Use in Limbo for Many Public Stations
More than 30 public broadcast stations said they would stop using Twitter after the social platform labeled NPR as "government-funded media", prompting an outcry. Dozens of other public media entities, including PBS, stopped tweeting and so far have not resumed, reports Current.
News Deserts
Do you live in a 'news desert'? The University of North Carolina's Hussman School of Journalism looks at the growing gaps in news coverage left by the closures of local newspapers around the country. The report is available here.
American Newspapers Keep Closing and 'News Deserts' Keep Growing
(June 29, 2022) Washington Post media critic Margaret Sullivan writes that one-third of U.S. newspapers will that existed two decades ago will be out of business by 2025, according to research made public from Northwestern University's Medill School.
Link to media release about the study and related multimedia downloads here.
Nonprofit Newsrooms a Promising New Model for Local News, Writes Margaret Sullivan
(Jan. 22, 2022) Washington Post media columnist Margaret Sullivan writes that nonprofit newsrooms like the Texas Tribune, show promise as a prospective new model for struggling local news.
Family-run Iowa Newspaper Spotlighted in PBS Doc About Local Journalism
A documentary about the struggles of local journalism – think newspapers that cover the daily news of a town like Storm Lake, Iowa (population: 10,000) – airs the week of Nov. 15 on PBS. The Storm Lake Times, the subject of the film, is the second smallest news organization ever to win a Pulitzer Prize. It fills a vital need in this rural community. Poynter has a write-up on the project, as does The Houston Press.
Nonprofit Newsrooms Increasingly Filling Local News Void
The latest Institute for Nonprofit News survey, known as the INN Index, found that a growing portion of nonprofit newsrooms are dedicated to local public affairs, Neiman Labs reported.
When Texas Border Town Lost Its Only Paper, Local Start-up Filled Void
When the Southwestern border town of Del Rio, Texas, lost its only newspaper, a local man stepped in with an investment in print, turning his event-oriented website into a news outlet with a print edition. He's helping fight back against the encroaching edges of a news desert.
...more on 'News Deserts' and what PBS can do about them (older coverage)
Against the growing phenomena of news deserts in the United States – areas where local news outlets have failed or have been gutted by the loss of ad revenue – PBS is being called upon to act. One suggested remedy is overhauling the way the Corporation for Public Broadcasting issues grants for public affairs programming, from a Washington, DC -based metric to spending decided by local news producers. ...
Why 'Withering' of Local News Landscape is Dangerous for Democracy
(Sept. 1, 2020) PBS NewsHour interviews media critic Margaret Sullivan of The Washington Post about so-called news deserts and what they mean for U.S. democracy.
---