Anthony Roth Costanzo: Trailblazing Countertenor
Countertenor Anthony Roth Costanzo is leading music in new directions
There is one voice — and one opera star — soaring particularly high this season. Countertenor Anthony Roth Costanzo is leading music in new and thrilling directions as he brings his incredible voice to the opera and beyond.
In a non-stop year for Costanzo, it seems as though he is everywhere: in Bronx classrooms, at tiny desk concerts for NPR, on screens and on stages stretching from Boston to Budapest.
"One thing I love about being a countertenor," Costanzo says, "is the novelty of it and the excitement of a man singing that high. It can rope in new audiences." With an approach to opera that aims to create community through communication, Costanzo presents classical music in fun, genre-defying formats that make it accessible to all.
As artist-in-residence with the New York Philharmonic for their 2021-2022 season, Costanzo shared the stage with friend and collaborator, Broadway-film-cabaret performer Justin Vivian Bond in January as part of the series "Authentic Selves: The Beauty Within." The concert included their signature mashups of classical and pop songs from their album "Only an Octave Apart." (Released on January 28, 2022, they premiered the material as a concert at St. Ann's Warehouse in September 2021 to rave reviews).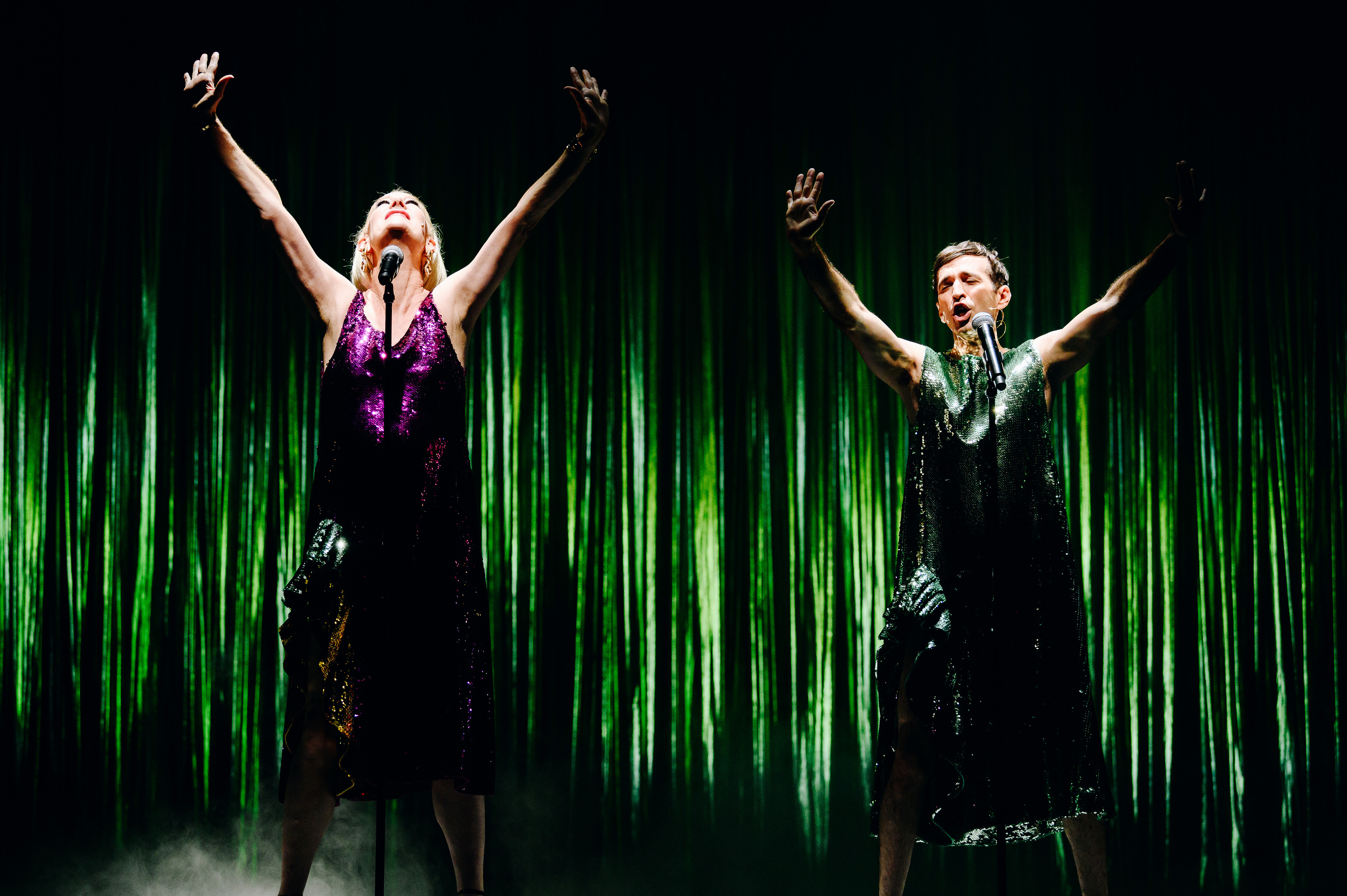 Justin Vivian Bond and Anthony Roth Costanzo at St. Ann's Warehouse |
Credit: Nina Westervelt
His relationship with the Philharmonic has yielded other groundbreaking work. In 2020, Costanzo created and executive produced NY Phil's Bandwagon. The mobile pop-up concert series, conceived by Costanzo and originally transported around the city from the back of a gray Ford F-250 pickup truck, brought free music directly to communities across the New York area for two consecutive seasons at a time when the Philharmonic's home was shut down during the pandemic and undergoing renovations.
At the Metropolitan Opera, Costanzo appeared in March as Udolfo in Handel's Rodelinda, and will return in May for Philip Glass' Akhnaten. The upcoming revival of the 2019 production features Costanzo in the title role — a performance which earned him a Grammy for Best Opera Recording. The "otherworldly, mysterious life of the Pharaoh Akhnaten that exists somewhere between mysticism and reality," is the "perfect place, in a way, for the countertenor voice," says Costanzo. Ahknaten will be at the Met from May 19 - June 10.
Before returning to the Met, Costanzo has spent this season globe-trotting: After accepting the Grammy for Ahknaten in Las Vegas, he flew to Budapest to sing Handel and Gluck with the Orfeo Orchestra and Müpa Budapest and was then off to join Boston Baroque for Handel's Amadigi di Gaula (available to stream on-demand through May 22, 2022).
Tapping talents beyond his singing, Costanzo will appear this month as host of Great Performances at the Met: Cinderella as he interviews leads mezzo-soprano Isabel Leonard (Cinderella) and mezzo-soprano Emily D'Angelo (Prince Charming). Check your local PBS station listings for day and time.
Things heat up when Costanzo's turn in the title role of John Corigliano's The Lord of Cries comes to New Mexico PBS for Creating a World Premiere at the Santa Fe Opera: A iCOLORES! Special. The Lord of Cries brings two classic pieces of literature together, The Bacchae of Euripides and Dracula by Bram Stoker, to explore the monsters that live within us all. The primetime special goes inside the creation of this world-premiere and includes a behind-the-scenes peak at Costanzo as he debuts a role written specifically for him. (Creating a World Premiere at the Santa Fe Opera: A iCOLORES! Special premieres May 12 on NMPBS and streams via NMPBS.org and the PBS Video App.)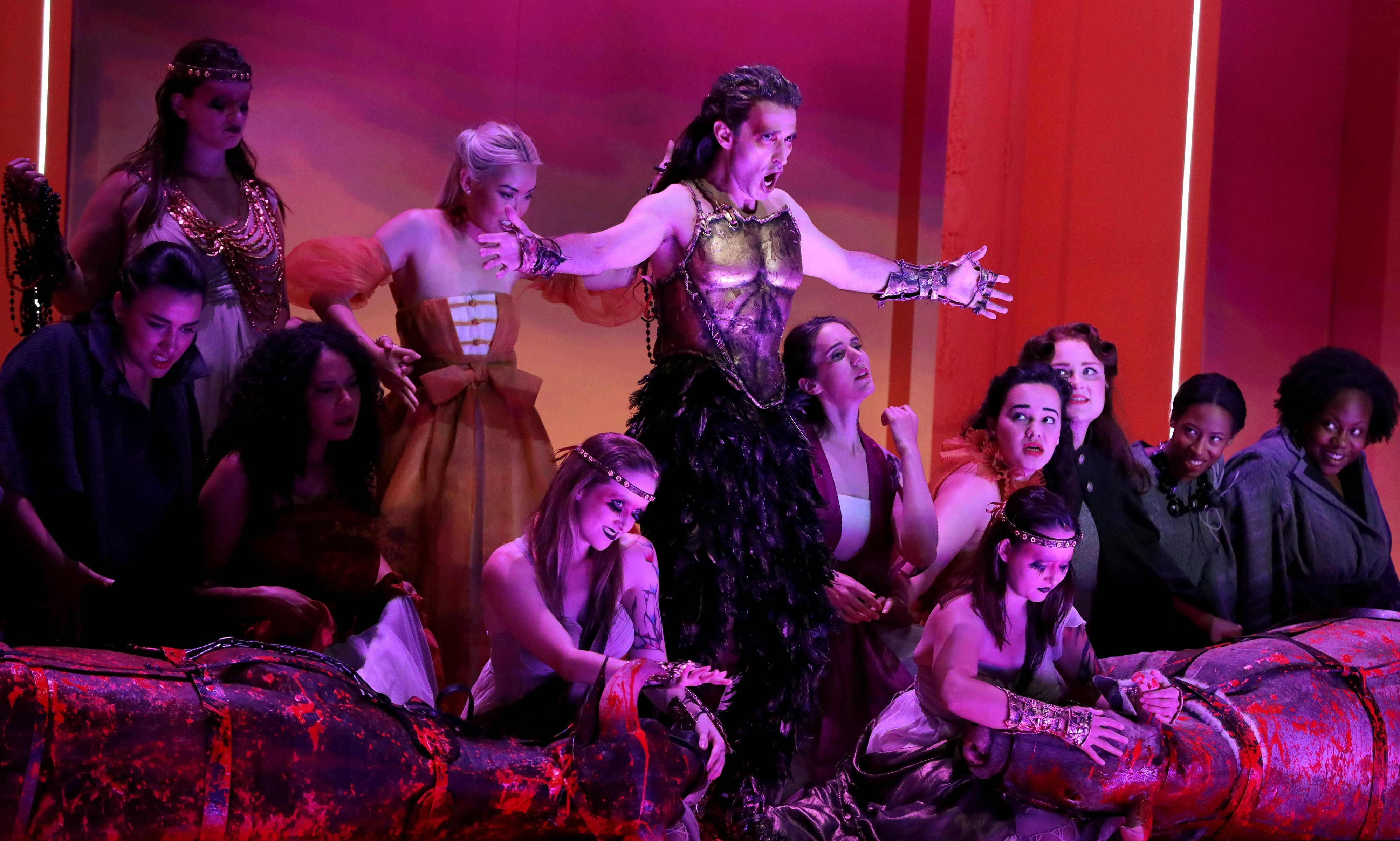 Anthony Roth Costanzo (Dionysus), Leah Brzyski (Agave), Megan Moore (Ino), and Rachel Blaustein (Autonoe) and the Santa Fe Opera chorus. |
Credit: Curtis Brown for the Santa Fe Opera, 2021
And the year shows no signs of slowing down for the countertenor. In June, Costanzo joins AMOC (American Modern Opera Company) at the legendary Ojai Festival in California. He heads to London in September for the 2022 Proms classical music festival with the spectacular, wildly original Glass Handel. The immersive production, conceived by Costanzo, brings music, dance, fashion and visual art together as the classical and contemporary opera world collide with songs by George Frideric Handel and Philip Glass. (Watch this special look at Glass Handel on PBS).
"It's not always about the music. It's always about the emotion and the personality behind the voice," Costanzo says. "If we all communicate, if we sit in the theater and breathe together and sync up our heartbeats, we can feel like a community for a minute and we can all have a kind of empathy shared through these stories." As he blazes trails across the globe, one thing is certain: there are plenty of opportunities to become part of a community with the dynamic, expressive and wholly unique Anthony Roth Costanzo.