Renaissance Woman Maya Angelou
Be inspired by the legacy of Maya Angelou.
Hailed as a Global Renaissance Woman, this best-selling author, educator and civil rights activist used her poetry to inspire and empower. Celebrate her life with stories from PBS. Get started now.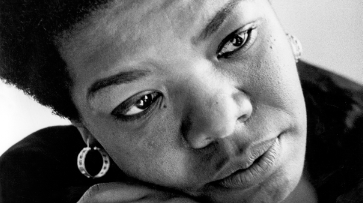 PBS NewsHour remembers Maya Angelou
Maya Angelou was born Marguerite Johnson in 1928 in St. Louis. "Maya" had been a nickname given by her brother.
In her memoir, "I Know Why the Caged Bird Sings," Angelou told the story of her childhood, growing up in St. Louis, Long Beach, California, and Stamps, Arkansas. One of the most controversial parts told of when Angelou went mute at seven-and-a-half after her mother's boyfriend, who had raped her, had been murdered. She did not speak for more than five years, but it was during formative years of silence, Angelou said, that she fell in love with language.
"I thought my voice had killed the man. And I thought if I spoke, my voice might just go out and kill anybody, randomly," Angelou said in a 2008 interview. "So I learned to read and I read every book I could find. And I memorized."
Read the whole story from PBS NewsHour
Dr. Maya Angelou's Inspiration and Poetry
In this clip from American Masters' film titled "Maya Angelou: And Still I Rise" you can learn how Dr. Angelou began writing and reading poetry as a child.
Resources for Teachers and Educators
Visit PBS Learning Media to find resources to use in the classroom to help your students honor the life of poet Maya Angelou.
Maya Angelou Learns an Unknown History of Her Family
Renowned poet and author Maya Angelou learns a formerly unknown portion of her family history from Dr. Henry Louis Gates Jr.
Maya Angelou Speaks About Her Grandmother
Dr. Maya Angelou tells Dr. Henry Louis Gates Jr. about her grandmother, Kentucky Shannon, and remarkable stance on her own personal history.
Maya Angelou Speaks About Her Grandfather
Dr. Maya Angelou speaks to Dr. Henry Louis Gates Jr. about accepting all of her ancestors on her family tree.
Maya Angelou Reflects on her Mende Heritage
Dr. Maya Angelou shares the story of learning of her Mende Heritage during an interview with Dr. Henry Louis Gates Jr.
On the Complexity of Heritage
"Heritage is so complex that we have to be simple."
Dr. Maya Angelou talks to Dr. Henry Louis Gates Jr. about the intricacies of one's heritage.
Music, Deep Rivers in My Soul
Trace African-American passions and rhythms through the words and music of two treasured artists: Maya Angelou and Wynton Marsalis.
Soul Issue: Remembering Maya Angelou
Linda Holoman's December 2004 interview with author and poet Maya Angelou (1928-2014). From Delta Public Media.
Basic Black: Maya Angelou and Literary Lyricism
GBH weekly series Basic Black paused to remember Maya Angelou, the cultural icon, global artist, and wise elder who died at the age of 86. Panelists: Phillip Martin, WGBH News senior reporter; Rev. Irene Monroe, syndicated columnist; and Afaa Michael Weaver, poet and professor of English at Simmons College.
Related Video
From American Masters
Maya Angelou: And Still I Rise
Take a behind-the-scenes look at "Maya Angelou: And Still I Rise." Hear from Dr. Angelou's grandson, Colin Johnson and the series producer, Michael Kantor. Actor Louis Gossett, Jr. also weighs in, along with Actress Diahann Carroll, Professor Eugene Redmond, hip-hop artist Common, former-President Bill Clinton, former U.S. Secretary of State Hillary Clinton and Actress Alfre Woodard.
More About the Show