Spotlight "The Nutcracker" Across America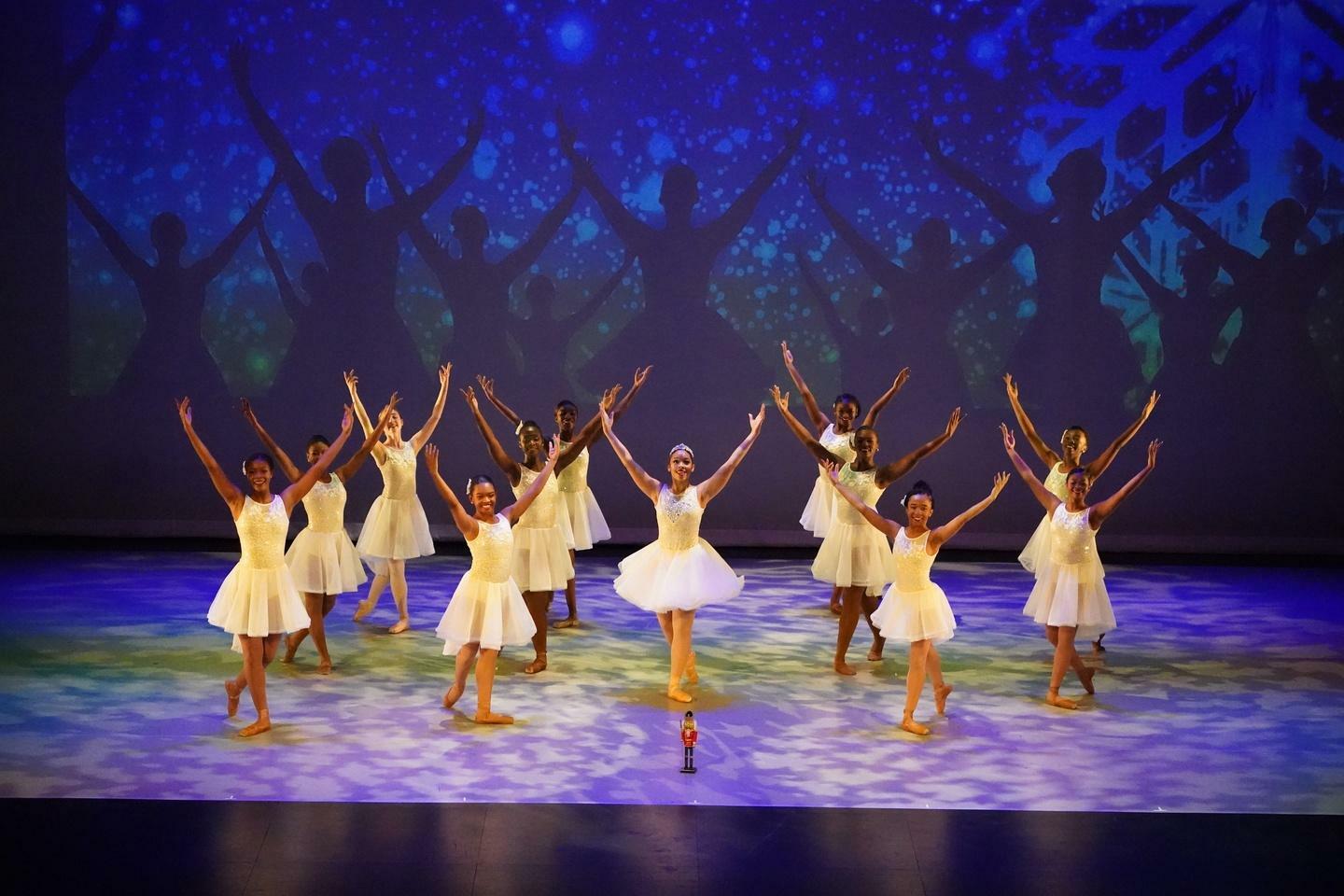 Dallas Black Dance Academy students in "Espresso Nutcracker." |
Credit: Photo by Amitava Sarkar
Whether you live in New York City or Dallas, "The Nutcracker" is both a cherished holiday experience for families and an important source of financial support for ballet companies everywhere. This season we celebrate the joyful and much-needed return of a holiday classic — one that communities across the country have been waiting for.
Based on E.T.A. Hoffman's original story "The Nutcracker and the Mouse King," "The Nutcracker" ballet premiered at Russia's Mariinsky Theatre on December 6, 1892. But it was George Balanchine's staging of the holiday tale for New York City Ballet in 1954 that would solidify the ballet as an American tradition.
"We have members of our audience who saw the production as kids who are now bringing their grandkids to the production," NYCB Artistic Director Jonathan Stafford said.
George Balanchine's The Nutcracker Across America
With angels, marzipans and the Sugar Plum Fairy, "George Balanchine's The Nutcracker" is a ballet tradition for all generations. The holiday classic has been embraced by the dancers who grow up performing it, as well as audiences across America. The New York City Ballet, Miami City Ballet and Pacific Northwest Ballet share their excitement in putting on the vibrant production this season.
Today, in addition to NYCB, only six U.S. companies are licensed to perform Balanchine's version, including Pacific Northwest Ballet and Miami City Ballet. From a Christmas tree that grows on stage to 41 feet tall, to his visionary inclusion of children at the front and center of the production, Balanchine saw "The Nutcracker" as a holiday gift to kids young and old.
For many audience members, "The Nutcracker" is a gateway into the world of ballet — one that companies rely on and were devastated to miss last year.
"We can see a definite tracking pattern of audiences that will come to us for the first time with 'TheNutcracker,'" PNB Artistic Director Peter Boal said. "It is really why we survive… [it] creates a revenue that allows us to do everything else."
Forced to adapt in 2020, PNB and NYCB presented streaming versions of their productions in lieu of in-person performances, while Miami City Ballet took advantage of the temperate Florida climate to present "The Nutcracker" outdoors at Miami's Doral Park.
"The team here thought to go through one year without a 'Nutcracker' ... I mean, the one thing that we look forward to, the one thing that that we give every year. We just couldn't do it. And so luckily, we didn't have to," Lourdes Lopez, Artistic Director of MCB, said.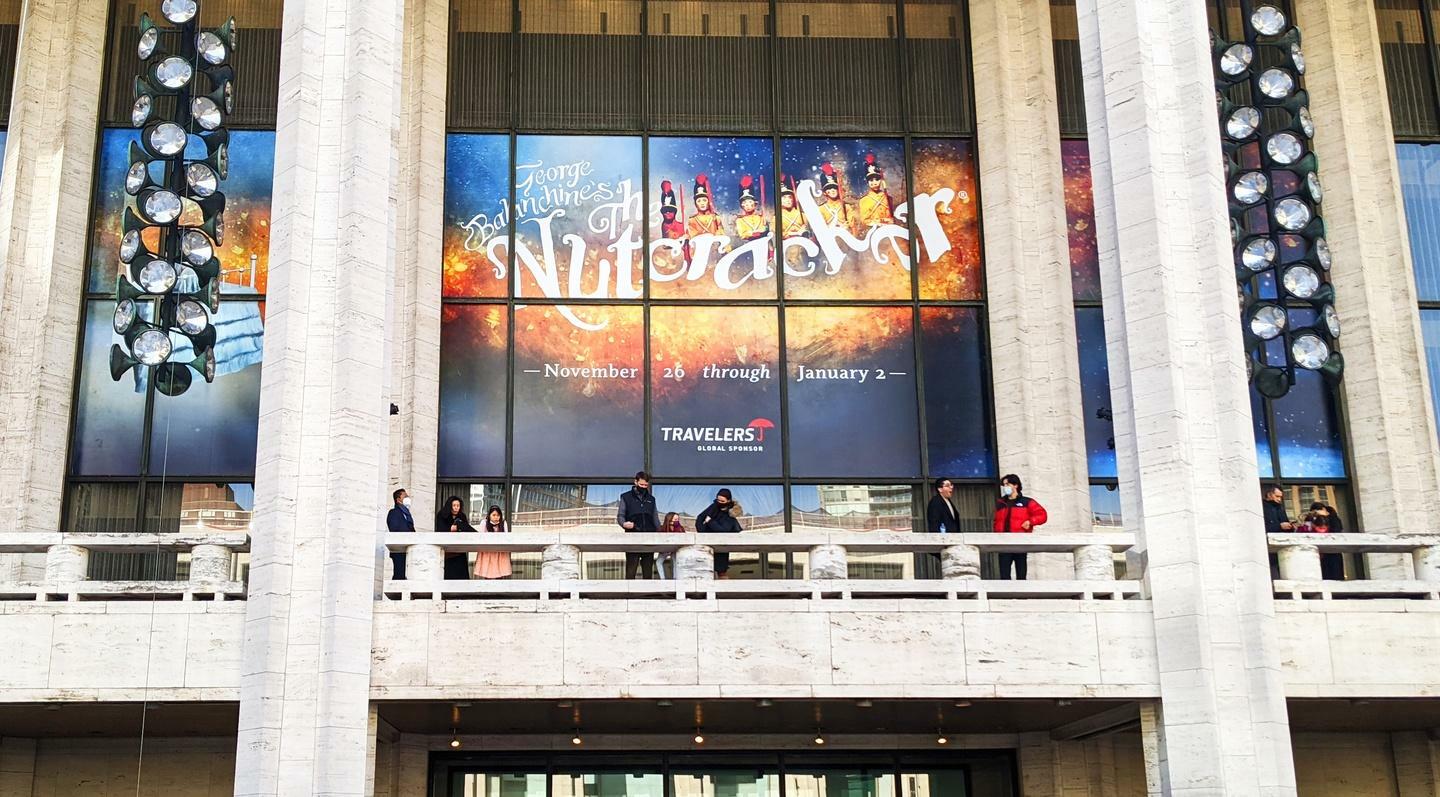 People gather outside the David H. Koch Theater at Lincoln Center. |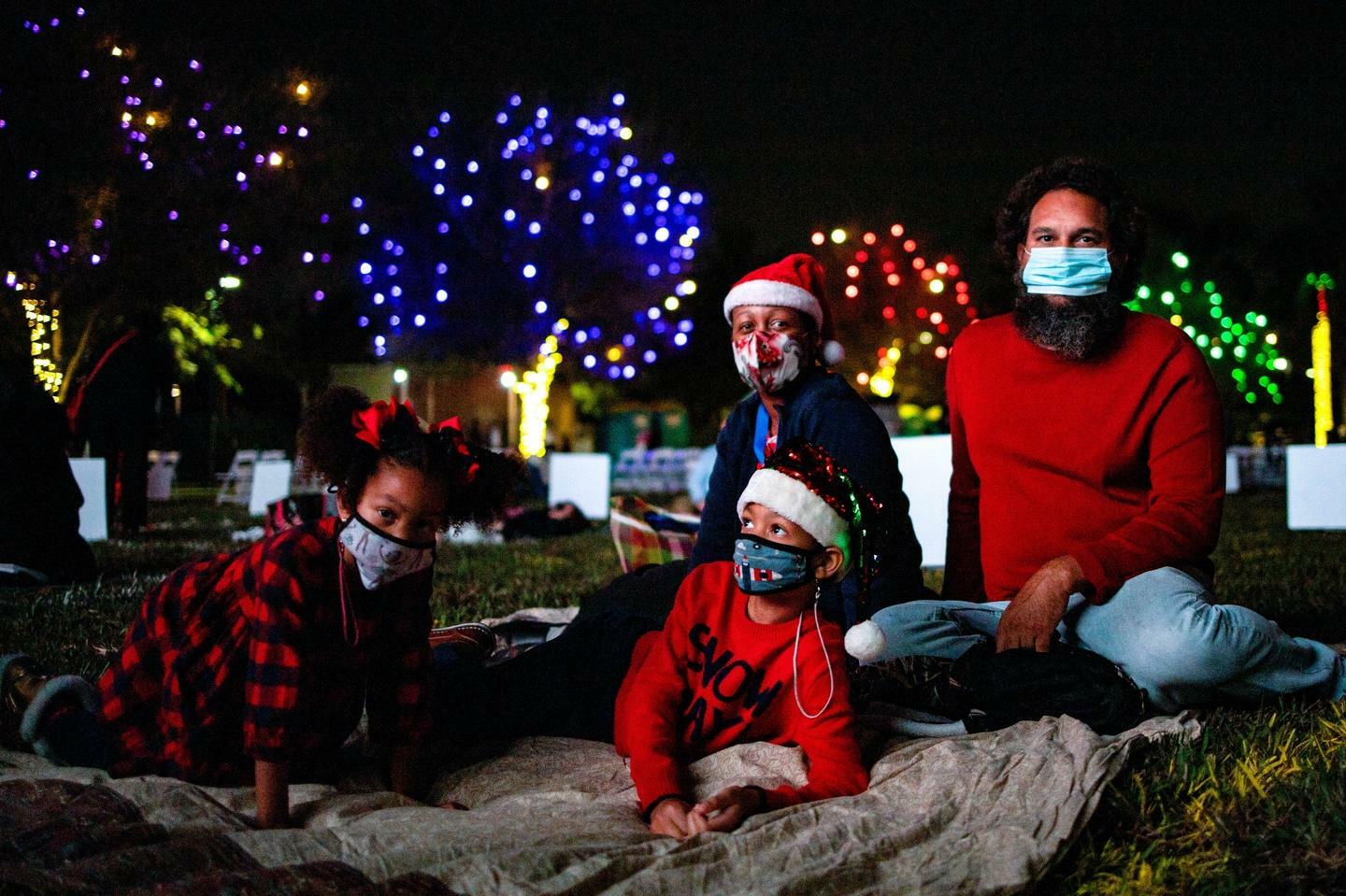 Audience members at Miami City Ballet's outdoor performance of "The Nutcracker" in 2020. |
Credit: Photo by Anna Barnat
Now, with new precautions and a few modifications, the companies are all able to dance the iconic choreography indoors and in person once again. At NYCB, only children over the age of 12 will dance this year, though unvaccinated audience members under 12 will be allowed to attend with proof of a negative PCR test (all patrons will be required to wear a mask). PNB has integrated masks into the costumes of its young performers to keep them and the adults in the company safe. All audience members will be required to mask but only attendees 12 years and older must provide proof of vaccination or a negative test. MCB, for its part, appears at multiple venues throughout the season, adjusting protocols to the guidelines at each.
Nutcrackers of all shapes and sizes
In the 67 years since Balanchine's "Nutcracker" premiered in New York City, nearly every community across the country has produced a version of the tale, often giving it their own unique spin. Chicago's Joffrey Ballet presents a "Nutcracker" inspired by the city's 1893 World's Fair. In Costa Mesa, Calif., American Ballet Theater's touring "Nutcracker" features choreography by former Bolshoi Ballet Director Alexei Ratmanksy. Even Balanchine's classic is seeing updates this year: Pacific Northwest Ballet has introduced a new character, Green Tea Cricket, to replace stereotypes of Chinese culture that were once part of the second act. Other companies, including NYCB, Boston Ballet and Tulsa Ballet have made similar changes.
From Texas Ballet Theater's parody "The Nutty Nutcracker" in Fort Worth, Texas (appropriate for ages 13 and up) to Baton Rouge Ballet Theatre's presentation of "The Nutcracker — A Tale from the Bayou," "The Nutcracker" takes many different forms this holiday season.
What if you could step right into the world of Marie and her magical Christmas gift? Island Moving Company in Rhode Island presents an interactive experience through their site-specific performances of "A Newport Nutcracker at Rosecliff." The production, which invites audience members to move through the rooms of the 1902 mansion, went digital in 2020 with Through Her Eyes: A Newport Nutcracker Reimagined, a 30-minute film co-produced by WSBE Rhode Island PBS. The innovative project was filmed at six historic properties of the Preservation Society of Newport County. This year, "A Newport Nutcracker at Rosecliff" returns to its romantic Rosecliff home and welcomes local audiences back for in-person performances for its 19th season.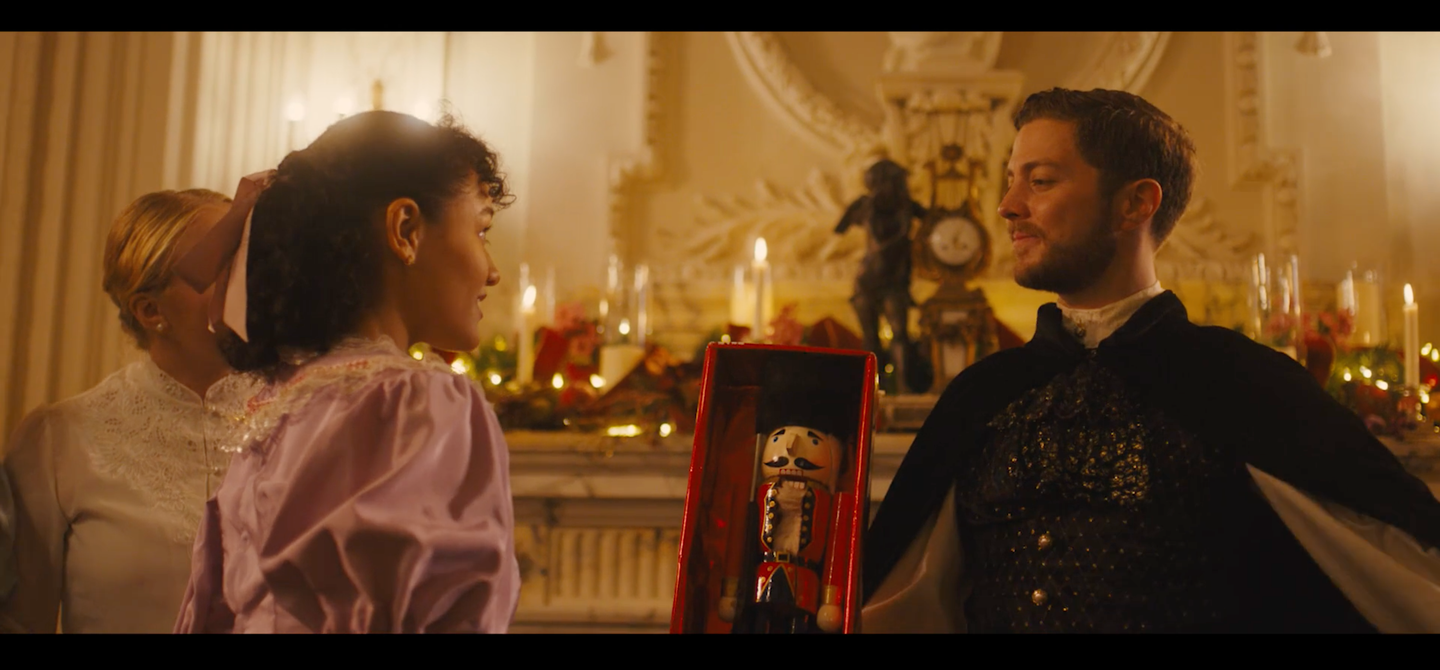 A scene from "Through Her Eyes: A Newport Nutcracker Reimagined."
"Tchaikovsky's original music isn't the only way to experience "The Nutcracker." In 1960, Duke Ellington recorded "The Nutcracker Suite," an album featuring jazz interpretations of Tchaikovsky's original score. Dallas Black Dance Theatre presents the students of their academy dancing select scenes set to Duke Ellington's music in "Espresso Nutcracker." In L.A., Debbie Allen's Dance Academy sets the tale to a wide range of music, including Mariah Carey's hit "All I Want for Christmas Is You" in a modern interpretation featuring the work of several choreographers — among them Tony Award-winner Savion Glover.
Taking an even more radical approach to the source material, "Hip Hop Nutcracker" pairs Tchaikovsky's music with contemporary hip hop choreography to create an exciting holiday event that is touring nationally. Through digital graffiti and other visuals, director and choreographer Jennifer Weber stages the familiar story, once set against the backdrop of 19th Century Germany, into contemporary New York City. The production, which aired on PBS in 2019, recently won a New York Emmy. (Watch "Hip Hop Nutcracker at NJPAC: An ALL ARTS Presentation" here.)
E.T.A. Hoffman's story of Marie, the young girl with a Christmas Nutcracker that comes to life and takes her on an adventure through a magical kingdom, is expanded even further in the PBS presentation of "The Nutcracker and the Mouse King." Premiering nationally on Dec. 14, Alan Cumming narrates this re-imagined origin story of the Prince inside the Nutcracker — and what becomes of the young girl when she is grown up. (Watch "The Nutcracker and the Mouse King" here.)
From the iconic choreography of Balanchine to bold new takes on a holiday classic, "The Nutcracker" is bringing a bit of magic to communities across America once again.