Join Kelly Cox on her weird adventures across the U.S. as she hangs with chefs, hunters, moonshiners and other characters in this new original web series, presented by PBS Food. She's on a quest, telling stories that cut through the pretty packaging and buzzwords of the foodie movement to make a slice of American authenticity accessible to all.
You'll be inspired as you eat, drink, and cook your way across America. Because life is too short to eat amongst the crowd – it's more fun to be Original.
For more information, visit Original Fare website.
Episodes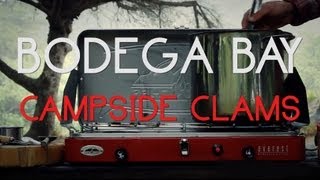 Bodega Bay Campside Clams
Let's forage! Actually, "foraging" is too delicate a word to describe a morning spent elbow deep in thick mud tugging and pulling clams from deep in the muck. Join Hank Shaw as he takes Kelly into the foggy waters of Bodega Bay California on the hunt for gaper clams.
More from Original Fare