The education and outreach component for The Warrior Tradition is much needed and essential for our youth. A study done by Pennsylvania State University associate professor of social studies education Sarah Shear showed that 87 percent of references to American Indians in the 50 states' educational standards mention them only in a pre-1900 context. Classroom learning that provides meaningful content about current Native events or challenges exists in only a handful of states.

Students are completing elementary, middle, and high school without even the most basic knowledge of contemporary Native Americans. The history and traditions, including military, of Native Americans is steeped in oral storytelling. The WNED-TV program, The Warrior Tradition, reflects oral storytelling as it features the stories of Native Americans who served in U.S. military conflicts throughout history. This project gives PBS the opportunity to reach today's classrooms and communities in a most needed way.
Classroom curriculum, to be used with the television program The Warrior Tradition, has been developed. The lesson plans were created to be used with 7th-8th grade students but include ideas for adapting for use with 9th-12th grade students. Lesson content is based on the documentary as well as important themes such as culture, identity, global connections, civic ideals & practices, and power, authority & governance Lessons are aligned to National Social Studies Education Standards.
The full accompanying lesson plans for middle and high school students can be found here on the program website as well as on PBS LearningMedia. PBS LearningMedia is a free platform for educators housing videos, images, and other classroom content that can be downloaded and saved to be used year after year.
Each lesson plan follows the same format: one or two short video segments from The Warrior Tradition are to be shown to the class, followed by a related activity. The lesson plan indicates an approximate length of the lesson. Each set of materials has been designated for a specific audience, however they were created with the understanding that they may be adapted based on educator, facilitator, or audience. Please preview all online and video content before sharing the content with students.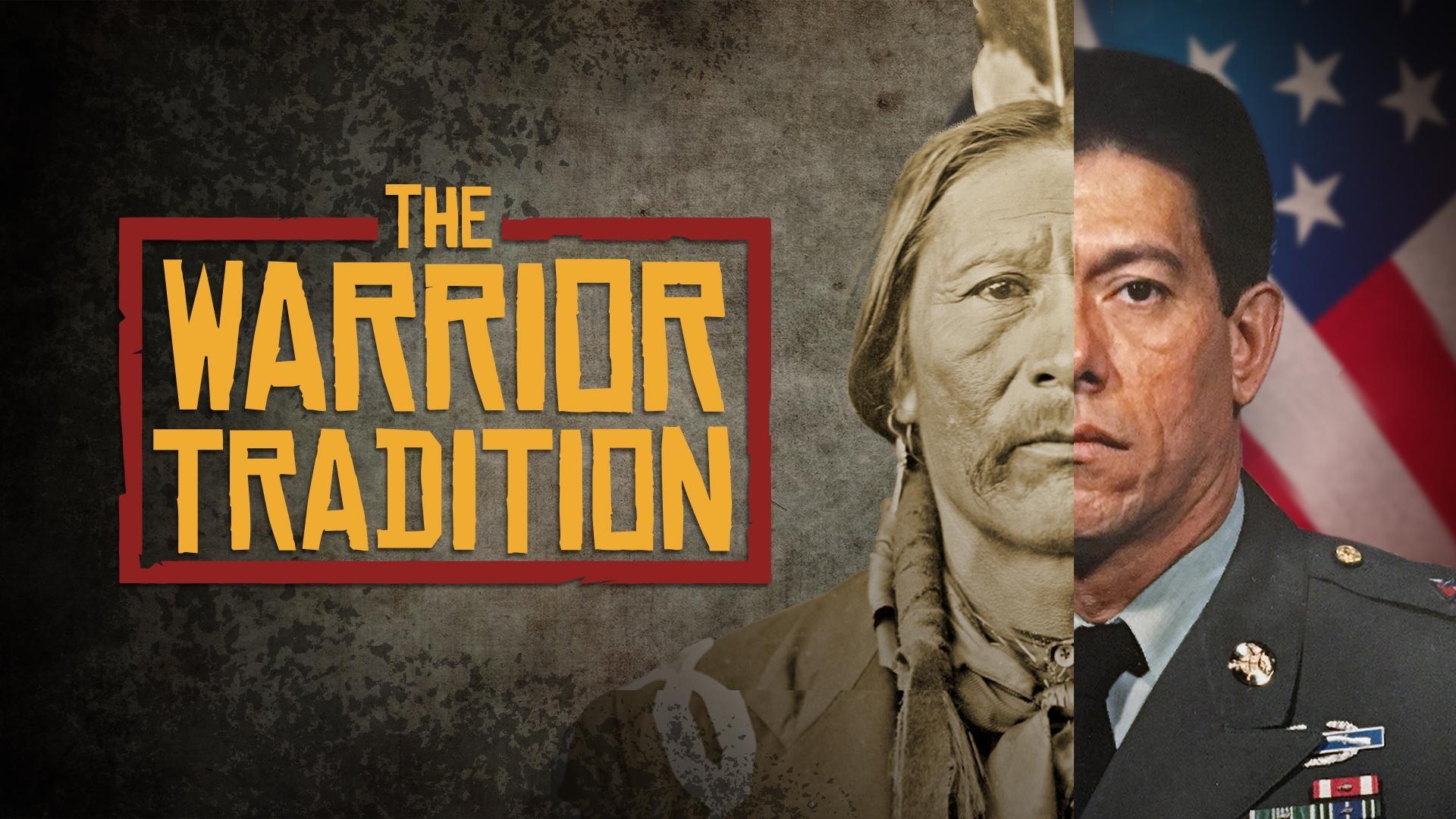 ELEMENTARY LESSON PLANS
Why War?
- Students explore what "culture" means, examining in particular, characteristics from Native American culture and how Native American culture shapes their viewpoint about serving in United States' wars.
What Does Warrior Mean To You? -
Students will investigate what being a "warrior" means. They will create a drawing of what they think a warrior looks like. After watching The Warrior Tradition segments, they will compare and contrast their understanding of the word warrior to Native Americans' concept of a warrior.
Secrets of the Code Talkers –
Students will decode a message and view segments from The Warrior Tradition. They will learn about the role of the code talkers during World War II and discover how a Native language served as an unbreakable "secret" code and weapon against the enemies.
Honoring Our Soldiers -
Students will learn how Native American communities support their soldiers and veterans through culture and ceremonies. While watching segments of The Warrior Tradition, students will take notes on the different ways that Native Americans celebrate soldiers.
MIDDLE AND HIGH SCHOOL LESSON PLANSThe Symbol of a Warrior -
Students will identify what a "symbol" is and find the differences between traditional and contemporary symbols, specifically Native American. They will write an essay exploring "
What role did/does symbolism of a warrior play in a contemporary Native soldier's choice to serve?"
Reporting on Navajo Code Talkers -
Students will participate in a discussion about the historical context of Native American boarding schools, and the assimilation process. After watching segments from The Warrior Tradition, students will understand the importance of the Navajo Code Talkers. Groups of students will write and present a news broadcast about code talkers.
Warrior Women –
Students will focus on the female soldiers featured inThe Warrior Tradition. They will prepare and deliver a speech in first person explaining what it means to Native American women to be in the military, their perspective about Native American women in the military, and their experience as a woman warrior.
Community and Educator Discussion Guide –
An easy to use resource for community members and high school classrooms. It outlines how to use The Warrior Tradition program to conduct meaningful conversations. The Discussion Guide includes guided discussion questions and tips on how to connect with Native American and veteran groups so they are part of the conversation.
Download a PDF of the Discussion Guide
Native American and Veteran Groups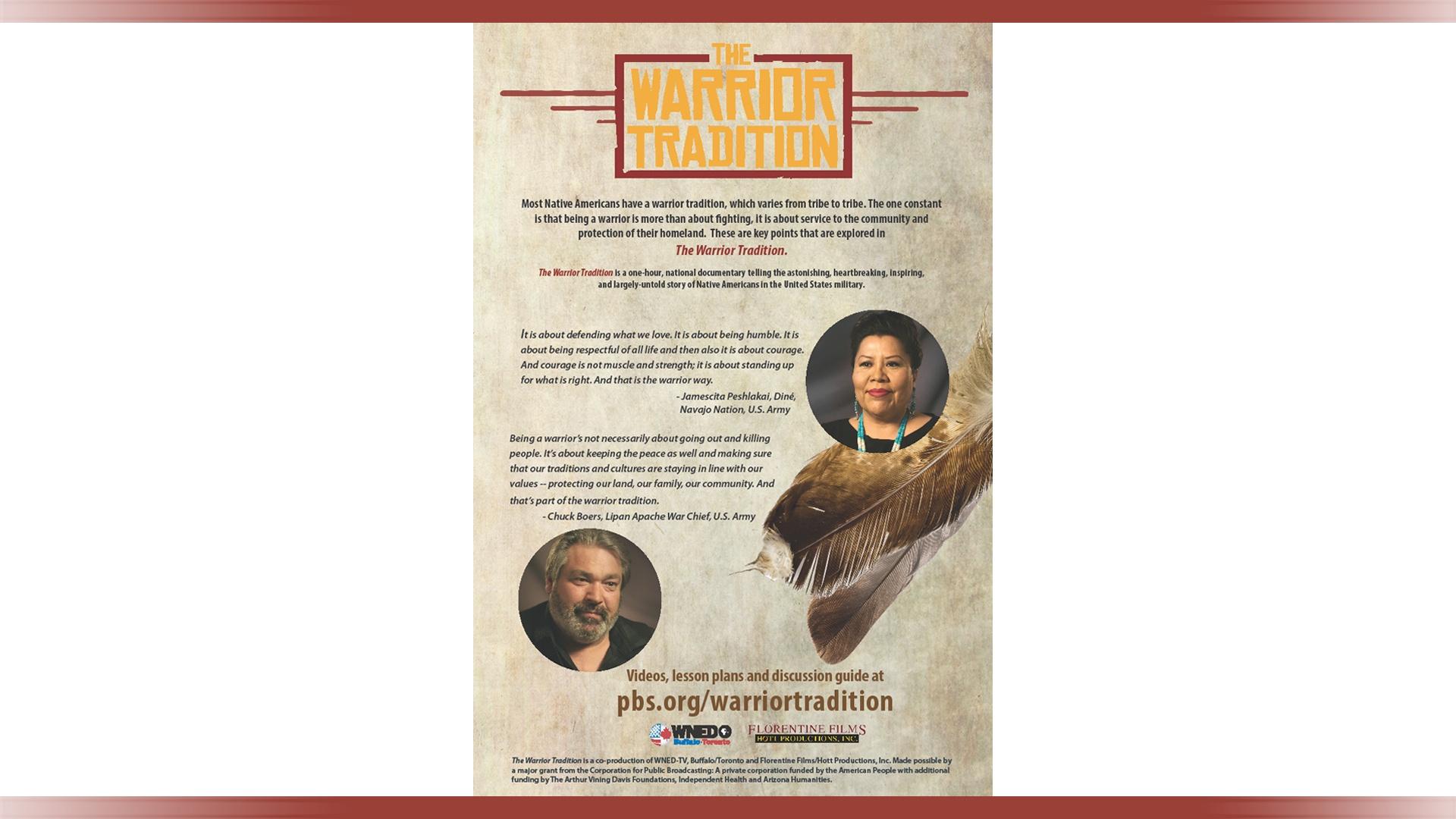 A limited number of printed discussion guides and posters and flash drives with the entire program video and lesson plans are also available. To request a free copy contact Beth Fronckowiak at 716-845-7006 or
bfronckowiak@wned.org
.
For additional classroom content, please visit
PBS Teachers
.