AUDRA McDONALD IN CONCERT: GO BACK HOME
Originally aired May 24, 2013
PROGRAM NOTES
As I'm sure is true for many of you, I first became aware of Audra McDonald from her performance in Terrence McNally's play, "Master Class." She played the role of a young, aspiring opera singer attending Maria Callas's Master Class at New York's Juilliard School of Music (one of the constituent institutions of Lincoln Center for the Performing Arts). As portrayed by McNally, Callas was merciless in assessing the potential of the character played by Miss McDonald. But through it all the brutalized young student maintained a cool and unbowed demeanor. That role won for Audra McDonald one of her five Tony Awards for outstanding performance on the Broadway stage.
Since then she has become a unique presence on the American scene, appearing in both dramas and musicals on the stage; as a recitalist in concert and with some of America's great symphony orchestras; as a highly successful recording artist; as a regular guest on television talk shows and with ongoing roles on several dramas; and as the recently appointed Host for our Live From Lincoln Center programs on PBS. Friday evening, May 24, our next Live From Lincoln Center will find her in the dual role of Host and Artist in a program called "Audra McDonald in Concert: Go Back Home."    
Audra McDonald was born in Berlin, Germany. She grew up in Fresno, California. As an outlet for her youthful "hyperactivity" she began to study acting, and early on became a member of the Junior Company of Fresno's Good Company Players. Serious music and acting studies continued at the Juilliard School, where she was a pupil of the renowned singer and teacher Ellen Faull. It was not long before she was wowing Broadway audiences, winning Tony Awards for her performances in "Carousel," "Master Class" and "Ragtime." These  three Tonys were achieved within a period of five years, putting her on a par with Shirley Booth, Gwen Verdon and Zero Mostel. She was 28 years old at the time. A fourth Tony was awarded to her for her performance in "A Raisin in the Sun." Four Tonys had been awarded to only two previous performers: Gwen Verdon and Mary Martin. And as Bess in "The Gershwin's Porgy and Bess" she won a fifth Tony, placing her in the company of Angela Lansbury and Julie Harris.
As a singer of opera Audra McDonald has appeared in Houston Opera productions of Poulenc's "La Voix Humaine" and the world premiere of Michael John LaChiusa's "Send (who are you? I love you)." With the Los Angeles Opera she has sung in Kurt Weill's "Rise and Fall of the City of Mahagonny." The recording of that production won two Grammys, one for Best Opera Recording, the other for Best Classical Album. Composer LaChiusa, in a 2008 quote in Opera News Online, stated that he was working on a version of Bizet's "Carmen" specifically designed for her. Her four solo albums for Nonesuch find Audra McDonald investigating the full gamut of American song, from Broadway and Tin Pan Alley, to the big band music of the 30s and 40s, to jazz and Pop.
Her television and film career is equally impressive. She starred as Daddy Warbuck's secretary in the 1999 telecast of the musical "Annie," and she was guest soloist with the New York Philharmonic in its annual New Year's Eve concert on PBS on December 31, 2006. As a dramatic actress on television she has appeared in numerous programs, among them "Law and Order: Special Victims Unit ," "Having Our Say: The Delany Sisters' First Hundred Years," and "The Bedford Diaries." In December, 2012 she appeared on "The Colbert Report" singing a duet – "Baby It's Cold Outside" – with host Stephen Colbert. Her theatrical films include "Seven Servants," "The Object of My Affection" and "It Runs in the Family."
For us on Live From Lincoln Center Audra McDonald has chosen an uncommonly varied and exploratory program. With a 35-piece orchestra conducted by Andy Einhorn, currently conductor of Rodgers + Hammerstein's "Cinderella" on Broadway, and with Lee Musiker (piano), Mark Vanderpoel (bass) and Gene Lewin (drums) she will explore the vast riches of our Broadway musical heritage. Among the composers on her list are Cole Porter, Gus Kahn, John Kander, Frank Loesser, Irving Berlin, Stephen Sondheim, George Gershwin, Adam Guettel, Gabriel Kahane and Jule Styne. More information than that I cannot give you because she will not select the exact details of the program until shortly before she goes on stage! But I CAN assure you that it will be a long-remembered musical feast. Incidentally, the title "Audra McDonald in Concert: Go Back Home" derives from the song "Go Back Home" in the Kander and Ebb musical "The Scottsboro Boys."
So there you have it, an evening of very special entertainment on Live From Lincoln Center Friday evening, May 24. In closing I urge you, as usual, to check your local PBS station's schedule for the exact date and time of the telecast in your area.
Enjoy!
MARTIN BOOKSPAN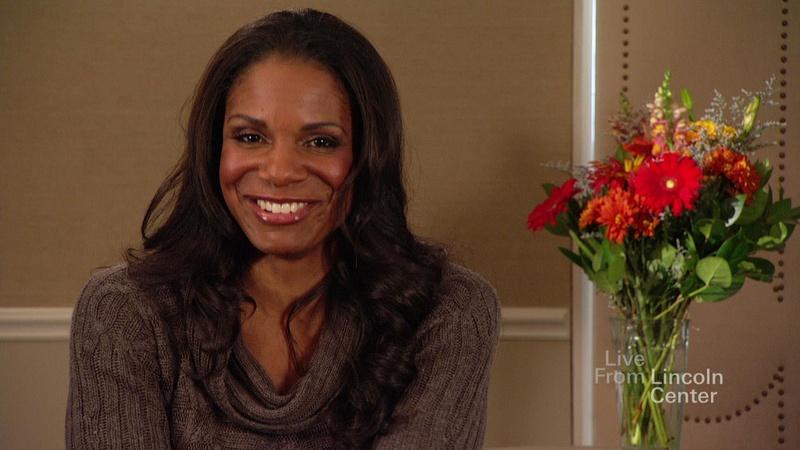 Audra McDonald answers (almost) everything you wanted to know but were afraid to ask.