RODGERS & HAMMERSTEIN'S CAROUSEL
Nominated for 3 Emmy Awards, including Best Special Class Program
Originally aired April 26, 2013
PROGRAM NOTES
For the better part of a decade now a highlight of each New York Philharmonic season has been the semi-staged presentation of a classic from our Broadway musical theater.  Past productions have included "Candide," "Company" and "Sweeney Todd." This year the nod goes to the Rodgers and Hammerstein masterpiece "Carousel," which will be performed on Live From Lincoln Center Friday evening, April 26.
Richard Rodgers and Oscar Hammerstein II were brought together as composer and book writer/lyricist by one of life's inevitabilities – Death. For years Rodgers and Lorenz Hart, who had been fellow students at Columbia University, enriched the Broadway musical scene with hit after hit. By itself "Babes in Arms" of 1937 yielded an astonishing number of classic songs, including "Where or When," "I Wish I Were In Love Again," and "The Lady Is a Tramp." But probably their greatest hit was "Pal Joey" of 1940, which yielded us "Bewitched, Bothered and Bewildered" and "I Could Write a Book." The Rodgers and Hart partnership ended with Hart's untimely death in 1943 at the age of 48. Together they had collaborated on 28 stage musicals and more than 500 songs.
For his part Hammerstein had written lyrics to music by Vincent Youmans and Richard Whiting, among others. But his greatest collaboration had been with Jerome Kern, specifically 1927's "Show Boat." Kern died in 1945 at the age of 60. Hammerstein had already been Rodgers's partner in 1943's huge success, "Oklahoma!". The pair now turned to their second Broadway venture, "Carousel." Rodgers is reputed to have regarded his music for "Carousel" as his finest accomplishment. Stephen Sondheim, who was literally mentored by Hammerstein, has written: "'Oklahoma!' is about a picnic, 'Carousel' is about life." Indeed at one point "Carousel" was cited by Time Magazine as the best musical of the 20th century.
The original production was first class in every respect: John Raitt and Jan Clayton played the star-crossed lovers, the carnival barker Billy Bigelow, and Julie Jordan, a working girl at the nearby mill. The Director was Rouben Mamoulian and the choreography was by Agnes De Mille. Since its April 1945 opening, "Carousel" has seen several Broadway revivals and numerous productions the world over, including a 1992 revival at Lincoln Center's Vivian Beaumont Theater in which our host for Live From Lincoln Center, Audra McDonald, played a leading role. That 1992 revival also featured a star of the opera stage, the mezzo-soprano turned soprano, Shirley Verrett. An MGM film starring Gordon McRae and Shirley Jones was released in 1956, and again an indication of the elevated quality of the music is the fact that the cast included the operatic tenor, Robert Rounseville.
"Carousel" is based on the play "Liliom" by the Hungarian playwright Ferenc Molnar. In the adaptation the action takes place in the mid-19th century in a coastal village in Maine, and it deals with crime and redemption.  It has given us a cornucopia of great songs, such riches as "If I Loved You," "June Is Bustin' Out All Over," "A Real Nice Clambake," "What's the Use of Wondrin'" and "You'll Never Walk Alone"...  and one of the most searingly emotional songs ever written for the Broadway stage, Billy's "Soliloquy" that ends the First Act.
As the initial production was first class all the way, so, too, is the one we're bringing to your home screens. First off there is the superb New York Philharmonic, which adjusts as easily to Broadway material as it does to a Mahler Symphony. The conductor is Rob Fisher, a veteran of these Philharmonic Broadway extravaganzas, who most recently was the creative vision behind our Kander and Ebb show. The director is John Rando and the choreographer is Warren Carlyle. The remarkable Kelli O'Hara is our Julie, and we have TWO distinguished artists from the world of opera, baritone Nathan Gunn as Billy Bigelow, and fresh off her homage to Kate Smith of last week, Stephanie Blythe as Nettie Fowler.
So there you have it, the great Rodgers and Hammerstein "Carousel," with a superlative cast and the New York Philharmonic on Live From Lincoln Center Friday evening, April 26. Please check the schedule of your local PBS station for the exact day and time of the telecast in your area.
Enjoy!
MARTIN BOOKSPAN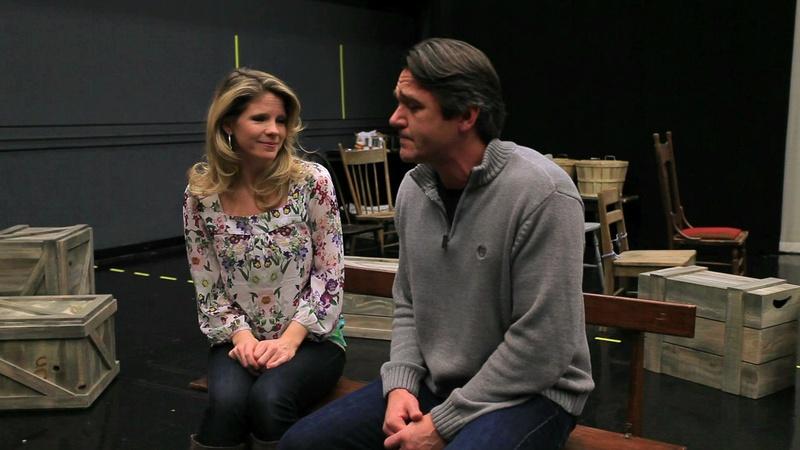 Cast and crew describe what went into this landmark New York Philharmonic production.