Mark Twain Award Recipients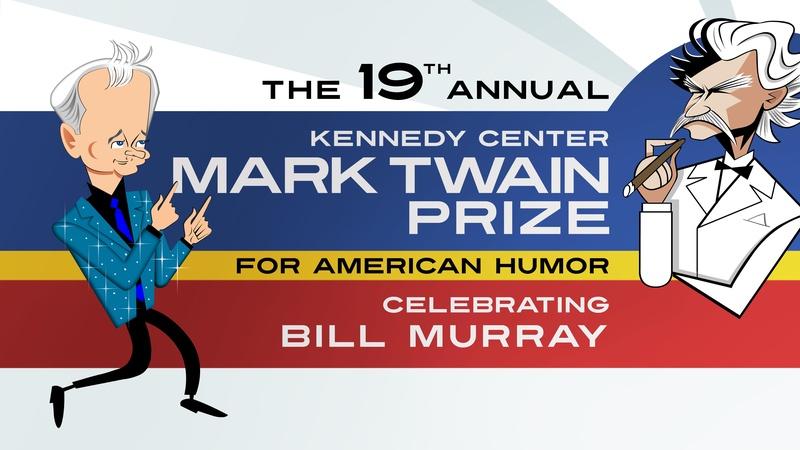 Celebrate beloved actor and comedian Bill Murray, 19th recipient of the Mark Twain Prize.
Celebrate comedian and actor Eddie Murphy, the 18th recipient of the coveted prize for American humor.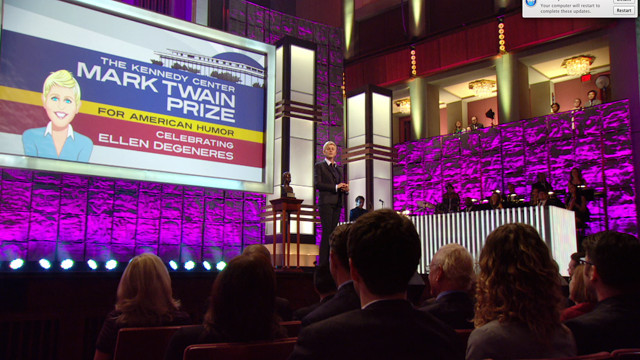 Honoring the distinctive comic voice, talk show host and best-selling author.
Prior Honorees
BILL COSBY | GEORGE CARLIN | BILLY CRYSTAL | NEIL SIMON | STEVE MARTIN | LORNE MICHAELS | LILY TOMLIN | BOB NEWHART | WHOOPI GOLDBERG | CARL REINER | JONATHAN WINTERS | RICHARD PRYOR
Bill Cosby
Bill Cosby Taped at The John F. Kennedy Center for the Performing Arts on October 26, 2009 the 90-minute special featured tributes and comic testimonials from a star-studded cast of Cosby's friends and colleagues including leading American entertainers Carl Reiner, Chris Rock, Dick Gregory, James DePriest, Jerry Seinfeld, Jimmy Heath, Len Chandler, Malcolm Jamal-Warner, Phylicia Rashad, Rita Moreno, Sinbad, Willie Nelson, and Wynton Marsalis. The program, which recognized the life and achievements of the beloved comedian, includes an assortment of classic film clips from Cosby's career.
George Carlin
George Carlin Taped at The John F. Kennedy Center for the Performing Arts on November 10, 2008 the 90-minute special features tributes and comic testimonials from a star-studded cast including Richard Belzer, Lewis Black, Margaret Cho, Ben E. King, Denis Leary, Bill Maher, Joan Rivers, Garry Shandling, Jon Stewart, and Lily Tomlin. George Carlin combined a once-in-a-lifetime voice, a face that could do anything, and be anyone, an understanding of language that William Safire (or William Shakespeare) would have tipped their hats to and-oh yeah-he was fearlessly funny. Before George passed away, he learned he was receiving the Twain and was genuinely pleased about it.
"Thank you Mr. Twain," said Carlin. "Have your people call my people." Carlin was a Grammy-winning American stand-up comedian, actor, and author, whose career has spanned more than fifty years. Carlin released twenty-two solo albums and three New York Times best-selling books, which have sold over two million copies. The five-time Emmy nominated actor starred in an unprecedented fourteen HBO Specials and appeared in a wide variety of television and movie roles. He was the first-ever host of Saturday Night Live, and has appeared on The Tonight Show over 130 times.
Billy Crystal
Billy Crystal Taped at The John F. Kennedy Center for the Performing Arts on October 11, 2007 the 90-minute special features tributes and comic testimonials from a star-studded cast of Crystal's friends and colleagues including Bob Costas, Robert DeNiro, Danny DeVito, Jimmy Fallon, Whoopi Goldberg, John Goodman, Jon Lovitz, Rob Reiner, Martin Short, Barbara Walters and Robin Williams. The program also includes an assortment of classic film clips from Crystal's career.
"To be given the same award as Richard Pryor, Steve Martin, and Neil Simon is a great honor," said Crystal. "As my grandfather said, if you hang around the store long enough, once in a while they'll give you something!"
After touring with such stars as Billy Joel, Barry Manilow, Neil Sedaka and Sha Na Na, Billy Crystal became a regular on the popular series Soap playing the first openly gay character on a network television series. During the 1984-85 television seasons, Crystal was met with phenomenal national success on Saturday Night Live. He created, wrote and produced the critically acclaimed HBO series Sessions and became the first comedian to perform in the then-Soviet Union with his special Midnight Train to Moscow, one of four one-man specials he has done for HBO. He has hosted the Grammy Awards three times and, of course, the Oscars eight times. Crystal is the recipient of six Emmy Awards, six American Comedy Awards and seven Cable Ace Awards.
Neil Simon
Neil Simon Taped at The John F. Kennedy Center for the Performing Arts on October 15, 2006, the 90-minute special features tributes and comic testimonials from a star-studded cast of Simon's friends and colleagues including Jason Alexander, Christina Applegate, Lucie Arnaz, Matthew Broderick, Richard Dreyfuss, Heather Headley, Patricia Heaton, Jane Kaczmarek, Robert Klein, Nathan Lane, Robert Redford, Paul Reiser, Jonathan Silverman and Allen Toussaint.
Upon learning that he had won the 2006 Mark Twain Prize, Simon remarked, "I am awed, thrilled and delighted to receive The Kennedy Center Mark Twain Prize ... it makes up for my losing the Samuel Clemens Prize."
Neil Simon, born in the Bronx on July 4, 1927, is America's foremost playwright. For more than four decades, his plays have invigorated the stage with poignant stories and zany characters known for their family-based New York settings. He has authored more than 40 Broadway plays since 1961, ranging from humorous, lighthearted conceits ("Barefoot in the Park," "The Odd Couple") to deeper, autobiographical works ("Chapter Two," the Eugene trilogy featuring "Brighton Beach Memoirs", "Biloxi Blues" and "Broadway Bound").
Steve Martin
Steve Martin The Kennedy Center Presents: The 2005 Mark Twain Prize celebrating Steve Martin premiered Wednesday, November 9, 2005 on PBS stations nationwide.
Taped at The John F. Kennedy Center for the Performing Arts on October 23, 2005, the two-hour special featured tributes and comic performances from an all-star cast of Martin's friends and colleagues including Dave Barry, Claire Danes, Larry David, Tom Hanks, Eric Idle, Diane Keaton, Queen Latifah, Randy Newman, Martin Short and Paul Simon. Former Mark Twain Prize recipients Carl Reiner, Lily Tomlin and Lorne Michaels were also in attendance.
Upon learning that he had won the Mark Twain Prize, Martin remarked, "I think Mark Twain is a great guy, and I can't wait to meet him."
Martin, a Renaissance humorist, is an actor, comedian, author, and playwright who has won numerous awards for his performances and his writing. His many films that he both wrote and starred in include "Dead Men Don't Wear Plaid," "The Man with Two Brains," "Roxanne," "L.A. Story," and "Bowfinger." Other films he has appeared in include the blockbusters "Father of the Bride," "Parenthood," "Cheaper by the Dozen," and "Bringing Down the House." He has had two plays produced Off Broadway: "Picasso at the Lapin Agile" and "The Underpants," an adaptation of a 1911 play by Carl Sternheim. He has published two novellas, "Shopgirl" and "The Pleasure of My Company," as well as a collection of comic pieces entitled "Pure Drivel." His work frequently appears in The New Yorker and the New York Times.
Lorne Michaels
Lorne Michaels On Stage at the Kennedy Center: The Mark Twain Prize salutes Lorne Michaels, creator of NBC's Saturday Night Live and the recipient of the Kennedy Center's seventh annual Mark Twain Prize for American Humor. The program aired Wednesday, March 2, 2005 on PBS stations nationwide.
Taped at The John F. Kennedy Center for the Performing Arts on October 25, 2004, the 90-minute special featured tributes and comic performances by an all-star cast, including Dan Aykroyd, Candice Bergen, Senator Chris Dodd (D-Connecticut), Darrell Hammond, Tina Fey, Steve Martin, Tim Meadows, Senator John McCain (R-Arizona), Tracy Morgan, Conan O'Brien, Paul Simon, David Spade and Christopher Walken. The show's live band was led by former "SNL" musical director G.E. Smith..
The special featured television clips from the NBC series and never-before-seen screen tests of some of the original "Not Ready for Primetime Players," as well as clips from "Kids in the Hall" and a selection of Michaels' movie productions, which include "Mean Girls", "Tommy Boy" and "Wayne's World".
Accepting the award, Michaels said, "Other than the fact that I work or have worked with some of the best comedy writers of my time I couldn't think of any reason I should be receiving this award. And then I thought of Huckleberry Finn, which I read as a boy and as a young man, and again a few years ago. And I realized that Saturday Night Live has always been stuck in adolescence. That time of life when you first begin to question authority, declare your independence — a time of risk and adventure, and occasional bad behavior." In a nod to what's become a "Saturday Night Live" tradition, he closed the show by inviting all of the current and former SNL stars in the audience to join him on stage.
Lily Tomlin
Lily Tomlin On Stage at the Kennedy Center: The Mark Twain Prize salutes Lily Tomlin, one the country's most beloved comediennes and the 2003 recipient of the Kennedy Center's Mark Twain Prize for American Humor.
Taped at The John F. Kennedy Center for the Performing Arts on October 26, the 90-minute special featured tributes and comic performances from an all-star cast,including Dave Chappelle, Eve Ensler, Jane Fonda, Darrell Hammond, George Lopez, Catherine O'Hara, Elaine Stritch, Dolly Parton, Miss Piggy, Doris Roberts, and Sarah Jones, G.E. Smith, and the Mark Twain Five.
The program opened with tunes from G.E. Smith and the Mark Twain Five, who maintained a sprightly musical presence throughout the show. Lily Tomlin, the sixth winner of the Mark Twain Prize, mets a standing ovation as she entered the hall to watch her colleagues brought their own special talents to the stage in honor of her accomplishments. Miss Piggy made the opening presentation, followed by comedic, musical and dance numbers ranging from Dolly Parton's rendition of "9 to 5," to character sketches and impressions by Sarah Jones and Darrell Hammond. Videotaped tributes from stars such as Whoopi Goldberg and Steve Martin punctuated hilarious and touching archival video clips from Tomlin's own work on television and film.
Tomlin took the stage in the end, to receive the award. In a trademark gesture, she pulled out a notebook "cleverly stashed in [her] armpit" to recite why she "does and does not deserve" the award, giving significant credit also to Jane Wagner, her writer and partner since 1971, who accompanied her to the ceremony.
Bob Newhart
Bob Newhart On October 29, 2002, Bob Newhart was honored by an all-star cast of his peers as he was awarded the 2002 Kennedy Center Mark Twain Prize for American Humor. Bob Newhart is perhaps the only man in the world who can talk to himself on the phone without people looking at him strangely. He of the world-famous one-way phone conversations is also a household name to generations, thanks to his two extremely successful, long-running television series.
The performers included Richard Belzer, Tim Conway, Jane Curtin, Kelsey Grammer, Jon Hendricks, Jake Johannsen, Bernie Mac, Dick Martin, David Hyde Pierce, The John Pizzarelli Trio, Suzanne Pleshette, Tom Poston, Don Rickles, The Smothers Brothers, Julia Sweeney, Clark Terry, Fred Willard, and Steven Wright.
Whoopi Goldberg
Whoopi Goldberg The humor of Whoopi Goldberg, the fourth recipient of the annual Kennedy Center Mark Twain Prize for American Humor, is rooted in the human comedy — generous, broad, intelligent, and earthy. As an actor, she has been able to mine the humor in tragedy, and as a humorist she has never strayed far from the trying conditions that make us human and funny. From small cabarets to great arenas, on the television screen and on the movie screen, her dazzling array of characters and emotions is varied and unrestrained. In all her roles, Whoopi Goldberg has always projected the wisdom and understanding that all great humorists have recognized in the common man, and woman.
The Kennedy Center Mark Twain Prize for American Humor honoring Whoopi Goldberg was broadcast nationwide on November 21, 2001. The performers honoring Whoopi Goldberg included Harry Belafonte, Cedric "The Entertainer," Celia Cruz, Billy Crystal, Tommy Davidson, Alan King, Caroline Rhea, Wanda Sykes, Three Mo' Tenors, Chris Tucker, Bruce Vilanch, Robin Williams, and G.E. Smith.
Carl Reiner
Carl Reiner Carl Reiner author, actor, writer, director, and one of the nation's greatest comic minds — has touched or created much of what was great in American comedy during the last half of the 20th century. His brilliant writing and characterizations on the television series "Your Show of Shows" is still the hallmark against which all comedy is measured. In his casting of Mary Tyler Moore in "The Dick Van Dyke Show", Reiner charted the path for women's roles in television which led to shows such as "Kate and Allie," "Murphy Brown," and "Ally McBeal." On October 24, 2000 Carl Reiner was presented with the Mark Twain Prize for American Humor in a star-studded tribute, which included Joy Behar, Richard Belzer, Steve Martin, Mary Tyler Moore, Rob Reiner, Jerry Seinfeld, Dick Van Dyke, and George Wallace. The event was aired on PBS in March 2001.
Jonathan Winters
Jonathan Winters The real Jonathan Winters was born in Dayton, Ohio on November 11, 1925. After attending public school in Springfield, he joined the Marine Corps at the age of seventeen. After serving two-and-a-half years in the South Pacific, he returned to Ohio and attended Kenyon College. His interest in art led him to Dayton Art Institute where he studied for over two years and met the girl who would become his wife, Eileen. Eileen encouraged Jonathan to enter a local talent contest in Dayton, which he did, and he won a wrist watch, but the performance led him to a job as an early morning disc-jockey on radio station WING in Dayton (1946). This job led him to WBNS-TV in Columbus where he worked for three years. In 1953, Jonathan headed for New York for the "big time" with $56.46 in his pocket. As a performer at Manhattan's Blue Angel nightclub, his reputation as a comic began to grow. Gary Moore, who was substituting for Arthur Godfrey on the TV Show "Talent Scouts", presented Jonathan on the show. Then came the Jack Paar Show, The Steve Allen Show, and The Tonight Show, where Jonathan was able to demonstrate his comic genius and he became a top name in American Comedy.
Richard Pryor
Richard Pryor Richard Pryor statement: "I feel great about accepting this prize. It is nice to be regarded on par with a great white man — now that's funny! Seriously, though, two things people throughout history have had in common are hatred and humor. I am proud that, like Mark Twain, I have been able to use humor to lessen people's hatred!" Richard Pryor is best known and loved for his live comedy, where he can present the truth as he sees it: hyperkinetically delivered, expletive-laced, and free form. Sometimes he delivered his message through characters such as the wino Mudbone. His subject matter included black life on the streets, the drug culture, sex and other topical issues, miming and mugging through a seemingly endless array of facial expressions. Pryor, ill after years of living with multiple sclerosis, finally succumbed to a heart attack in December of 2005.