A DROWNING WORLD: A Photo Essay and Commentary from Gideon Mendel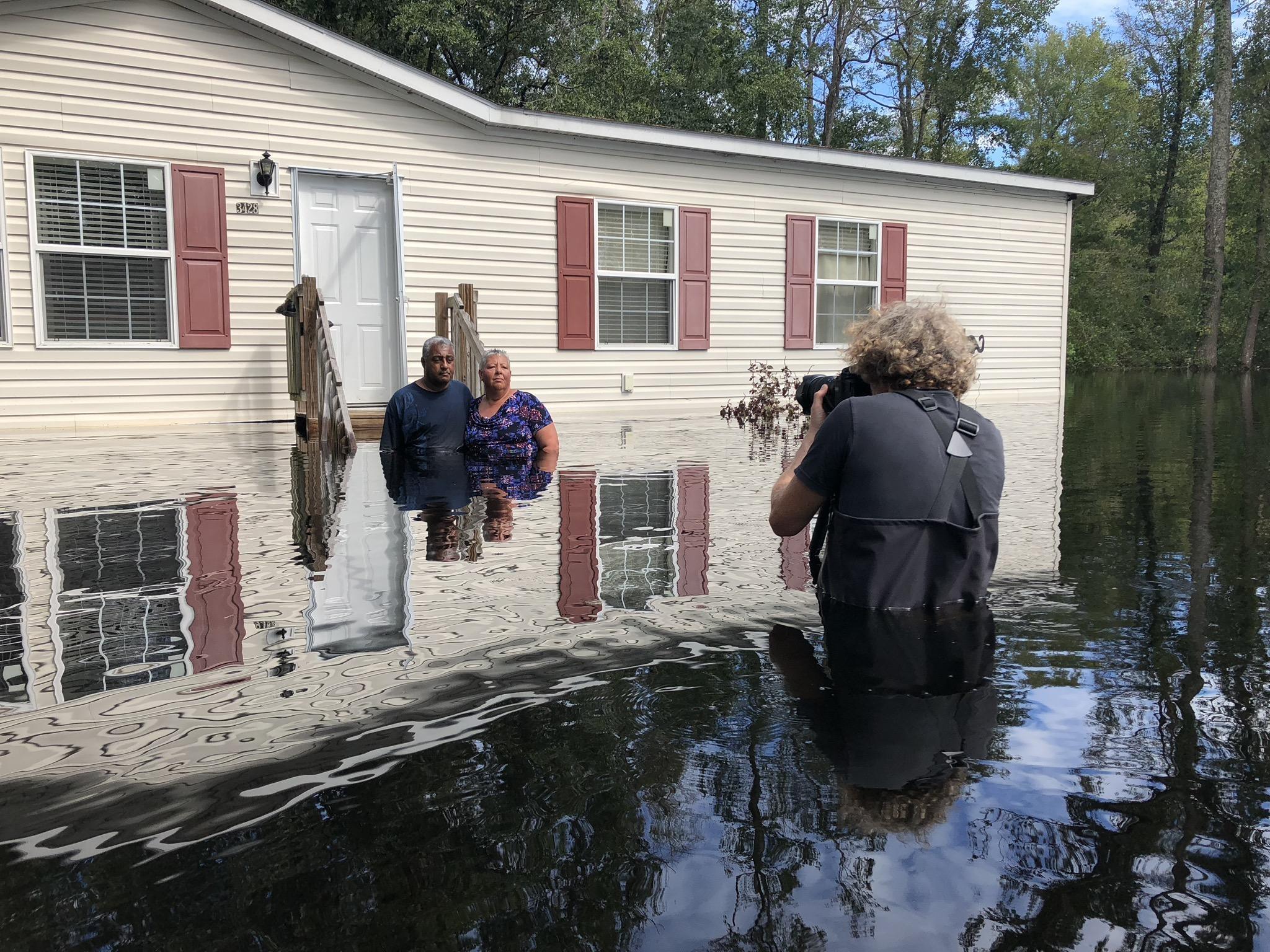 Drowning World is a photographic exploration of flooding. My aim in this longterm project is to portray the human condition within the context of overwhelming climate events around the world. This endeavour has taken me on a creative and life-changing journey. The subject matter has fundamentally challenged my practice: over the years there has been a shift from a traditional documentary approach to one that incorporates more conceptual and metaphorical elements.
Since 2007, I have made twenty trips to document floods in thirteen countries, witnessing a shared human experience of catastrophe that transcends geographical, cultural and economic divides. I have made the work in the UK (2007, 2014, 2016 and 2019), India (2007 and 2014), Haiti (2008), Pakistan (2010), Australia (2011), Thailand (2011), Nigeria (2012), Germany (2013), The Philippines (2013), Brazil (2015), Bangladesh (2015), the USA (2015, 2017 and 2018), and France (2016 and 2018).
It is important to me to confront the expected representations of natural disaster, frequently depictions of black and brown people in developing countries in abject circumstances. Drowning World includes people from some of the poorest and wealthiest communities on the planet, all equally vulnerable to the floodwater that envelops them. In this moment the floods are a levelling factor, and people are brought together in visual solidarity.
A number of distinct narrative threads have emerged from this journey:
In the Submerged Portraits series my subjects pause and engage the camera, looking out from their inundated homes and devastated environments. While their poses may seem conventional, the context is catastrophe, and their gazes are unsettling. They are not disempowered victims: in the portraiture encounter they are showing the world the calamity that has befallen them.
In flooded landscapes reality can seem inverted; urban areas are often deserted, infused with surreal reflections. The Floodlines series follows the encroaching line of floodwater as it moves through intimate living quarters and public spaces. There is an eerily precise symmetry within the chaos.
As we witness more and more alarming extreme weather events around the world we also see ever-more aggressive denialism, often espoused by populist leaders; a global political system incapable of taking meaningful action; and petro-carbon corporations that are resistant to adopting the most minor measure to reduce carbon emissions. In the face of this, I feel a personal responsibility to make this project speak as loudly as possible.
Gideon Mendel's intimate style of image-making and long-term commitment to socially engaged projects has earned international recognition. Born in Johannesburg in 1959, Mendel began his career as a news and 'struggle' photographer documenting the final years of apartheid. This experience marked him deeply, and much of his subsequent work has been engaged with the key political issues facing his generation. In 1991 he moved to London, and continued to respond to global concerns, especially HIV/ AIDS.
Since 2007, using stills and video, Mendel has been working on Drowning World, an art and advocacy project about flooding that is his personal response to our climate crisis. He has twice been shortlisted for the Prix Pictet (2015 and 2019) and has received the Jackson Pollock Prize for Creativity, the Greenpeace Photo Award, the Eugene Smith Award for Humanistic Photography and the Amnesty International Media Award. His work has been widely published, his images have been used in numerous climate protests and his photographic prints, installations and video pieces are increasingly seen in a variety of gallery and museum contexts.
The opinions expressed in this article are those of the author and do not necessarily reflect the official policy or position of the producers of The Molecule That Made Us, PBS, or any funders.