ROOTED: CRAFT ORIGINS FROM THE CALIFORNIA EPISODE
Through its plants, California provides a richness of physical material that artists have adopted and manipulated over centuries. With Pomo basketry, there is a deep understanding of the plant life that it takes to make the baskets. Master Pomo basket weaver Corine Pearce explains in our CALIFORNIA episode, "Baskets are the plants, and you have to have good material." She masterfully uses the sedge root to connect her ancestors with the next generation of artisans. Pearce's incredibly skillful baskets are physically made from California–its trees, roots, and stalks and they reflect some of California's most ancient craft traditions.
Beyond the materialistic properties of California's flora, artists have and always will divine inspiration from them. One of the defining elements of the Arts and Crafts movement, which flourished in Pasadena, California in the early 20th century, was the interpretation of plants and flora as design motifs in architectural elements and in decorative art forms of all kinds. Leading the movement, architects Charles and Henry Greene espoused on the love of California's natural landscape. Charles Greene wrote about the importance of climate and environment and the effect that this has on his designs. Rooted will feature rare, personal archival materials from the Greene and Greene archives: scrapbook snapshots, tools, and pencil and watercolor sketches never before exhibited.
The Greene and Greene design legacy carries on in the work of James "Jim" Ipekjian, a Pasadena cabinetmaker who helped restore the Blacker House–an important Greene and Greene home in Pasadena–along with all of its furniture in 1994. Ipekjian has a deep understanding of the unique construction of Greene and Greene furniture and one of his museum-quality chairs will be included in this exhibition.
As metalsmith Randy Stromsoe says, "I love shape, I love sculpture, I love forms. And I want to create movement. I want to give the illusion of a wave breaking and of ripples in the ocean… but I also want to make it look like a petal–a bloom that's opening up." Stromsoe, the apprentice of the late Porter Blanchard and now master in his own regard, carries on the metalsmith traditions of hand-formed and hand-finished silver, gold, pewter, and copper on the Central Coast of California.
Rooted also featured an Arts and Craft style stained-glass window characteristic of the work of Judson Studios. Founded in 1897, Judson Studios is a Pasadena fine arts studio specializing in stained glass. Judson is the oldest family-run stained glass studio in America still making handcrafted glass–now under the direction of fifth generation David Judson. Judson's techniques meld age-old techniques with the natural geometry of local plants.
Rooted touched on some of the vast ways that plant life has fed the imagination of Californian artists, and how landscape integrates into art and life in the Golden State.
.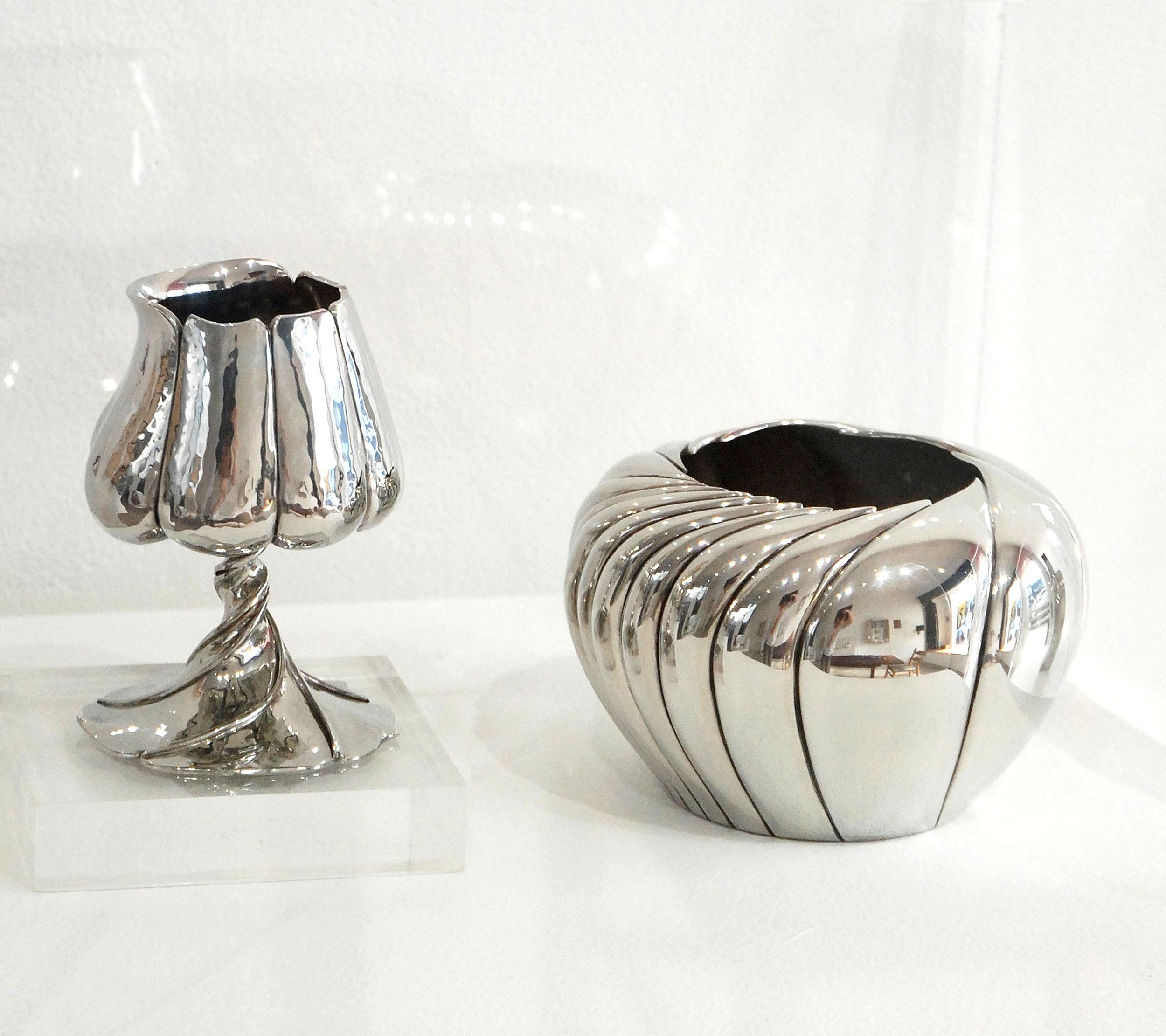 Randy Stromsoe, (l) Tulip Cup, 1980, 5" x 3.5" pewter. (r) Desert Bloom II, 2015, 4" x 5.5", pewter.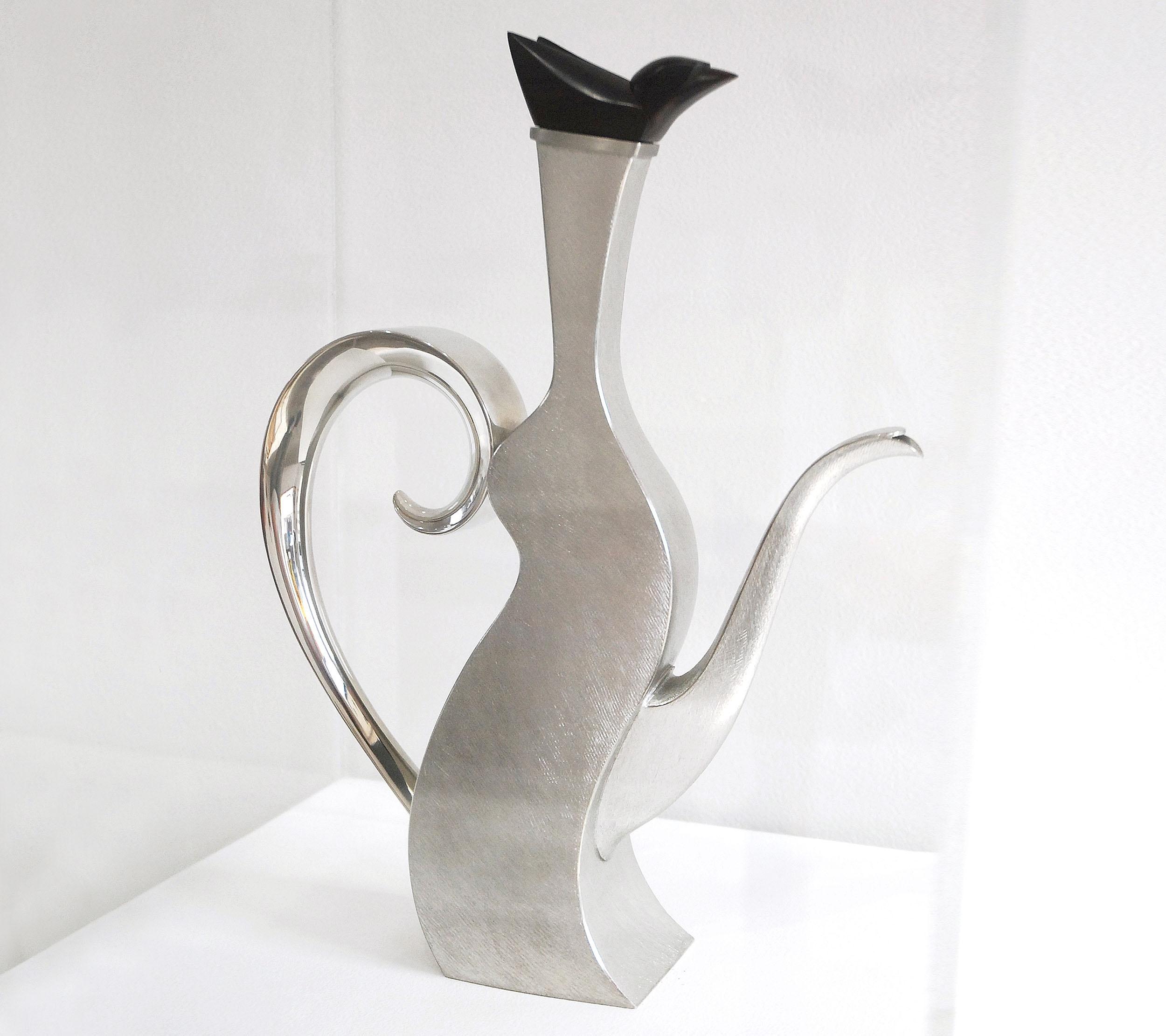 Randy Stromsoe, Santa Rosa, H 15 x W 3 1/4, Pewter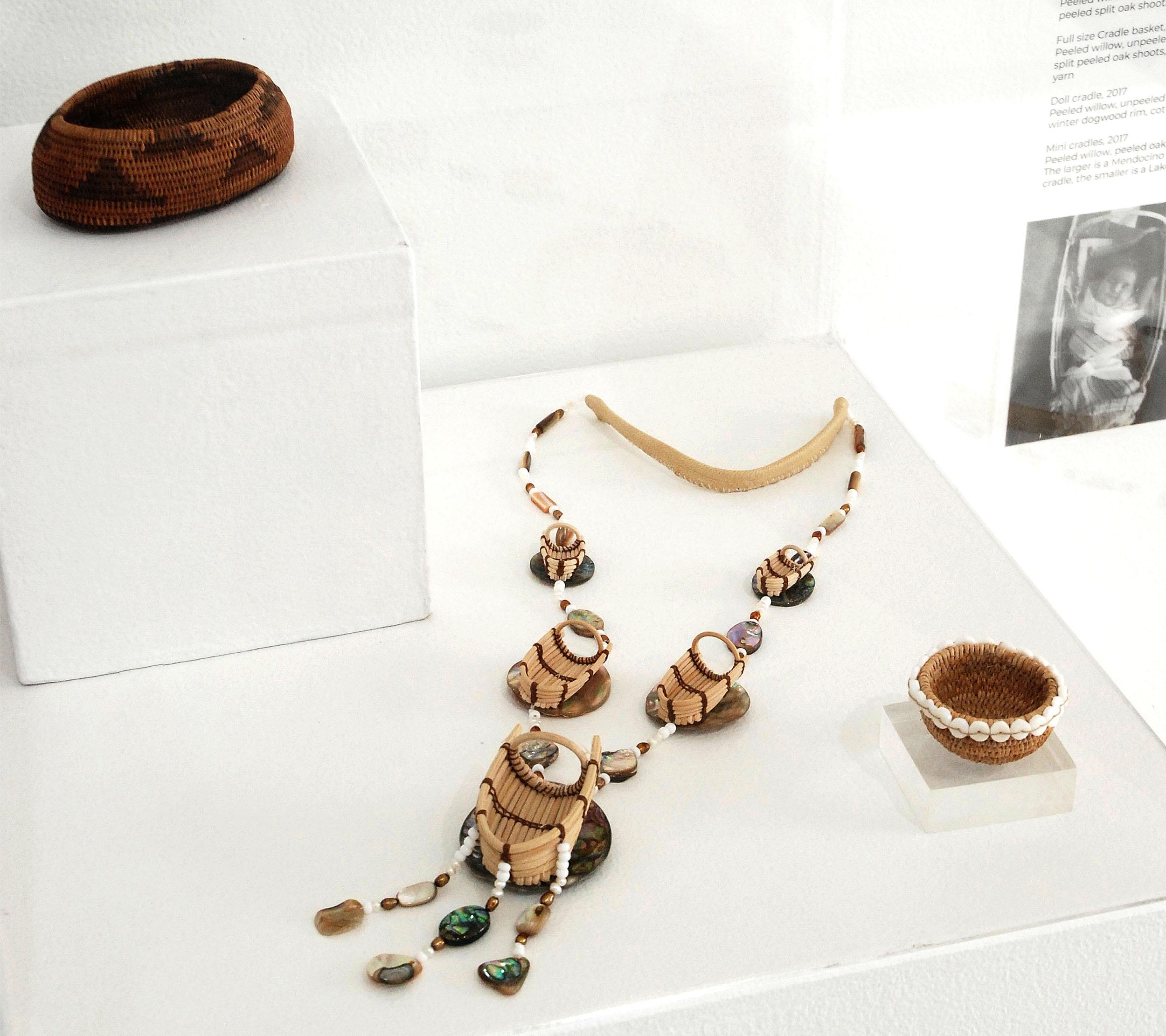 Corine Pearce, (l to r) Mini canoe coil basket, 1940's. Basket necklace, 2014. Shallow bowl basket 1960's.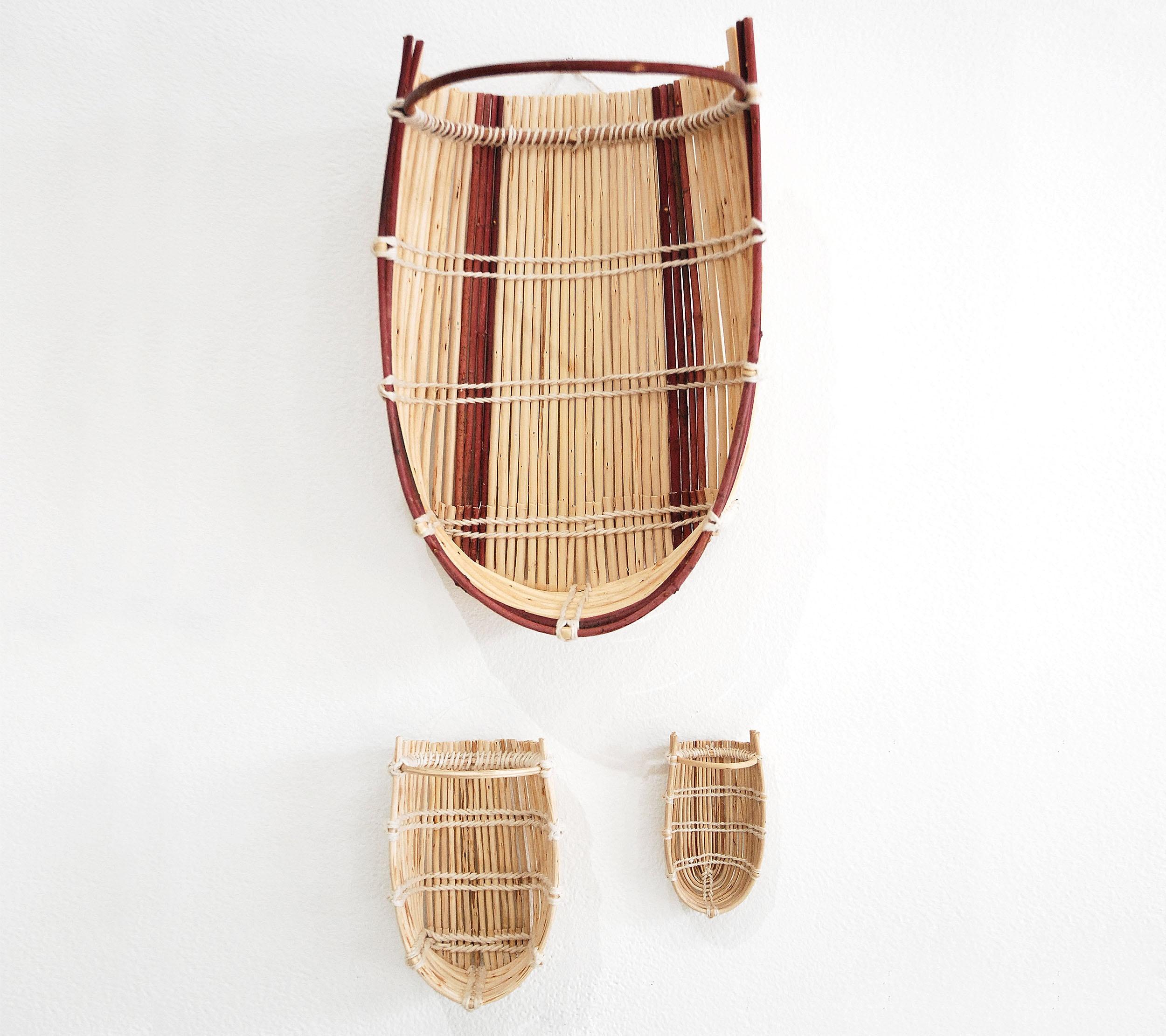 Corine Pearce, Cradle Basket, various sizes.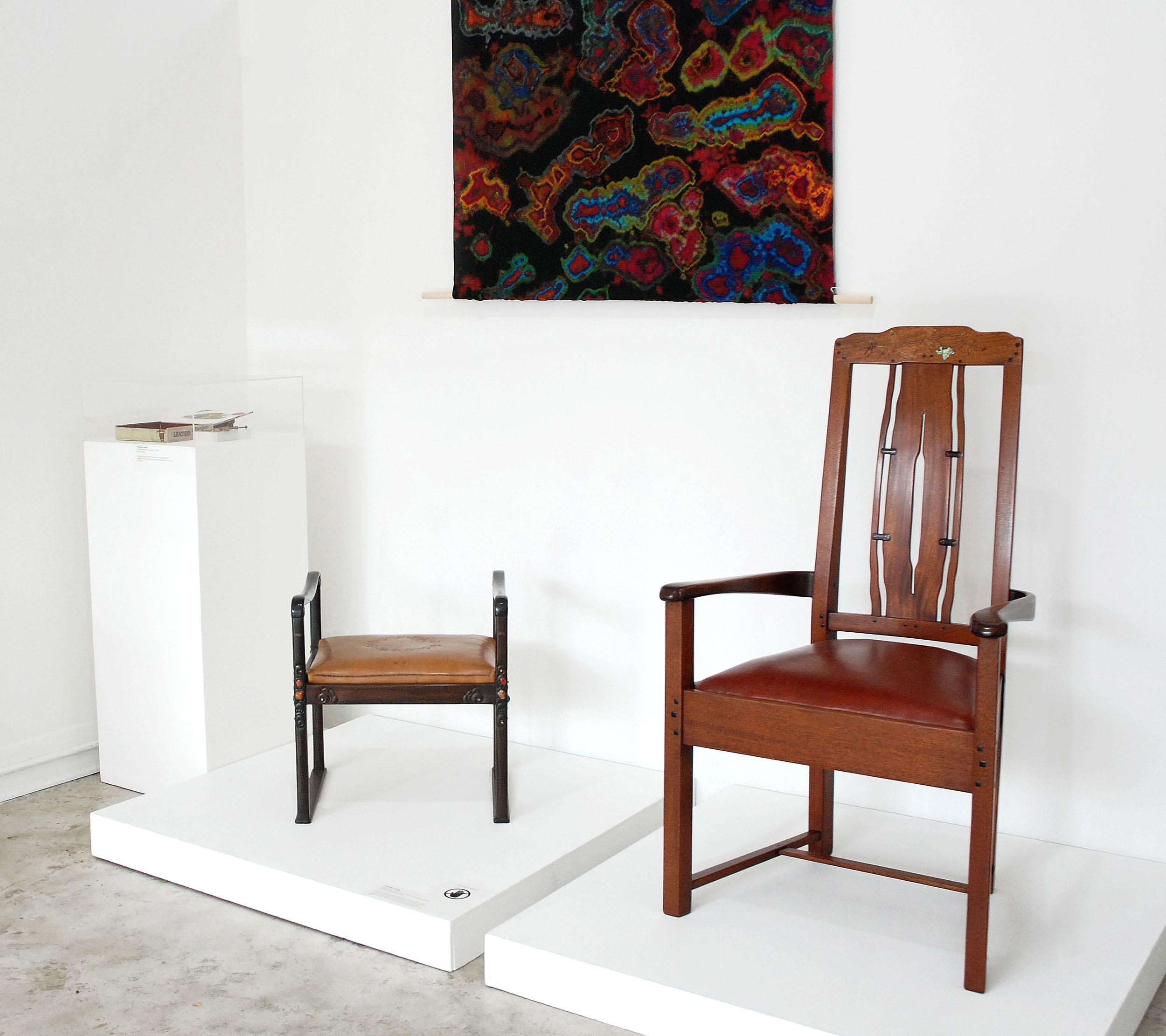 (l to r) Charles Greene, Footstool, ca. 1930. James Ipekjian, Chair, c. 2018.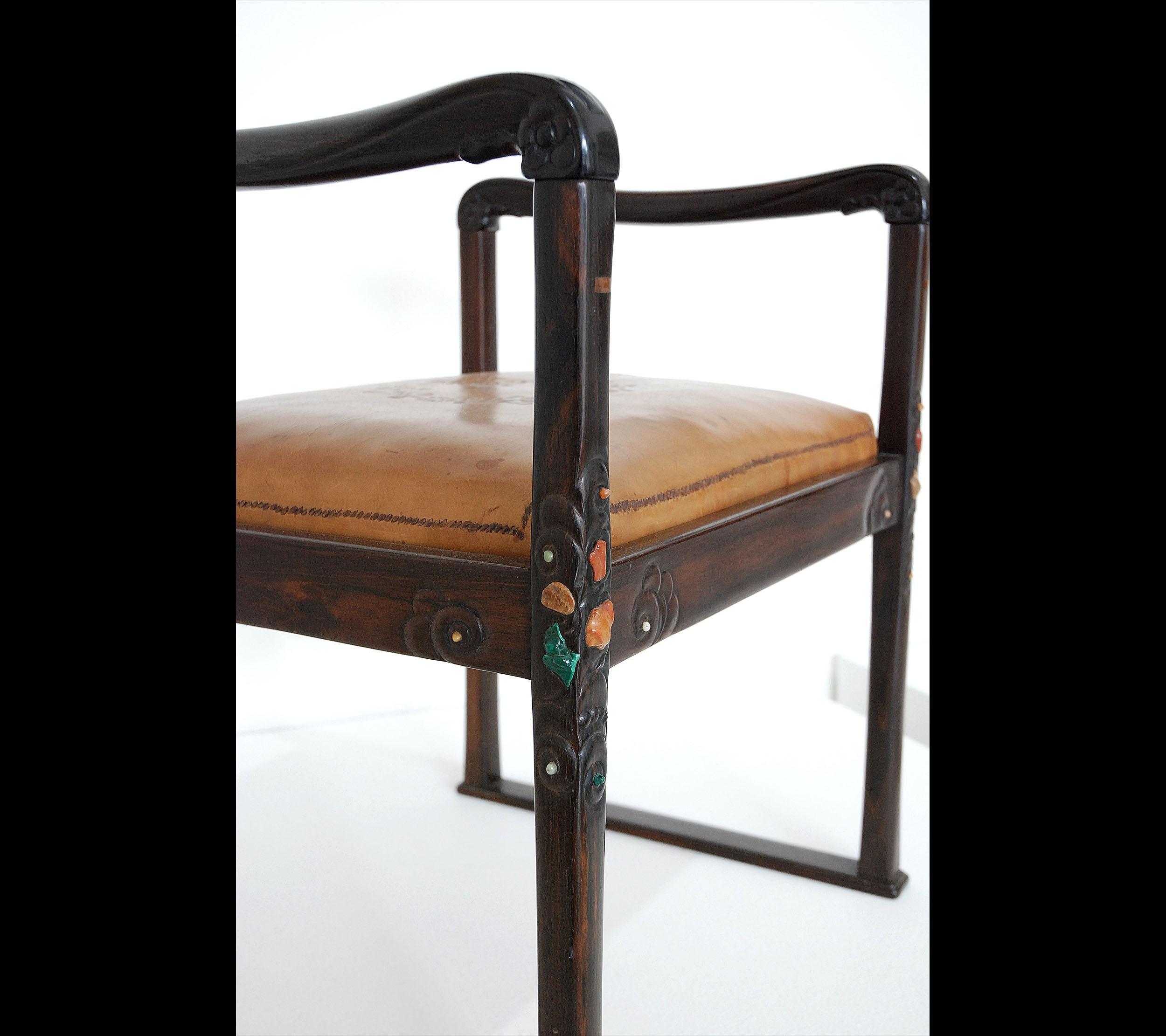 Charles Greene, Footstool, ca. 1930, 14.5 x 18.63 x 20.25", Rosewood, ebony, semi-precious stones, leather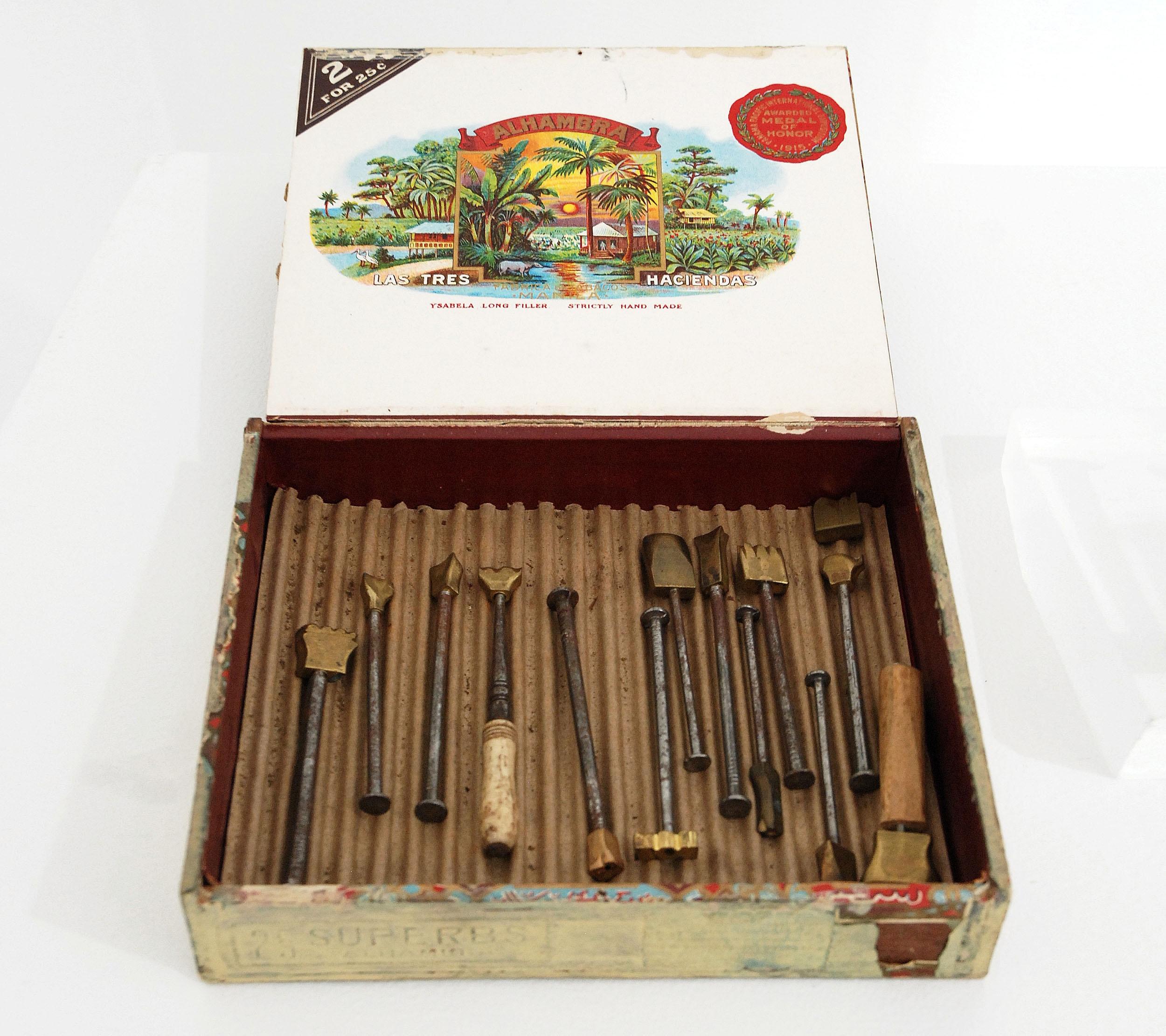 Greene and Greene, Collection of 18 brass leather-stamping tools, 14" x 8.5", metal.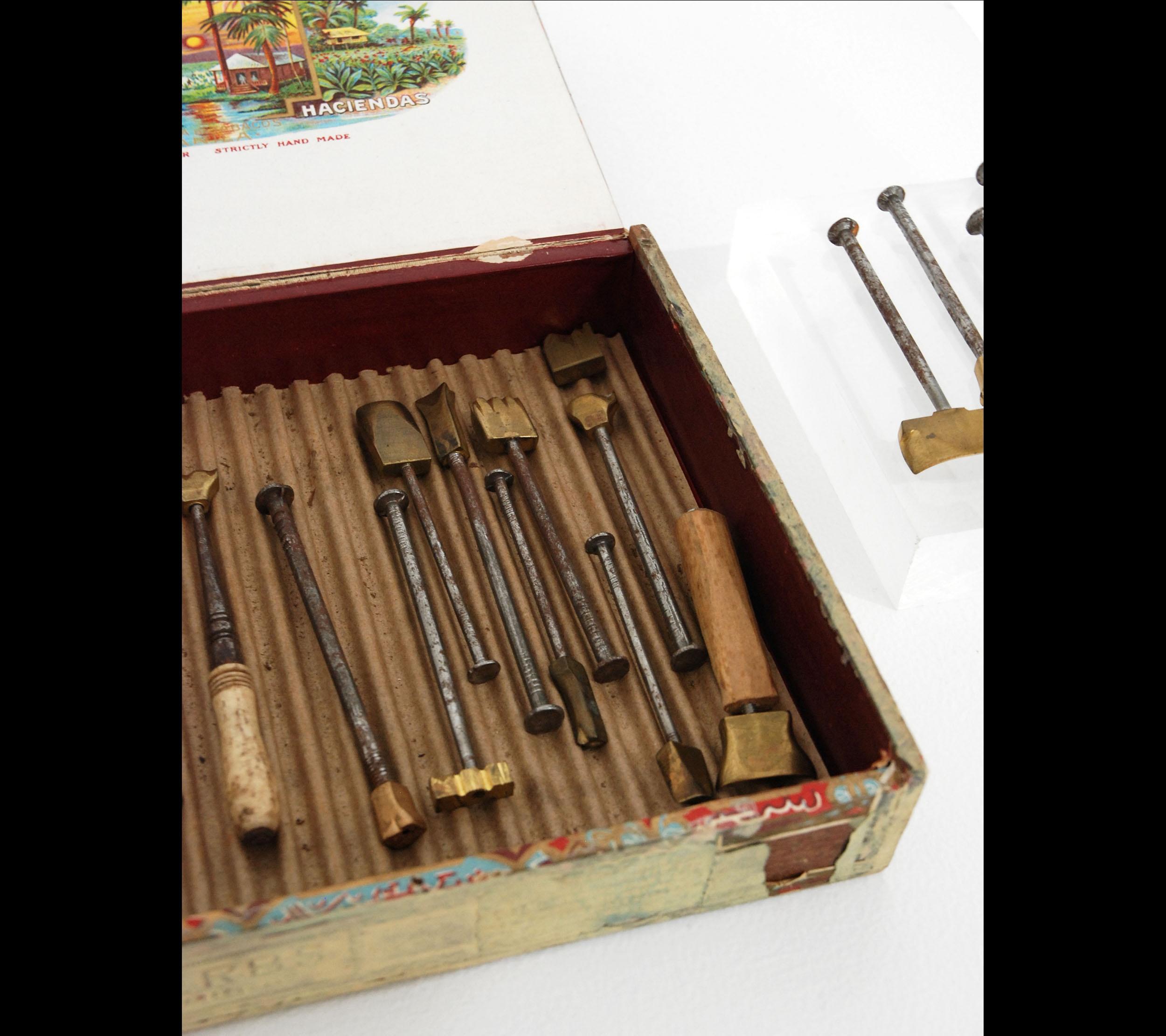 Greene and Greene, Collection of 18 brass leather-stamping tools, 14" x 8.5", metal.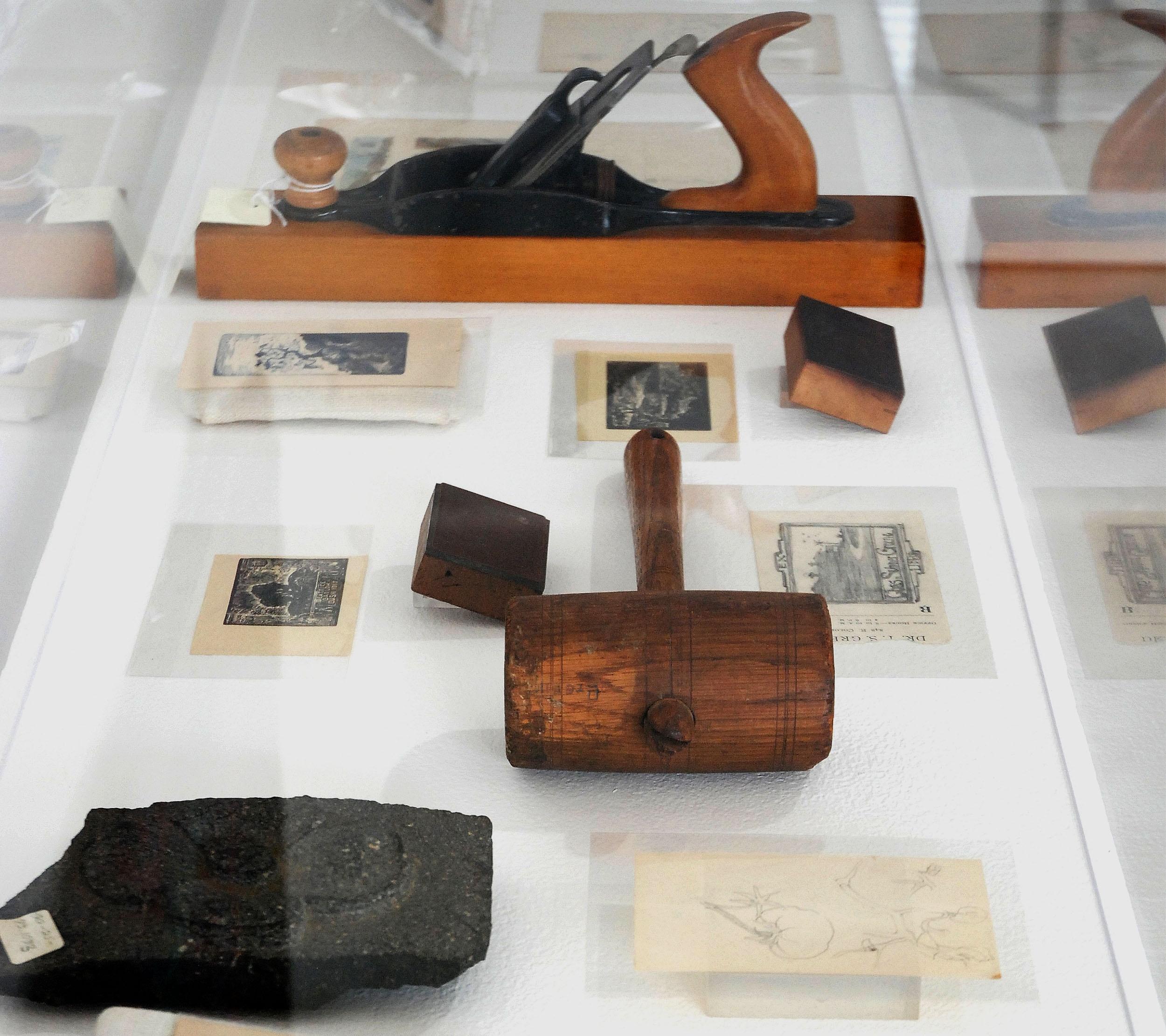 Greene and Greene, Various Tools display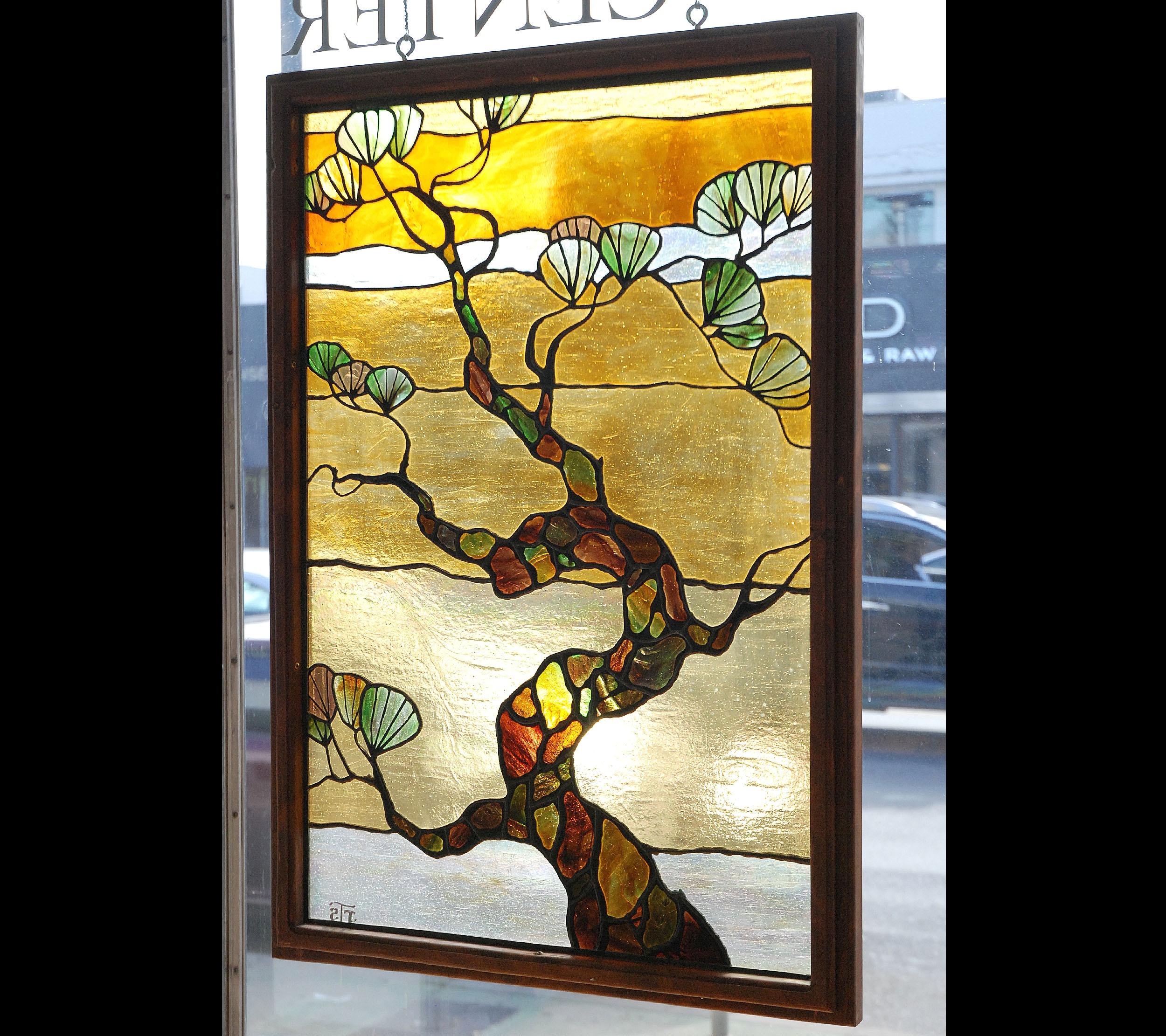 Judson Studios, Untitled Tree, 2010, 38 1/4" x 25 7/8" x 1.5", glass, copper foil.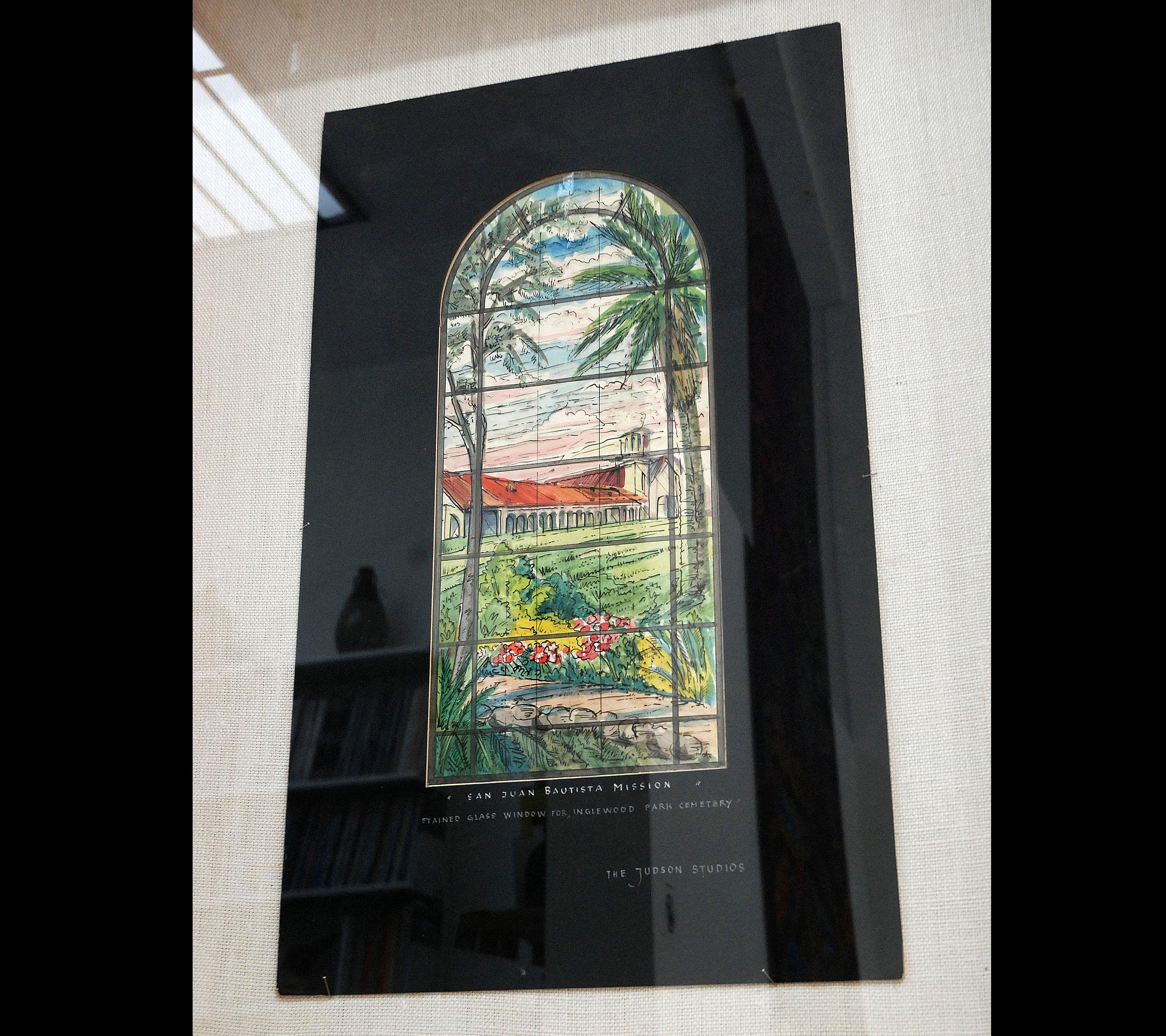 Judson Studios, Stained glass window for Inglewood Park Cemetery.
.
Rooted: Craft Origins from the California Episode is an exhibition tracing the deep roots of craft in California's history and the roles of native plant life as inspiration for various art traditions. From Pomo basketry to the Arts and Crafts movement and contemporary art, craft defines California culture.



Photos by Madison Metro