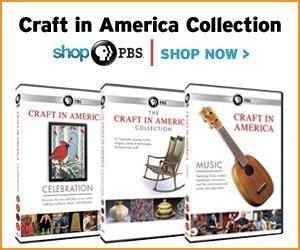 Watch a preview of the MESSAGES episode.
Curator George Ciscle explains the messages in works by Joyce J. Scott.
Curator Amy Raehse and Artist Joyce J. Scott on her "Soul Erased" print series.
This piece depicts the failure of the 17th St. Canal floodwall & loss of 60,000 homes.
After Katrina, 350,000 refrigerators ended up on the curbs with magnets still on them!
Thomas Mann talks about the heart form and his "Techno-Romantic" design series.
Dr Leslie King Hammond on bead artist Joyce J. Scott.
Photographer & furniture maker Paul Guerra drove 16 hrs. a day to pick up stranded people.
This piece shows the incredible impressions left in the mud and mold on a kitchen counter.
Tom, Athene & newborn Charlotte Paquin lived in a FEMA trailer while repairing their home.
Structures were marked with the date, who had inspected, and if pets or bodies were found.
In the ruins of a collapsed church, a statue of an angel, missing a wing but upright.
Humans weren't the only victims of Katrina. I met this abandoned dog, named "Wall Street."