Meet Our Guests
Kyra Sedgwick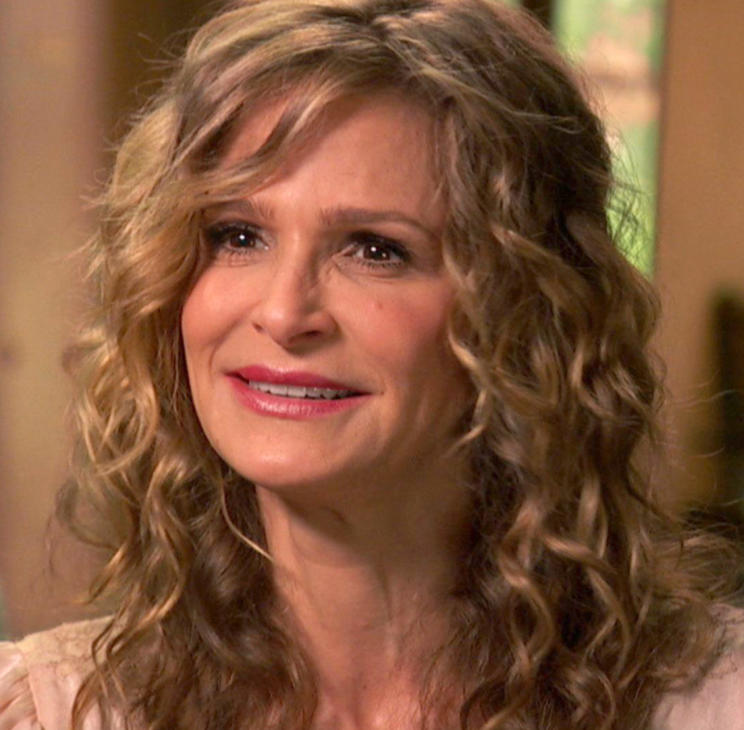 Kyra Sedgwick is featured in:
Season 1, Episode 4: "Kyra Sedgwick and Kevin Bacon"
Kyra Sedgwick has conquered success on stage, screen and television. Sedgwick can currently be seen in TNT's first original series "The Closer." Her role as Deputy Police Chief Brenda Leigh Johnson garnered her a Golden Globe Award in 2007 for "Best Dramatic actress" – television and an Emmy Award in 2010 for "Outstanding Lead Actress in a Drama Series." In addition, she has received seven Golden Globe nominations, four Emmy nominations, seven SAG nominations, an Independent Spirit Award nomination, a Theater Award, Los Angeles Drama Desk Critics Circle Award and a Dramalogue Award.

Sedgwick can currently be seen in Asger Leth's "Man on a Ledge" with Elizabeth Banks, Sam Worthington and Jamie Bell. She will soon be seen in Ole Bornedal's "Dibbuk Box" opposite Jeffrey Dean Morgan.

Sedgwick can recently be seen in Mark Neveldine and Brian Taylor's "Gamer" opposite Gerard Butler. The film is set in a future-world where humans can control other humans in mass-scale, mulit-player online gaming environments. Lionsgate released the film on September 9th, 2009. Sedgwick also recently starred in "The Game Plan" alongside Dwayne "The Rock" Johnson. The story revolves around a rugged superstar quarterback Joe Kingman (Dwayne Johnson), whose Boston-based team is chasing a championship. Sedgwick played Stella Peck, Kingman's sports agent. She also starred in ThinkFilms's "Loverboy". Directed by Kevin Bacon, Sedgwick helped develop and co-produced the film which co-starred Matt Dillon, Campbell Scott and Marisa Tomei.The film premiered at the 2005 Sundance Film Festival.

She starred in Nicole Kassell's "The Woodsman," produced by Lee Daniels, opposite Kevin Bacon and Mos Def. It had its world premiere at the 2004 Sundance Film Festival (in competition), receiving rave reviews. It was also showcased in Cannes as part of the 2004 Director's Fortnight line-up, and won the Jury prize at the Deauville Film Festival.

Sedgwick received a 2005 Independent Spirit Award nomination for "Best Actress" for her work in Lisa Cholodenko's "Cavedweller" for Showtime. Sedgwick, who developed and produced the film, plays Delia, a rock singer who returns to her Georgia hometown hoping to regain custody of the two daughters she left with her abusive ex-husband (Aidan Quinn). "Cavedweller" aired on Showtime last fall.

The actress also appeared in Joseph Sargent's Emmy nominated "Something the Lord Made" for HBO. Sedgwick co-stars along side Alan Rickman, Mos Def and Mary Stuart Masterson. She plays the role of Mary Blalock, the wife of Alfred Blalock, who performed the first open-heart surgery procedure.

In 2002, Sedgwick co-starred with Parker Posey in Rebecca Miller's independent film, "Personal Velocity", winning the Dramatic Grand Jury Prize at the 2002 Sundance Film Festival. Other credits include the Emmy nominated TNT movie, "Door to Door", opposite William H. Macy, Helen Mirren, and Kathy Baker, Fisher Stevens' film "Just A Kiss", Showtime's "Behind the Red Door", opposite Keifer Sutherland and Stockard Channing; "Secondhand Lions", co-starring Michael Caine, Robert Duvall, and Haley Joel Osment.

Other films include John Turteltaub's "Phenomenon" opposite John Travolta, "What's Cooking", which opened the 2000 Sundance Film Festival, "Born on the Fourth of July", "Mr. and Mrs. Bridge", "Singles", "Lemon Sky", and "Heart and Souls," and Showtime's "Losing Chase", which she executive produced and starred opposite Helen Mirren.Sedgwick's theater credits include The Culture Project's New York production of "The Exonerated", a triumphant run of Nicholas Hytner's "Twelfth Night" at Lincoln Center, "Ah Wilderness!" for which she won the Theater Award, and David Mamet's "Oleanna", which garnered her a Los Angeles Drama Critics Circle Award and a Drama League Award.
Guests From Episode 4 of Season 1
Join the conversation on #FindingYourRoots