Meet Our Guests
Ruth Simmons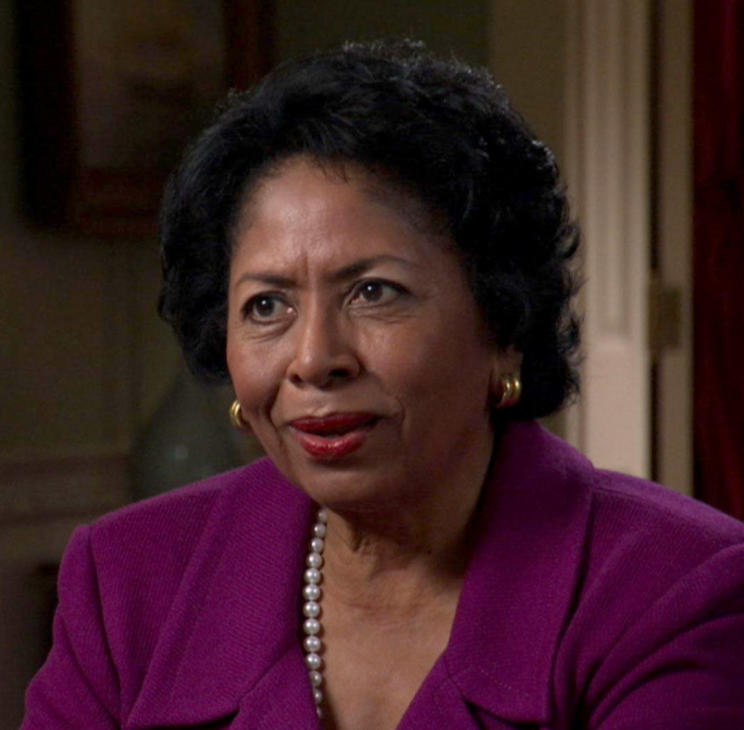 Ruth Simmons is featured in:
Season 1, Episode 7: "Samuel L. Jackson, Condoleezza Rice and Ruth Simmons"
Ruth J. Simmons was sworn in as the 18th president of Brown University on July 3, 2001. She also holds an appointment as professor in the Department of Comparative Literature and the Department of Africana Studies. She was president of Smith College from 1995 until the time of her appointment at Brown.

A native of Texas and a 1967 graduate of Dillard University in New Orleans, Simmons received her Ph.D. in Romance languages and literatures from Harvard University in 1973. She is fluent in French and has written on the works of David Diop and Aime Cesaire.

In 1983, after serving as associate dean of the graduate school at the University of Southern California, Simmons joined the Princeton University administration. She remained at Princeton for seven years, leaving in 1990 for two years to serve as provost at Spelman College. Returning to Princeton in 1992 as vice provost, she remained at the university until June 30, 1995. In 1995 she became president of Smith College, the largest women's college in the United States, where she launched a number of strategic initiatives to strengthen the college's academic programs and inaugurated the first engineering program at a U.S. women's college.

Simmons is a Fellow of the American Academy of Arts and Sciences, and a member of the American Philosophical Society, and the Council on Foreign Relations. She serves on a number of boards, including the Dillard University's Board of Trustees, the Smithsonian's National Museum of African American History and Culture, and Texas Instruments. She was appointed by President Obama as a member of the President's Commission on White House Fellowships. Active in a wide range of educational, charitable, and civic endeavors, she holds honorary degrees from numerous colleges and universities, including Amherst College, Bard College, Howard University, Dillard University, Princeton University, Lake Forest College, University of Massachusetts at Amherst, Dartmouth College, Boston University, Northeastern University, New York University, University of Pennsylvania, Mount Holyoke College, Washington University in St. Louis, Rensselaer Polytechnic Institute, The George Washington University, Columbia University, Harvard University, Ewha Womans University in Korea, University of Southern California, Tougaloo College, Jewish Theological Seminary, University of Toronto, Providence College, University of Vermont, Morehouse College, Spelman College, Union College, The American College of Greece, Wesleyan University, Rhode Island School of Design, and Morgan State University.

Simmons is the recipient of a number of prizes and fellowships, including the German DAAD and a Fulbright Fellowship to France. In 1997 she was awarded the Centennial Medal from Harvard University, in 1999 the Teachers College Medal for Distinguished Service from Columbia University, and in 2001 the President's Award from the United Negro College Fund. She has been honored with the 2002 Fulbright Lifetime Achievement Medal and the 2002 "Drum Major for Justice" education award from the Southern Christian Leadership Conference/W.O.M.E.N. In 2004 she received the ROBIE Humanitarian Award, given by the Jackie Robinson Foundation; the Eleanor Roosevelt Val-Kill Medal; and the chairman's award of the Congressional Black Caucus Foundation. She was selected as a Newsweek "person to watch" and as a Ms. Woman of the Year in 2002. In 2001 Time magazine named her America's best college president, and in 2007 she was named one of U. S. News & World Report's top U.S. leaders and – for the second time – a Glamour magazine Woman of the Year. In 2010 she was awarded an Ellis Island Medal of Honor and a Foreign Policy Association award.

In recent years, Simmons, an articulate spokesperson and writer, has written and delivered papers or presentations on a wide array of educational and public policy issues, including institutional governance, foreign language study, diversity, liberal arts, science education, leadership, and women in higher education. Among numerous educational institutions and national forums, she has been a featured speaker at the White House, the World Economic Forum, the National Press Club, the Association of American Universities, and the American Council on Education. In September 2001 ABC News tapped her to serve as a respondent during its live telecast following President Bush's address to Congress.

During her tenure at Brown University, Simmons has created an ambitious set of initiatives designed to expand and strengthen the faculty; increase financial support and resources for undergraduate, graduate, and medical students; improve facilities; renew a broad commitment to shared governance; and ensure that diversity informs every dimension of the university. These initiatives have led to a major investment of new resources in Brown's educational mission and a successful $1.6 billion campaign.

As an academic leader, Simmons believes in the power of education to transform lives. She champions the university as a haven of reasoned debate with the responsibility to challenge students intellectually and prepare them to become informed, conscientious citizens. She has spent her career advocating for a leadership role for higher education in the arena of national and global affairs.
Guests From Episode 7 of Season 1
Join the conversation on #FindingYourRoots